The cuisine of Arizona is only one example of a region where cultural exchange has had a significant impact.
Now, its cuisine has strong traces of the pioneer, Hispanic, and Native American cooking traditions that shaped it. There are other states like Arizona that have this problem as well. But it has gone on a new and interesting path with its culinary offerings.
Today, i present some of the most popular foods in Arizona which are a must-try whenever you visit!
1. Cheese Crisps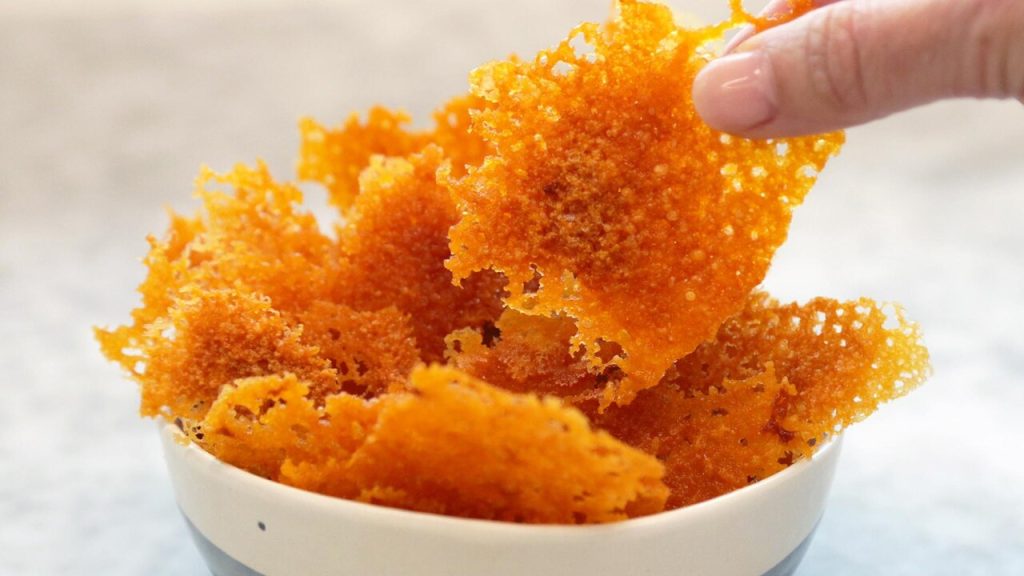 It's generally accepted that Arizona is where cheese crisps were first developed and is the most popular food in Arizona. Unlike a quesadilla, this is roasted in a skillet and served face-up. The bar snack is a flour tortilla topped with shredded cheese and griddle-cooked till crisp.
It may be eaten as-is or topped with onions, chilies, or other condiments before being sliced and served. Green chili strips laid out in a star pattern on melted cheese is a traditional topping. It is unclear where they first appeared, although Tucson's El Charro Café and Phoenix's Macayo's Mexican Food are strong candidates.
2. Chimichangas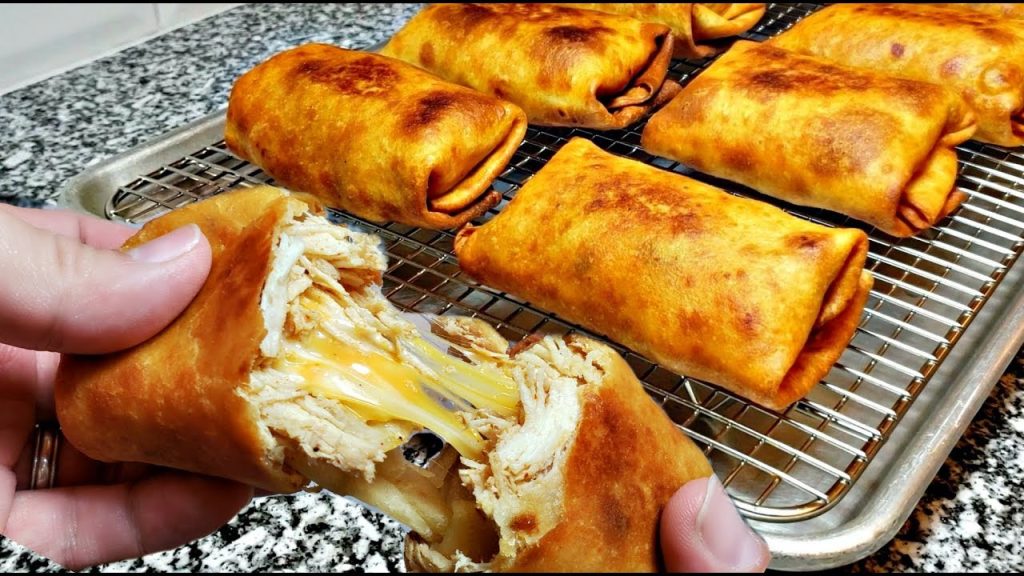 Most sit-down Arizonan restaurants in the state provide tacos, which typically consist of a crispy fried tortilla stuffed with chopped or shredded meat. It is the second most popular food in Arizona. The history of the chimichanga is murky, but that just adds to its mystique.
Several Arizona eateries, including Macayo's in Phoenix and the renowned El Charro Café in Tucson, claim to have originated the dish. It is around the size of an egg roll or a flat square and is topped with mayonnaise and chopped tomatoes. An excellent chimi, essentially a deep-fried burrito, will have all the desirable qualities: it will be tasty, crunchy, and surprisingly light.
3. Navajo Tacos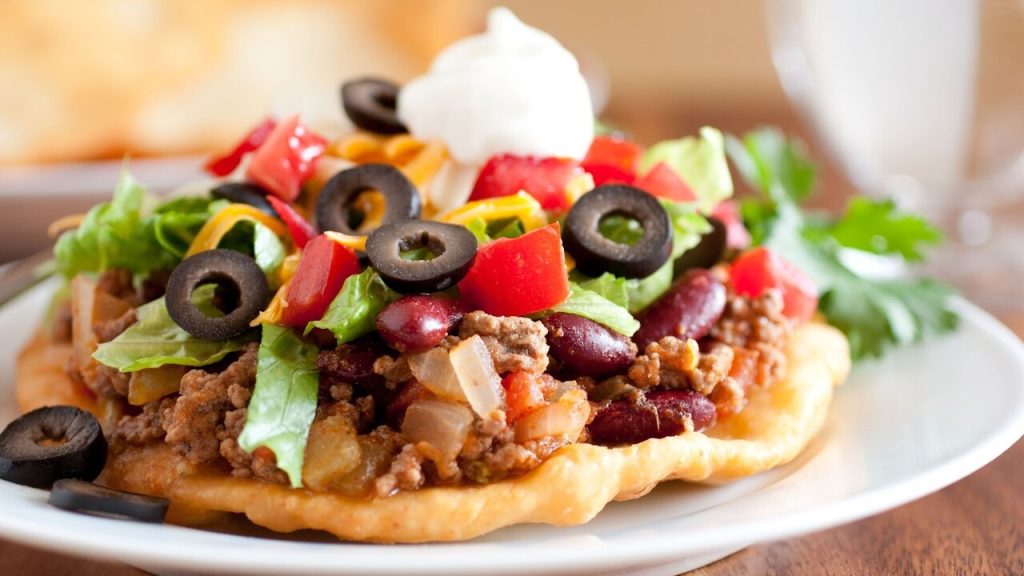 This dish, which is basically a tostada on fried bread, is one that I like indulging in sometimes. It is the third most popular food in Arizona. Navajo tacos, also known as Indian tacos, are made using fried bread instead of tortillas and often consist of ground beef, lettuce, tomato, onion, and cheese on a layer of beans or bean chili.
These tacos are a fixture at fundraisers, powwows, and roadside booths for Arizona's Indigenous communities, and they're not only for the Dine.
Check out these amazing farmers markets in Arizona.
4. Piki Bread
Hopi people of Arizona are known for their traditional unleavened bread known as piki. Blue corn is used in the bread's preparation, and it's layered as thinly as possible. A piki stone is heated and seasoned with either cooked sheep brains or bone marrow before being used in the cooking process. This Hopi staple is made from maize flour and is both fluffy and crunchy.
These gems are so precious that they are often passed down through families. Piki bread has a smoky, earthy, and somewhat sweet taste since it is traditionally baked with crushed blue corn, water, and juniper ashes. Because of the effort involved in making it, piki is often only offered at rare events like weddings, when the bride and groom share a loaf.
5. Pozole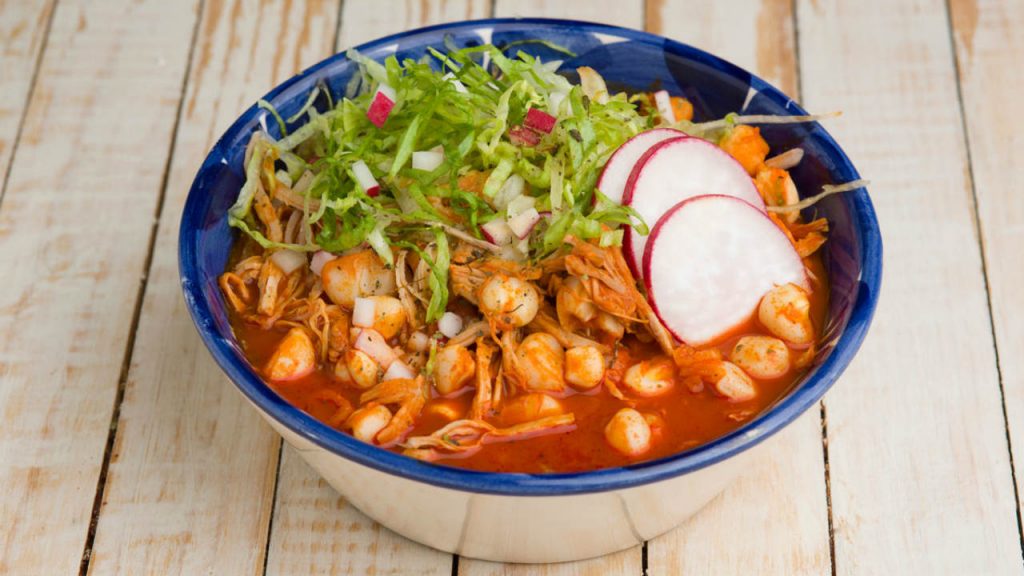 When the French have bouillabaisse, the Russians have borscht, the Vietnamese have pho, and the Mexicans have pozole, it's time to get cozy with a bowl of pozole. Posole is a staple dish in Arizona.
A constant level of heat complements the robust taste. This is an endorphin-inducing, adrenaline-inducing soup that won't burn your mouth. Hominy, which resembles giant corn kernels, is the major component in this fiery soup. In this case, it's not only the corn that gives the soup its stunning tastes. The remaining flavor comes from ingredients like red or green chili, pork, garlic, onions, and condiments like sour cream, salsa, guacamole, slaw, lime, and oregano.
6. Original Chopped Salad
Tossed with a buttermilk herb dressing, this salad has arugula, smoked salmon, pearl couscous, pepitas, siago cheese, dried sweet corn, marinated Roma tomatoes, and more. At Cowboy Ciao, a restaurant in Old Town Scottsdale that has since closed, it was given its original name, the Stetson Chopped Salad, and became a local favorite at least 20 years ago.
An even older version was also offered at Steven, another now-defunct Scottsdale eatery, according to a 1984 story in The Arizona Republic. The Original Chopped Salad, or a version of it, may now be seen on menus all around the Valley thanks to Chef Bernie Kantak's revisions when he was employed at Cowboy Ciao.
Also take a lot at the best dairy farms in Arizona.
7. Salsa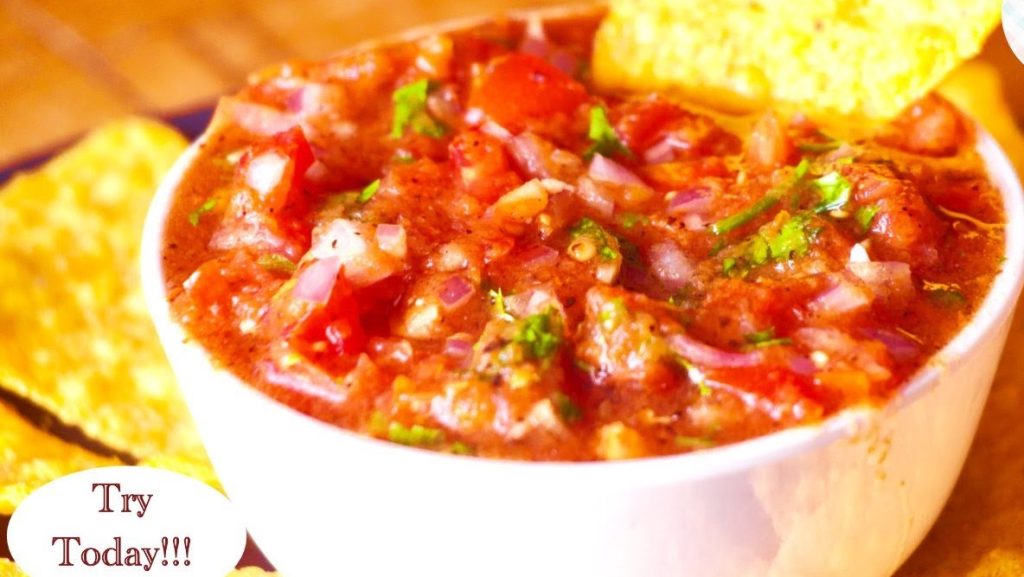 Salsa and spicy sauce are ubiquitous in Arizona, and locals use them in a wide variety of ways. It is the seventh most popular food in Arizona. Along Southern Arizona's Salsa Trail and at salsa festivals around the state, you may try some of the greatest salsas and spicy sauces made in the area.
You might also go to one of Arizona's supermarkets and pick up a jar of the sauce or salsa made there. The Salsa Trail in southern Arizona links together a number of Mexican eateries, taco stands, and even a tortilla factory, all of which are united by their shared love of salsa.
8. Sonoran Hot Dogs
Arizona is home to its own version of the hot dog, called a Sonoran dog. Sonoran dogs combine American pig products with bold Mexican tastes by being wrapped in bacon and having the bun loaded with pinto beans, onions, tomato, mayo, mustard, and jalapeño salsa. Hermosillo, the capital of Sonora, is where the dogs were first created and first sold at baseball games.
In the 1990s, rival vendors El Güero Canelo and BK brought the dogs to Tucson, Arizona, where they quickly became famous. Traditional Sonoran dogs may be found at roadside carts in most Arizona communities in 2018, despite the fact that the recipe can be changed with add-ons like Hot Cheetos and nacho cheese.
9. Burritos
Arizona burritos are in a class of their own. Unlike the Mission-style burritos sold at Chipotle and other California burrito joints, these burritos have a scoop of meat over a fresh flour tortilla, sometimes accompanied by some cheese and guacamole.
Arizona's burritos pack a punch, exactly like the ones laborers in the early 20th century carried down from the northern Mexican states of Sonora and Chihuahua in search of a satisfying supper.
Have a bite to eat at one of the many Mexican restaurants in the area that are open around the clock, such as Filiberto's, Riliberto's, Alberto's, or Los Betos. You should prepare by making sure you're hungry. Remember to ask for some spicy salsa on the side.
10. Tamales
Tamales are a mainstay in the kitchens of many Mexican families, particularly during the holidays and national festivals like Independence Day. They are hearty, warm, and tasty, and have come to symbolize Mexican street cuisine. They're also a big part of a major Mexican custom. When done well, they retain their moisture and have a nice, spicy kick on their own.
11. Cholla
The Sonoran Desert is home to numerous different species of the cholla cactus. After plucking the little orbs, remove the spines and boil them to get rid of an acid that acts as a natural defense for the plant. Many people eat the ooey treat plain or along with other dessert fare like salsa.
12. Mesquite Flour
Mesquite Pods have a flavor that is toasty and a little sweet, similar to caramel. Pods can be used to make healthful baked goods by grinding them into a fine flour. Pick your own long, thin pods from June through September and have them properly ground by the non-profit organization Desert Harvesters, which promotes native Sonoran Desert foods, for a really authentic Arizona experience. The tastiest ready-made loaves of mesquite bread can be found at Barrio Breads Tucson.
13. Chiltepin Peppers
In Arizona, chiltepin peppers grow wild and are used in a variety of scorching hot cuisines. When eating something that contains these fiery balls of heat, be careful because they are wonderful and provide color to salsa.
Although there are many great foods to choose from, there are still a select few foods that are universally recognized as uniquely Arizonan. Traditional Arizona cuisine includes everything from Navajo fried bread and salsa to chimichangas and Sonoran hot dogs.