Have you heard that Iowans are not fussy about food compared to other states? Well, it is because of their 175 years of being a state, Iowa has a variety of foods that range from salty to teeth clenching sweetness. The popular dishes have their own history and from holiday tables to cookbooks, the foods of the state have evolved.
If you are wondering what are the must-try foods of this state, check out this list of the most popular foods in Iowa.
1. Quad City-Style Pizza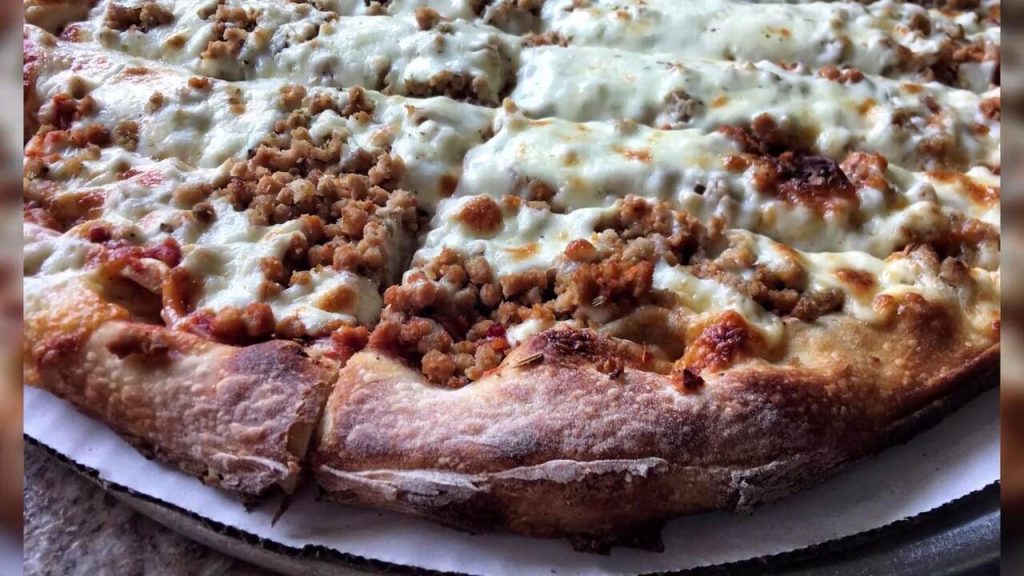 Originating from the Quad Cities region, Quad City-Style Pizza is a unique pizza with its unusual strip cut and a mild spicy sauce. It has a nutty taste in its crust which comes due to adding malt syrup in the recipe of the dough. The sauce is slightly spicy where the cook puts cayenne pepper flakes and chili. This Iowa special piazza is naturally paired with a cold glass of beer.
2. Loose Meat Sandwich
Loose Meat Sandwich is also called a tavern sandwich. This delicious sandwich made with a hamburger bun filled with ground beef is an American invention. The taste of the meat is enriched with its seasoning, which is a blend of many flavors. The sautéed onions enhance the taste. This sandwich became a part of Iowa food in 1924 in Sioux City.
3. Haystack
Haystack has a starchy base like crackers or tortilla chips which is topped by cheese, lettuce, meat, and beans. Additionally, it has vegetables like bell peppers and tomatoes to increase the taste. Traditionally, this food is garnished with sour cream, salsa and or ketchup. In the 1950s, this dish was invented by Ella May, and for this, it is also known as Hartlein Special.
Check out these dairy farms in Iowa.
4. Sour Cream Raisin Pie
To taste the traditional American pie of Iowa, you need to try out the Sour cream raisin pie. This pie consists of a creamy filling which has a fluffy meringue and contains loads of raisins. The recipe for the pie includes flour, cream of tartar, pie shell, sour cream and eggs. The warm filling melts in your mouth and the meringue's taste fills your heart. It is best to serve the cake after it is chilled.
5. Snickers Salad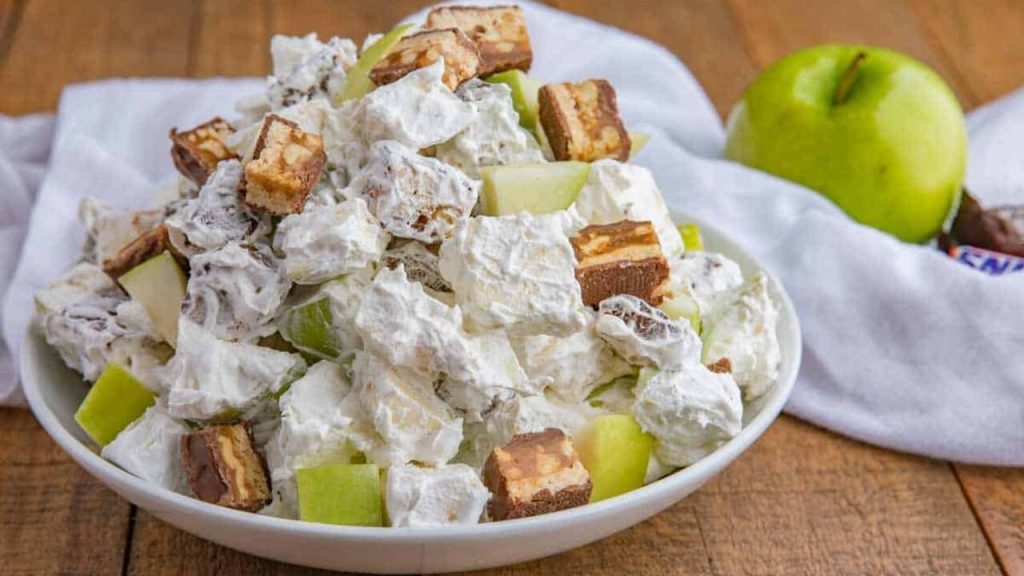 Snickers Salad, interesting, right? Although the name might confuse you, this salad is more of a desert than a conventional salad. The ingredients of this salad are whipped cream, pudding, Granny Smith apples, and the star ingredient is Snickers Bars. All the ingredients are simply chopped and combined. It is a simple version, but you can also add pineapple, buttermilk, lemon juice, and other ingredients. This unusual dessert is a staple dish for Iowans.
6. Pork Tenderloin Sandwich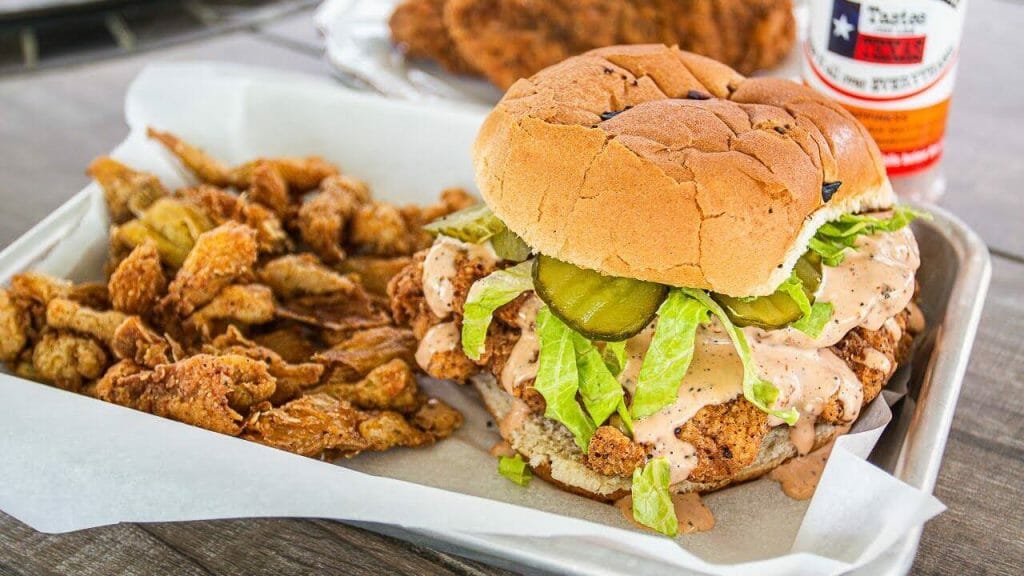 Who doesn't like a pork sandwich? Well, Pork Tenderloin Sandwich is certainly a favorite for Iowa residents. It is a typical dish with onion rings, french fries and condiments served with the pork tenderloin sandwich. The deep-fried pork cutlet is seasoned and full of delicious flavors. Theory suggests that this sandwich originated from Indiana, but it has become a part of Iowa's staple dishes.
Check out these fresh farmers markets in Iowa.
7. Steak de Burgo
Invented in the 1950s, Steak de Burgo is a traditional American beef dish. It consists of mouth watering beef tenderloin. It is originating from Des Moines, Iowa and Johnny & Kay's used to serve them the best. The sauce of this dish is the highlight as it is made with generous amounts of Italian herbs and garlic, including thyme, basil and oregano.
8. Taco Pizza
Taco Pizza. Just the name attracts people. Taco and pizza within a single dish. With loose toppings not bound to the crust, this dish has loads of cheese and sour cream in it. The seasoned ground beef topped with tomato and lettuce is filled within the taco innards. The salsa and beans give it that satisfying taste. Even if it gets a bit messy while eating, it is worth the mess.
9. Ham Balls
As the United States is the top producer of pork, it is only obvious that its states will have a variety of delicious foods made of pork. As an Iowan tradition, Ham Balls remain one of the top foods which you can find in fairs, feasts, get-together and more. The meatballs are made of ground beef, pork, egg, and graham crackers. Then after giving the mixture a round shape, it is drowned in tomato based sauce, and you can even have the final dish with bread.
10. Chili with Cinnamon Rolls
from The Boulder Tap House in Ames, Chili with Cinnamon Rolls has become a star-dish for Iowa people. This chili burger with a cinnamon roll bun is a favorite of children and adults. The roll has rough outer edges and fits into any menu. Despite its name, as a snack for kids, the spice level is adjusted. It has a flavor of both sweet and savory, so you can't stop eating it.
11. Maid Rites
A tried-and-true Iowa classic is the Maid Rite, a loose meat sandwich that was first created in Iowa. Maid Rites are one of the most common Iowa foods in a local's diet.
To get the taste of the Midwestern state cuisine, you must taste the listed most popular foods in Iowa. The Iowans' delicacies are worth the taste.