Colorado has a diverse environment that is home to a number of spectacular, high-quality RV parks. As Colorado is filled with excellent spots to enjoy a getaway, the amazing beauty of the places will enchant and relax you.
I have put together a list of the best RV parks in Colorado that you can plan an escape to without having to worry about facilities or comfort.
1. Dolores River Campground and Cabins
First on the list is the favorite place of RV bloggers. Located in Dolores, Colorado, Dolores River Campground and Cabins is a one of a kind park and camping ground. It is fully facilitated with a range of all the necessities and luxury you would want during your getaways.
There are separate trials for nature trails and dog walks. The ground area is well spaced and even has an on – site fishing pond. You will surely have an unforgettable experience here.
2. Mountaindale Cabins & RV Resort
Covered within the dense forests of the Pike's Peak region of Colorado Springs, Colorado is the Mountaindale Cabins & RV Resort. You have the option of exploring the vast area and choosing wonderful hiking trails. This park offers fascinating wildlife and abundant landscapes.
Across the water bed of the springs, you can find diverse species of plants and flowers that are unique. This location is perfect for those who want a time off from the hustle and bustle of daily life and enjoy connecting with nature.
3. Prospect RV Park
With over 89 RV Slots and long drive thrus is the Prospect RV Park. Located in the heart of the Royal Gorge Area, this park offers 37 rural tent spots and day passes for camping and other recreational activities.
The park has outstanding Frisbee golf, horseshoes, basketball & volleyball courts. You need to make the most of your time by going through their guides to fully enjoy several activities.
You should also check out these campgrounds in Colorado.
4. Monument RV Resort
Want to take a drive in your RV and explore different mountains of Colorado? Monument RV Resort offers a range of facilities and well-furnished cabins for you to relax and recharge.
Their accommodations are designed to fit every lifestyle and have a 95-foot pull-thrus for your big rig to tent sites. You can take a swim on the beach nearby and even visit the James R. Robb State Park across the road.
5. Elk Creek Campground & RV Park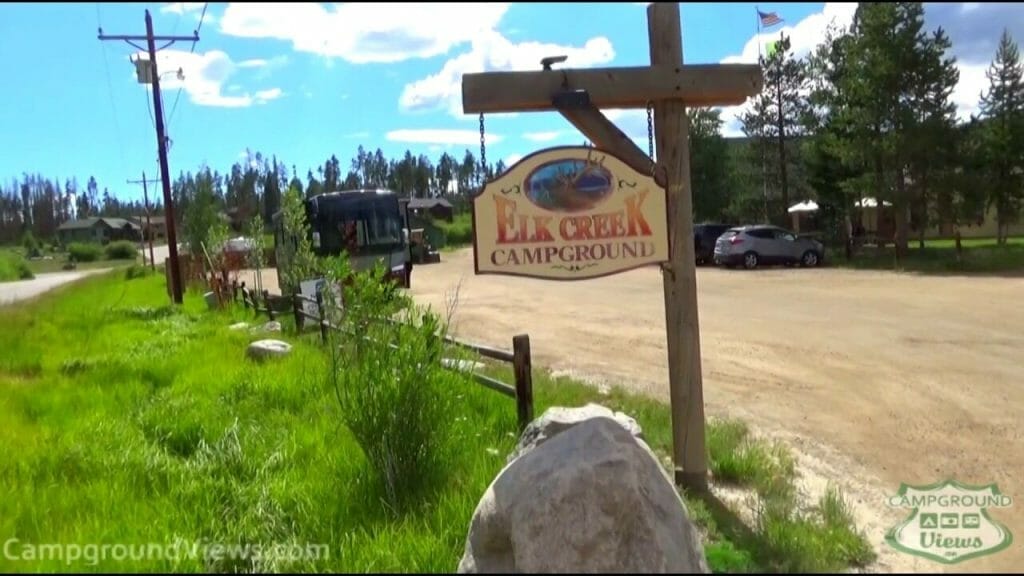 Elk Creek Campground & RV Park is located outside Estes Park. If you are a nature lover and love to explore wildlife, this park has to be on top of your list of places to visit.
A playground arcade, camping sites, separate RV parking areas, "Honeywagon" and more are available. This park follows the rules of having animals on the loose, like moose, elk, deer and other wild animals. Because of this, visitors are allowed only from 12 noon till 10 am at night.
6. Rocky Top Motel & Campground
Want to see the dramatic mountain views that await you? Your right choice should be the Rocky Top Motel & Campground, located in Colorado Springs.
This spot has been operated and maintained by a family for generations and is in the heart of the Green Mountain Falls. Starting from RV sites to kitchenettes, you will enjoy a comfortable stay and relax amid the marvelous beauty of Colorado.
Love rides? Check out these amusement parks in Colorado.
7. Diamond Campground Inc.
Why not take a trip to Diamond Campground Inc. in your RV and rejuvenate amid the beauty of Colorado nature? This park spreads 18 wooded acres along with 130 spacious full hookup sites, 9 tent sites.
A great factor of this park is that it has been renovated well and the popularity of the place has been rising. There are playgrounds with swings, slides, basketball court, and sand toys to keep your children entertained.
8. Shady Grove Campground
Located in Seibert, Colorado, is the year-round open Shady Grove Campground. This extensive area is best for camping, and you can park your RV safely. It is a great option for a home base and exploring other fantastic spots in Colorado.
You can even make a weekend stop as the park can allocate numerous visitors. They offer the right place even for the largest RVs out there. You need to have drives across the nearby towns and relax while interacting with the local community.
9. Clear Creek RV Park
If you are in Golden, Colorado, you have to visit the Clear Creek RV Park. Curious why so? Firstly, it is located on the bubbly floor of Clear Creek. Then, you just have to take a short walk from Golden town to this magnificent park that is well facilitated.
You can enjoy camping along with taking your RV and be able to go on to the adventure of fishing, kayaking, tubing, and parasailing. You might need to boost your stamina before you visit this park as this park does not run out of lists of fun activities.
10. The Views RV Park & Campground
Who doesn't enjoy the refreshing air of the sunset and the calming scenic beauty? Well, if you visit The Views RV Park & Campground, you will want to keep going back to this gorgeous park.
This park is for nature lovers who love the rustic camping style amid the scenic vistas in Southwest Colorado. The area has been going through a development process, but they planned to maximize the raw camping experience with facilities.
11. Snowy Peaks RV Park & Rentals
Want to enjoy the breathtaking sites of the Colorado mountains from the comfort of your roomy RV site? Your ultimate destination is Snowy Peaks RV Park & Rentals. This place is known for its wonderful location amid the gorgeous mountains.
You can stroll through the scenic natural landscape of the campground and beautiful trails. They offer impressive deals for all types of RV owners, and you can choose your packages through their website before making the trip.
12. Grape Creek RV Park
You can find an extensive park of beautiful views on the Wet Mountain Valley floor. It is the Grape Creek RV Park. You can enjoy the breathtaking view of the Sangre de Cristo Mountain range.
This beautiful spot provides you with Wi-Fi, community fire pits and more. The camping grounds are massive and are well maintained, so you would not have to face inconveniences. The park also provides attractive discount rates for RV parks if you are a member of Good Sam's as they are affiliated spots.
13. Red Mountain RV Park
If you are one of those energetic individuals who do not run out of energy to do activities, then Red Mountain RV Park is your great option. Located in the Kremmling area, this park offers scopes for horse riding, golfing, trailing and more.
You will find the best RV dealers in Colorado, and they even offer discounts. The park includes a massive playground, boat storage, RV drive-in and horseshoe pits.
14. Tiger Run Resort
The Year Round Open with attractive packages and impressive service is the Tiger Run Resort. Sheltered by the majestic Ten Mile Mountain Range, this park is home to extensive landscapes and a full-service RV site.
It has a pool, fitness center, gift shop, game room, Sand Volleyball area and more. You can have the finest in Rocky Mountain recreation in this spot.
15. Aspen Ridge RV Park
Too excited about a getaway? Choose Aspen Ridge RV Park to experience a relaxed and comfortable stay. They offer 43 full hookup sites, with 30 or 50 amps at each site.
The park has a clubhouse, fishing area, fire pit and more to enjoy your getaway. It is located on the Silver Spur Trail, so you can have direct access to ATV/UTV trails.
To navigate through the spectacular places of Colorado, this list of the best RV parks will surely assist you. These are high rated and high quality places so don't wait further and plan your outing ASAP!