Want to enjoy a splashy adventure in Connecticut? You do not have to search too hard as Connecticut is popular for its big and adventurous water parks that are packed with both thrilling slides and cool water fountains for kids and family to enjoy together.
This summer, check out these high – rated water parks in Connecticut that you need to visit ASAP!
1. Lake Compounce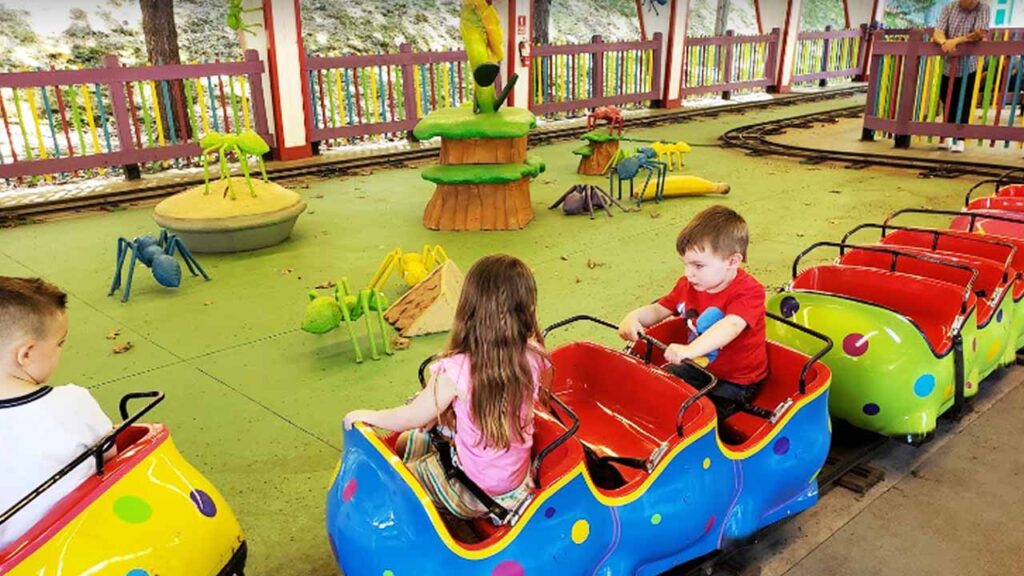 The oldest operating water park in North America is Lake Compounce. It also falls in the category of amusement park with its wide range of different attractions. This amazing park is the largest water park in Connecticut. Water cannons, gigantic slides and small pools are there to help you release the summer heat.
Mammoth Falls is a high speed family rafting adventure and for a ride through a slippery tube to splash in the lake, you can try Lake Plunge. The best part of this park is that there is no separate, water-park-only fee here, so by paying once, you can enjoy both the water park and the amusement park.
2. Ocean Beach Park
If you are looking for a low-key beach for a getaway, you have got to try Ocean Beach Park. You can check out this half-mile of pristine "sugar-sand" beach where you can enjoy triple – water slides. There are more! A 50-meter Olympic-sized pool, spray ground for children and even a nature trail for a stroll.
The spray ground for kids is free, but there is a small fee required for other attractions. There are innumerable rides and attractions to enjoy in this park for a non-stop water fun marathon.
3. Quassy Amusement & Water park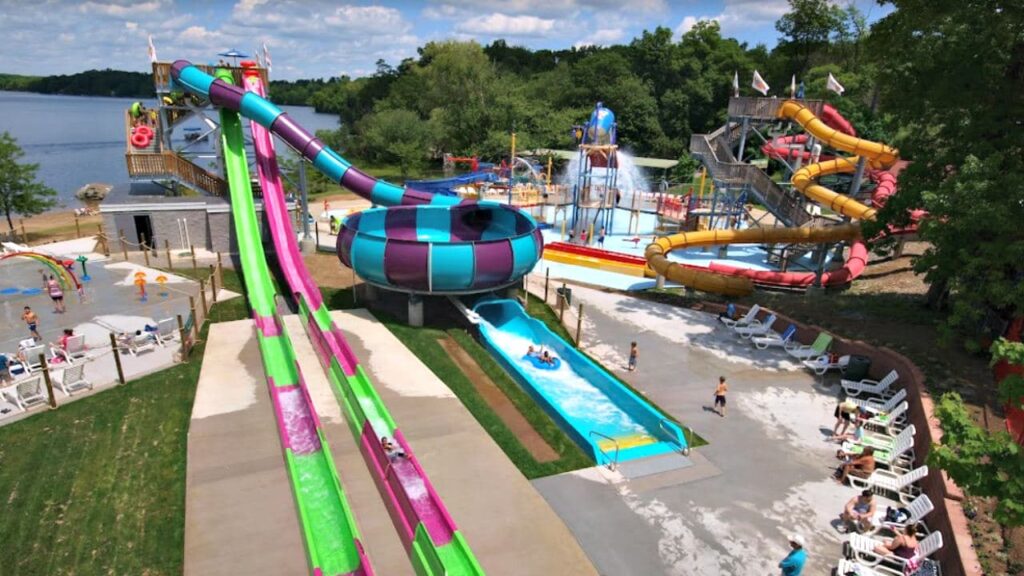 In Quassy Amusement Park, Splash Away Bay & Saturation Station is the interactive water play area. Starting from cascading fountains to water cannons, there are a range of water attractions for you to enjoy all day.
There is Saturation Station that provides a fantastic interactive water play for all ages. Free Fall is an incredible experience which is an open, steep drop only for brave souls. The main attraction of this park is the multi-tiered complex, is a huge tipping bucket that sends more than 300 gallons of water onto the guests below.
Read out this article about the state parks in Connecticut.
4. Brownstone Adventure Sports Park
Brownstone Adventure Sports Park is a water park with a different style. For all the water skiers out there, you can check out the inflatable water slides. These slides are created for all levels, so you can visit with your family members.
If you visit this park, you cannot miss out on the "extreme" rope swing in the water. You can enjoy it all at once by purchasing the "Adventure Sports Daily Pass" that includes access to the rope swing, rock climbing, scuba diving, water slides, cliff jumping, inflatables, and zip lines.
5. The Dinosaur Place
Want to explore a 60 acre dinosaur themed water park where you can go on a spree of fun rides and attractions all day? Try out The Dinosaur Place which is the New England's largest Splash Pad. You have the chance of walking through a dinosaur-themed maze. It is no less than a journey to the Jurassic World.
The Unique Zero depth water park is the perfect place for having a blast with children and the whole family and experiencing the thrills and wonders of Dinosaurs. From 2021, they are introducing three brand-new attractions to experience new levels of thrills.
6. Wolcott Park
Located in West Hartford, Connecticut, Wolcott Park is a must-visit park for those who want to enjoy long walks to connect with nature and then take a dip for chilling. In the playground area, there are swings, seesaws, slides and even climbing apparatuses.
After all that, move to the summer splash pad where you can enjoy swimming in gushing waters. The park has become a landmark over the years and has a 80s aura for visitors to enjoy a serene time.
Check out these amusement parks in Connecticut.
7. Lake Mohegan Splash Pad
Lake Mohegan Splash Pad is an all season recreational park and also a water park for a thrilling splashy experience. It has an easily accessible hiking trail for all. The park is free for residents and those out of town have to pay an admission fee during the summer.
There is also a small snack bar to eat and drink refreshments after a splashy experience. The water fall is called the Cascades; it gives an amazing view from the top as well. The park offers a fun time for kids as well, with swings, sprinklers and climbing apparatuses.
8. Action Amusements Waterslide
Action Amusements Waterslide is a water park in New London, Connecticut. You can get the triple Water Slide, which is a highly recommended attraction in the park.
There is also Kiddie Land, including a Carousel and 16 other rides along with an MBM Fun Center Arcade where you can take your entire family and have an enjoyable time. The water slide has three intensity levels- fast, medium, slow. An advantage of this spot is that they take bookings for birthday parties as well.
9. Splash Pad at Eisenhower Park
To enjoy a relaxing time in the whimsical park with your whole family, you need to visit Splash Pad at Eisenhower Park. The water attraction of this park is rated as the top thing to try out in this country park.
It covers around 930-acres where you can also play golf, tennis & enjoy swimming for hours. The park arranges special concerts and movies in summer. Remember to visit their website to check out their performers.
10. Bayou Bay
Starting from Flyin' Pirogue to Lafitte's plunge, Bayou Bay is the perfect place for you to have a blast in summer. This exclusive fun – packed park is located in Southington, Connecticut.
It is a destination that offers your family the slides, rides and thrills to make your summer in the sun one to remember. Awesome Twosome, Hurricane Bay, Voodoo, Pirate's Cove and so many more great water attractions of this park will guarantee you the best experience of all.
11. Atlantic Beach Park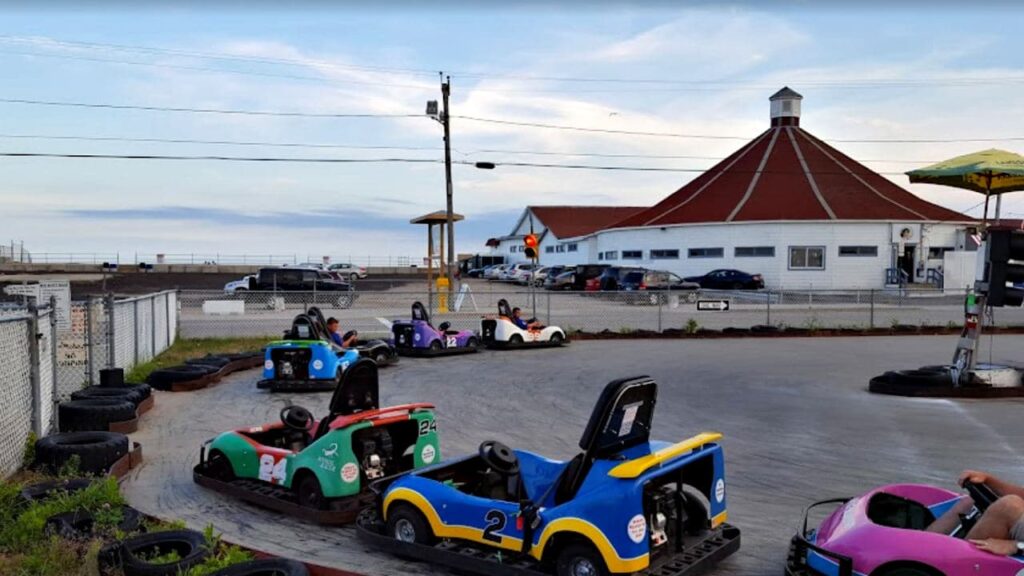 For a fun family outing, your incredible choice will be Atlantic Beach Park. Your one – stop destination for family fun has become a landmark in Connecticut.
This thrilling spot also has a waterfront park along with a list of other incredible rides, like a historic carousel, thrilling rides. After enjoying, you can quench your thirst and enjoy a good meal in their food bars, snacks & soft-serve ice cream.
12.
The best time to visit water parks is during summer time. So, next summer and the upcoming ones, make it a ritual to visit these amazing and enjoyable water parks in Connecticut to cherish and make the most of the summers.