Are you looking for cool spots to go during the summer months to get away from the oppressive heat? Why don't you visit one of Hawaii's many water parks?
There have been several water parks built in Hawaii, giving residents and visitors a wide variety of options to select from while looking for a place to cool down and have fun in the water.
Let us have a look at the list of the most spectacular water parks in Hawaii so that you can choose which ones you want to visit next and make plans to do so. This is in the event that you are thinking about going there.
1. Wet'n'Wild Hawaii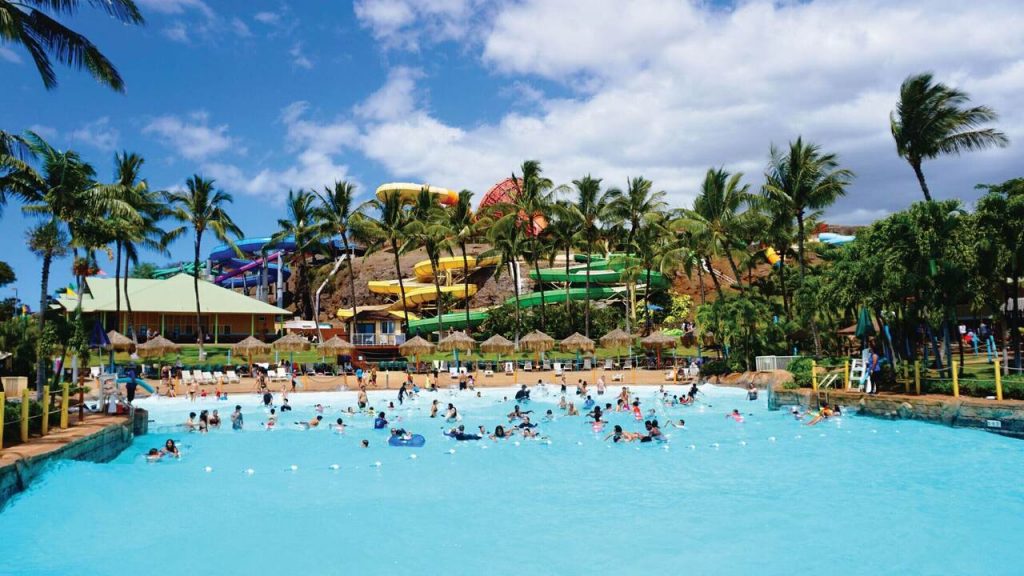 This is the one and only biggest water park in Hawaii that offers a wide variety of rides and activities, such as a giant wave pool, a family raft ride, a funnel ride, a bowl ride, a wonderfully themed lazy river, and mat-racing slides. All of these can be found in the Hawaii Water Park.
However, you must try your hand at surfing on Da Flowrider, a simulated surfing experience that challenges riders on boogie boards to confront its steady stream of artificial waves. Da Flowrider is located in Hawaii, which is known as the headquarters of surfing around the world.
In addition, Wet'n'Wild features a miniature golf course and a cafe. The park hosts a luau every night when the sun goes down.
2. Sea Life Park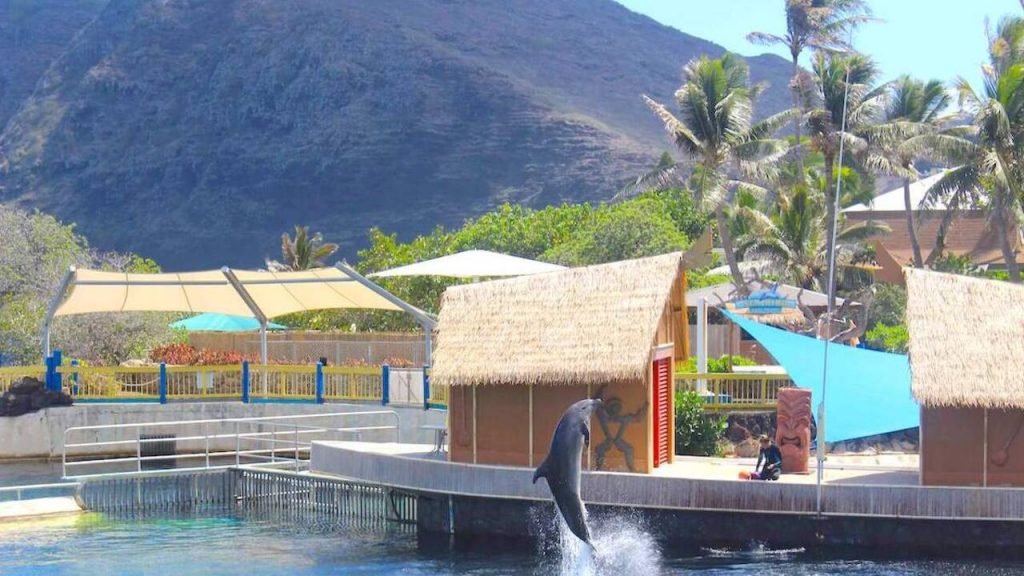 In the same way that Sea Life Park is similar to SeaWorld but without the rides, the Polynesian Cultural Center is similar to Epcot but without the rides. Exhibits and displays with marine animals such as sea lions, dolphins, sharks, penguins, and sea turtles are included in the general entrance price. In addition, there is a seabird sanctuary, as well as a touch pool, an aviary, and a reef lagoon that visitors can explore.
A scuba dive with sharks is one of the many paid activities that can be had at Sea Life Park. Other paid opportunities include swimming with dolphins, sea lions, or rays, as well as diving with sharks. In addition to that, it hosts a luau, during which participants can participate in activities like crafting leis and learning how to hula.
3. Maui Golf & Sports Park
Maui Golf & Sports Park is the ultimate water park that is perfect for all kinds of people to visit and enjoy an unforgettable experience. Situated in Waikuku, this park has different levels of water attractions. You can lounge in private cabanas or scream your heart out on the exciting slides. People love floating in the humongous river. Besides the park, you can easily visit the golf course and sports park.
These are the best skateparks in Hawaii.
4. Kaka'ako Water Front Park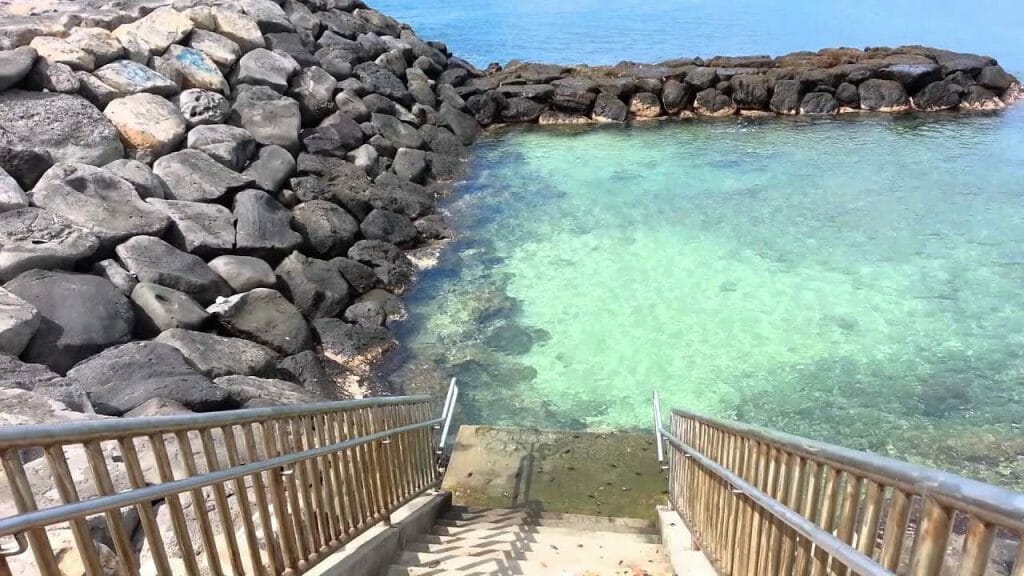 Kaka'ako Water Front Park is the ideal location for everyone who enjoys being near or on the water.
For never-ending fun in the water, this location offers a lazy river, a splash pool, and even more. Children are welcome to play and have fun in the kiddie pool. This fantastic water park is a great option for anyone who is searching for a laid-back atmosphere within which to experience various water rides.
5. Magic island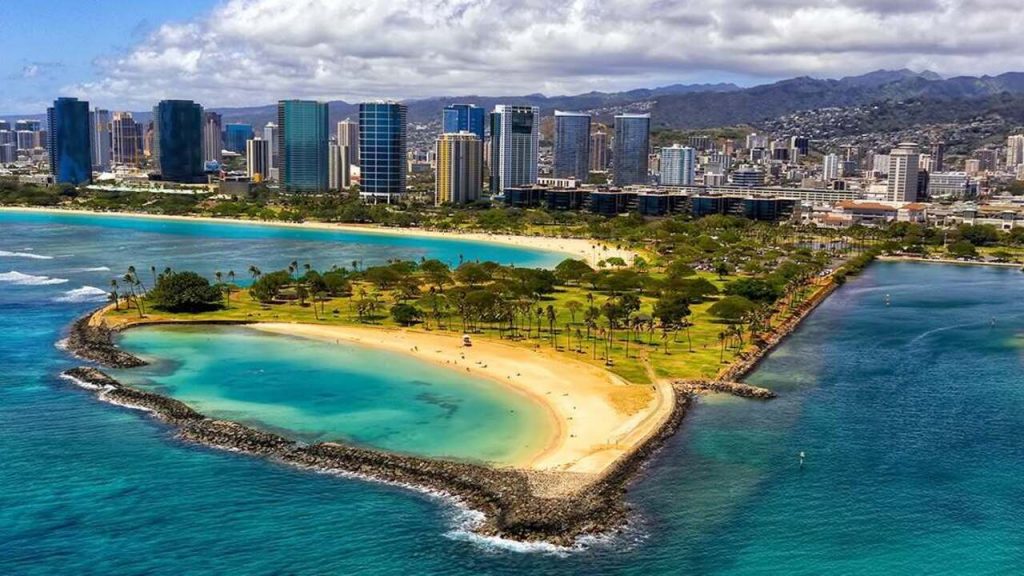 A small water park is available for guests of this Magic island to enjoy as a way to cool off from all the exciting activities. There is a water slide that twists around. In addition to that, there is a swimming pool where one can cool off.
You really cannot go camping in this region without stopping by this water park at some point. You may even bring your RV with you to the campground, so you can set up camp there before heading to the water park for some wet and wild fun.
6. Fishpipe
Taking a ride on the Fishpipe is similar to going down a water slide for more than a quarter of a mile. Over one hundred thousand individuals have taken a ride on the Fishpipe in Hawaii. There are just fifteen Fishpipes left in the world. The New Zealand brothers who were responsible for introducing the world to the sport of Zorbing twenty years ago also invented the first Fishpipe.
Take a look at these exciting amusement parks in Hawaii.
7. Mānoa Valley District Pool
The Mnoa Valley District Pool in Honolulu, Hawaii is a wonderful water park that is also well-known for being a pleasant amusement park in the city. You may enjoy water rides, miniature golf, and other activities that are suitable for children at this park.
The Thunder Lagoon Water Park is, without a doubt, the best water ride that this water park has to offer. In the water park's food court, you may indulge in scrumptious meals such as burgers, pizzas, beach fries, ice cream, and more cuisine after you've worked up an appetite on some of the park's more exhilarating rides.
8. Makapu'u Tidepools
The finest water park that Hawaii has to offer may be found at Makapu'u Tidepools. The park is split up into numerous sections, each of which offers a unique experience in terms of the beach's awesomeness.
The park maintains an online gallery where photographs of the location can be viewed and downloaded. The amusement park offers a wide variety of exciting activities, including go-karts, bumper boats, enormous water slides, and a lot of other exciting water attractions.
However, most of the rides are only available during certain times of the year. It is recommended that you pay a visit to this water park in the summer so that you can take advantage of the majority of the attractions there.
9. Kailua Beach Adventures
This park is home to an amazing water slide that winds its way down from a height of 27 feet. There is a kiddie pool available for the children, which provides assistance at all times. Beach volleyball, a mushroom fountain, a pipe waterfall, and further exhilarating rides are among the additional attractions.
The Spray fountain at the Tot Lot is the most popular feature of this park's most popular attraction, The Tot Lot. If you go to the amusement park on the weekends, you can earn coupons to use at the food court and on some rides.
10. Hanauma Bay Nature Preserve
One of the most breathtaking natural resources in Hawaii, the Hanauma Bay Nature Preserve, is currently experiencing the fruition of almost a decade's worth of efforts to restore the pristine marine environment that formerly existed there.
Hanauma is the first Marine Species Conservation District in the state of Hawaii. It is not a "beach park" where people can play beach sports, but rather a Nature Preserve that is committed to protecting the delicate marine life in the bay.
11. Kaneohe Bay Sandbar
The Kaneohe Bay Sandbar in Honolulu, Hawaii is home to a magnificent water park in addition to being a well-known amusement park. At this amusement park, you can take part in activities that are geared at younger guests, such as water rides and miniature golf.
This water park may be experienced to its fullest potential during the warmer months of the year, when the vast majority of its attractions are available for use.
These Hawaii water parks provide welcome relief from the heat during the hottest months of the year. So, grab your swimsuit and sunglasses and head outside for an unforgettable day at these incredible water parks.