As more days past, the demand for water park compared to amusement parks are increasing. This is purely because of the fact that water parks offer more, and newer thrills and spills then your average theme park.
The state Iowa might not be known for great theme parks or water parks, but it does a few that offer top-class amenities.
If you are interested about knowing about the most major water parks available in Iowa, then check out this list of the best water parks in Iowa.
1. Adventure Bay
Adventureland recently improved, if it were ever possible, and renamed itself Adventure Bay. Within Altoona's Adventureland park lies the brand-new water park, Adventure Bay.
The wave pool, lazy river, kids' area, and a ton of other attractions make this water park one of the greatest in the state. Keep this in mind the next time you visit this park.
2. Lost Island Waterpark & Adventure Golf & Go-Karts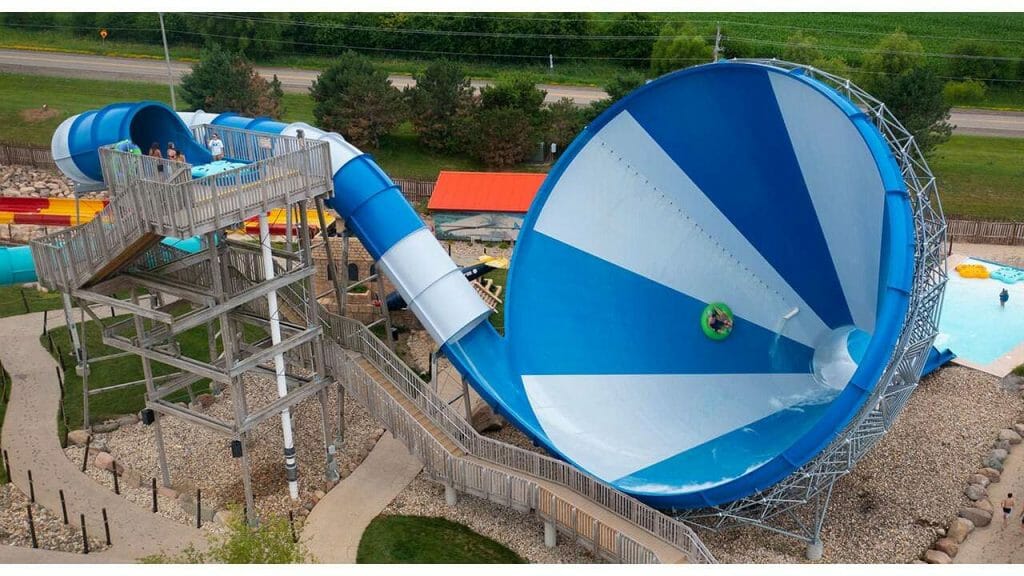 Lost Island Waterpark & Adventure Golf & Go-Karts, Iowa's largest water park, has nine significant water slides, three sizable water attractions, and three splash areas just for kids, so it's a good idea to have a strategy before going there.
The 24-acre park features numerous private cabana spaces as well as lounge seats. To make it simple to assemble your group, choose a "home base" that is close to your favorite rides.
3. Huck's Harbor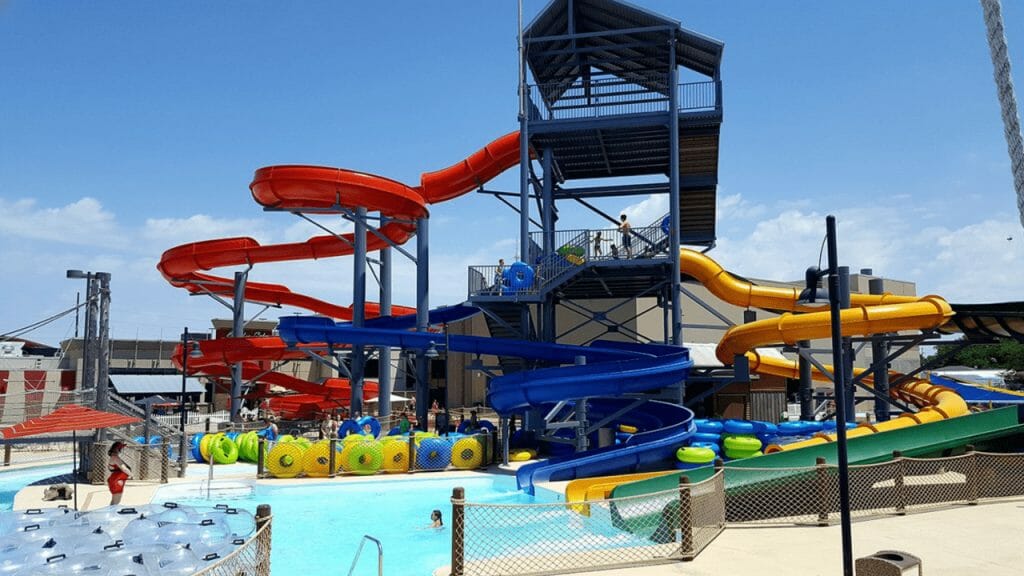 Five different water slide experiences are now available at the recently refurbished and remodeled Huck's Harbor Water Park at Pzazz! in Burlington.
Take on Huck's River Ruckus, a twisting tube slide, or compete with pals on the twin super slides at Koozmicki Falls before slowing down on the lazy river and floating about the park.
Check out these wonderful caves in Iowa.
4. King's Pointe Resort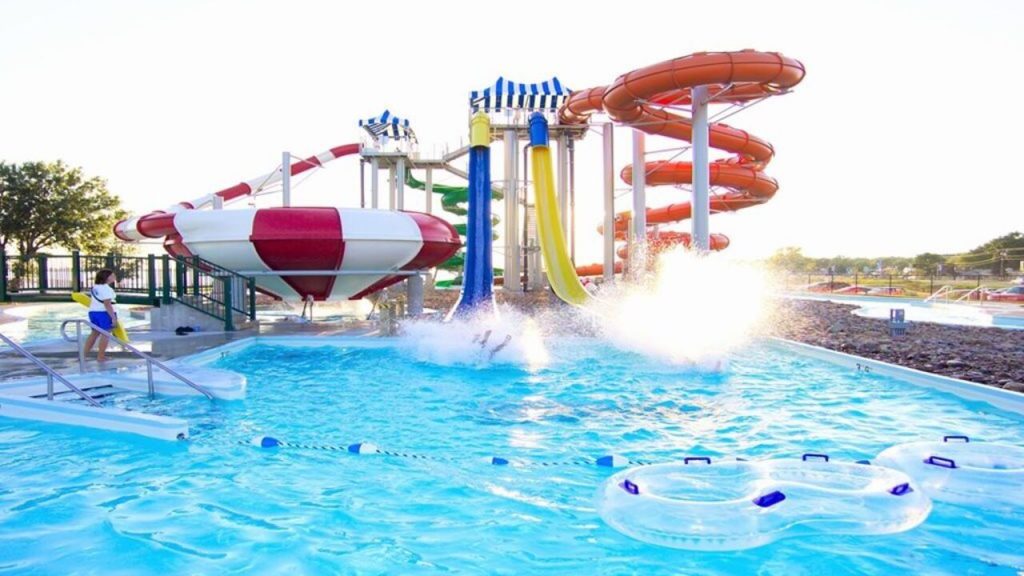 At Storm Lake's King's Pointe Waterpark Resort, the fun never ends. Three enormous water slides, one body slide, and two tube slides are all part of the year-round indoor water park, which caters to thrill-seekers.
Would you prefer to unwind? Little more than a ripple can be seen in the tranquil current as the lazy river flows through the park, passing the splash-down zones.
5. Boji Splash
You can make waves at Boji Splash indoor waterpark all year long. Fill chilly weekend hours relaxing in the warm waters of the lazy river as you imagine a sunny summer day while your daredevils race down two waterslides, laughing as they splash into the pools below.
6. Cascade Falls Aquatic Center
Cascade Falls Aquatic Center is an aquatic center and water park in Iowa. Rides, a lazy river, splash board, lap lanes, and even a Flow Rider surf simulator are available at Cascade Falls in Ankeny. Going here is a terrific idea if you want to unwind for the day while floating down the lazy river.
Check out these incredible RV parks in Iowa.
7. Prairie Ridges Aquatic Center
The slides, kids' areas, fountains, and other amenities at the Prairie Ridges Aquatic Center in Ankeny provide entertainment for the whole family. a fantastic location to bring the kids for a day of outdoor fun. This park is a perfect option for a day out with your kids.
8. Grand Harbor Resort and Water Park
The water park at Grand Harbor Resort in Dubuque, on the banks of the Mississippi River, offers an exhilarating getaway for people of all ages with 25,000 square feet of excitement. Just off the lazy river, a number of water slides and an indoor/outdoor tube ride splash into little pools.
A jungle gym, a sizable dump bucket to assure a splashy climb, and two slides to whisk busy kids to the bottom of the structure so they can try another route up are all included in an indoor tree house water feature.
9. Waterloo/Lost Island Waterpark KOA Resort
One of the top water parks in the state, if not the whole Midwest, is Waterloo's Lost Island Waterpark. They have a wave pool, lazy river, kids section, go kart racing, mini golf, and a ton of cuisine in addition to their endless slides and rides.
Anyone from Iowa this summer must visit this place without a doubt, as it one of the best water parks in Iowa.
10. Buccaneer Bay indoor water park
You can enjoy a tropical party at Buccaneer Bay indoor water park no matter what the weather is outside. Preschoolers will love frolicking in the ocean-themed zero-entry pool with a palm tree fountain and small pirate ship slides, while their older siblings will have fun in the activities pool with lily pad crossing and obstacles.
11. The Beach Ottumwa
Ottumwa's city owns The Beach, which provides a little bit more than the average aquatic facility. Spend the afternoon speed-sliding down the speed slide, tubing in the wave pool, or taking a more leisurely trip down the curly slide. The play area, which includes two smaller slides, a clubhouse splash pad, and water toys, will thrill young children.
12. Wasserbahn Waterpark Smock Hotel & Resorts
Indoors is where the Wasserbahn Waterpark is. The two racing slides that wound through the outdoors before dumping you inside are the major draw. The fact that you may pay to swim for the day at an indoor waterpark resort is its best feature. You are not required to get a hotel room for the night.
The state of Iowa is not known for having massive, luxurious water parks. However, due to its stunning climate, water parks in Iowa have become a got-to destination for most during the summer.