Florida is not only a perfect Sunshine State for vacationers, it is also the best destination for couples to hold their iconic wedding.
In this sunny destination, every year millions of couples escape to the wonderful venues in Florida to host the most memorable day of their lives.
To help you choose the perfect place to say "I do", here we are with the recommendation list of the best wedding venues in Florida, from the coast to Central Florida and beyond.
1. Four Seasons Resort Orlando
Call: +14073137777 – Visit Website – View on Map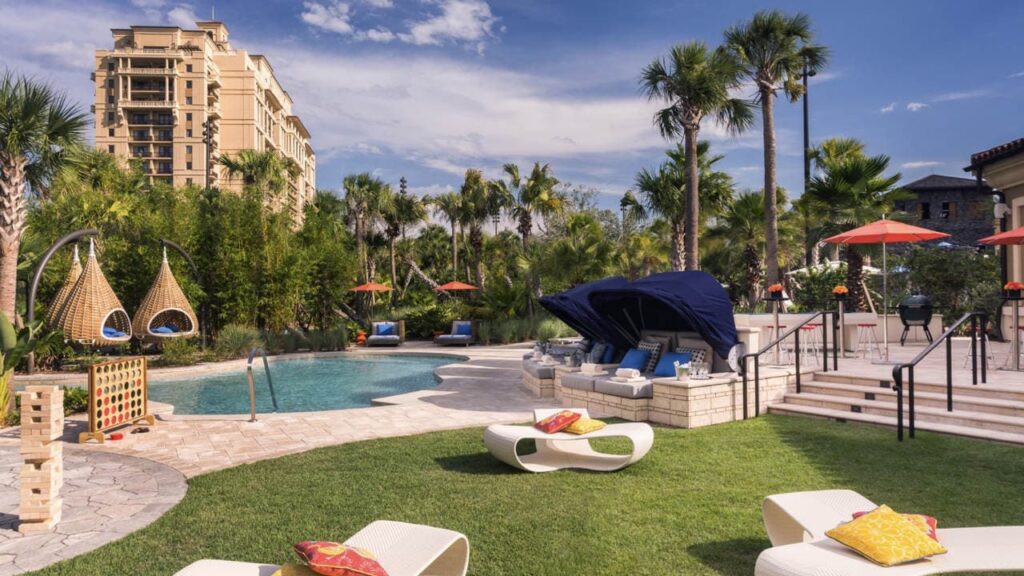 Once you choose Four Seasons Resort Orlando, your wish of having a fairy – tale wedding venue will come true. This luxurious resort is at Walt Disney World Resort. Cinderella's Castle holds more than 500 guests. You and your guest get full access to the theme parks nearby the resort. You can order your wedding food from the incredible meal options offered by the venue.
Some of the best items are filet Mignon and roasted chicken breast. The buffet style meal is one of the most popular choices among the clients. For a lavish wedding celebration, this one is a highly recommended resort.
2. Pelican Club in Jupiter
Call: +14072385000 – Visit Website – View on Map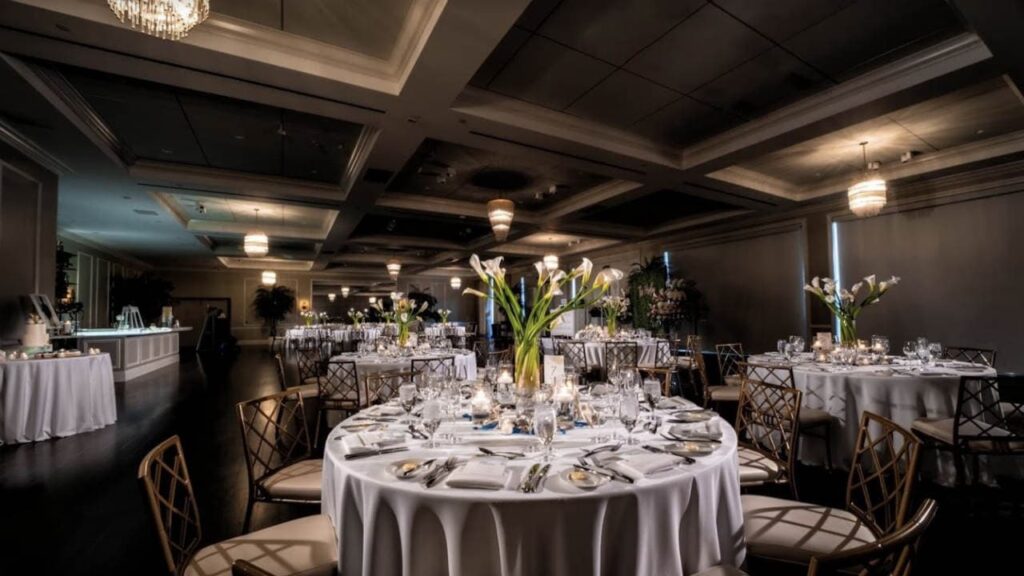 Nestled near the Loxahatchee River, Florida is the Pelican Club in Jupiter. Because of their commendable hospitality, this venue is a great getaway for destination weddings. With a space encompassing a 7,000-square-foot waterfront venue, you can choose to book indoor or outdoor spaces.
You can celebrate cocktail hour while enjoying watching the sunset with your better half. Another fantastic feature is that they have their own on-site wedding suite, so you can have an unforgettable time while enjoying the panoramic views of the water.
3. The Breakers Resort
Call: +17574281821 – Visit Website – View on Map
Are you looking for a historic wedding venue that offers a plethora of features? You can opt for The Breakers Resort in Palm Beach. With its massive ballrooms and bloomed gardens, this hotel has been holding luxurious weddings for more than 100 years.
The surroundings of this hotel are serene beaches. You can choose their catering for your reception. They have a range of delicious foods, including salads, cakes, steak and seafood. The suites of the hotel are with attractive features like a private garden and pool access.
Check out these beach resorts in Florida.
4. The Addison in Boca Raton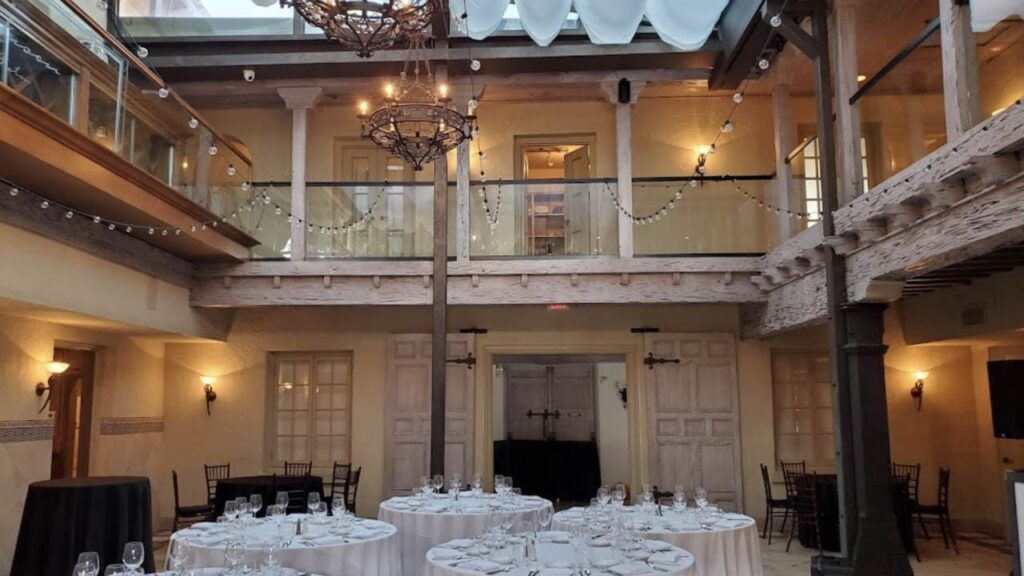 For an excellent wedding reception, look no further than The Addison in Boca Raton. They are the recipients of the Five-Star Diamond Award-winning event venue. It is the best choice for both large and intimate weddings.
This estate was built in 1926 by architect Addison Mizner. The courtyard of the venue is perfect for outdoor weddings with 100-year-old banyan trees surrounding the area and a separate private dining room facility.
5. Don Cesar Hotel
Call: +14072385000 – Visit Website – View on Map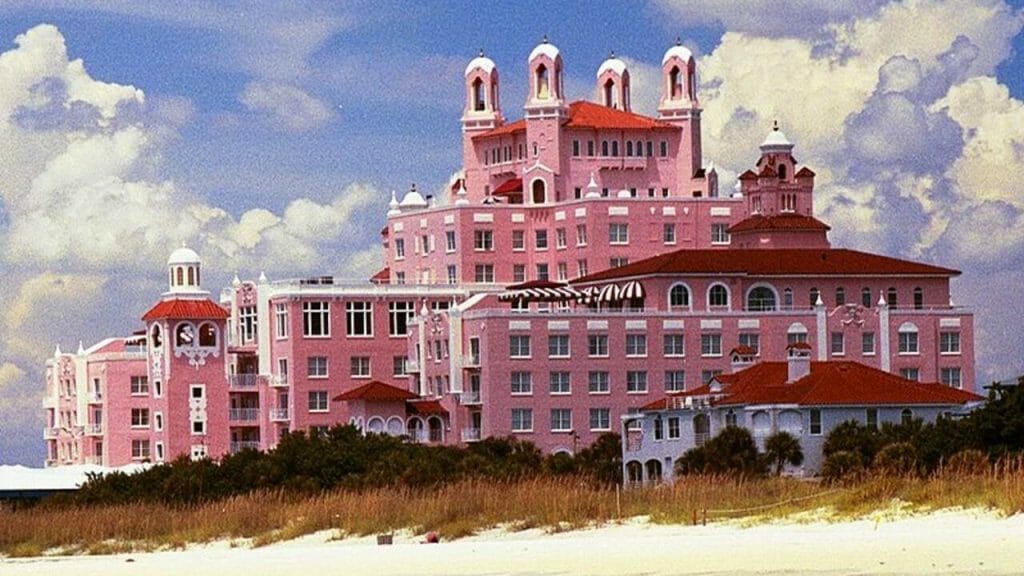 Located near the Gulf Coast of Florida, Don Cesar Hotel is one of the most attractive Mediterranean-style hotels. They offer space for over 350 guests with separate indoor and outdoor seating. This beachfront wedding venue is the best place to start a new chapter in your life.
Not only can you and your guests enjoy the stunning gulf views, you can satisfy your appetite by relishing the excellent meal options offered by Don CeSar. The seafood tower and a variety of desserts will tantalize your taste buds.
6. Key Largo Lighthouse Beach
Call: +13054323135 – Visit Website – View on Map
Key Largo Lighthouse Beach hosts such fabulous weddings that you will not believe that it is the reality. They offer a four-day, three-night stay at a resort for you and your guests to have the best time of your life.
Not only can you have a private wedding on the white sandy beach of Florida Keys, Florida, you can also use any of their all-inclusive wedding packages to hold a professional arranged wedding celebration.
Check out these best golf resorts in Florida.
7. Ocean Key Resort & Spa
Call: +13058098072 – Visit Website – View on Map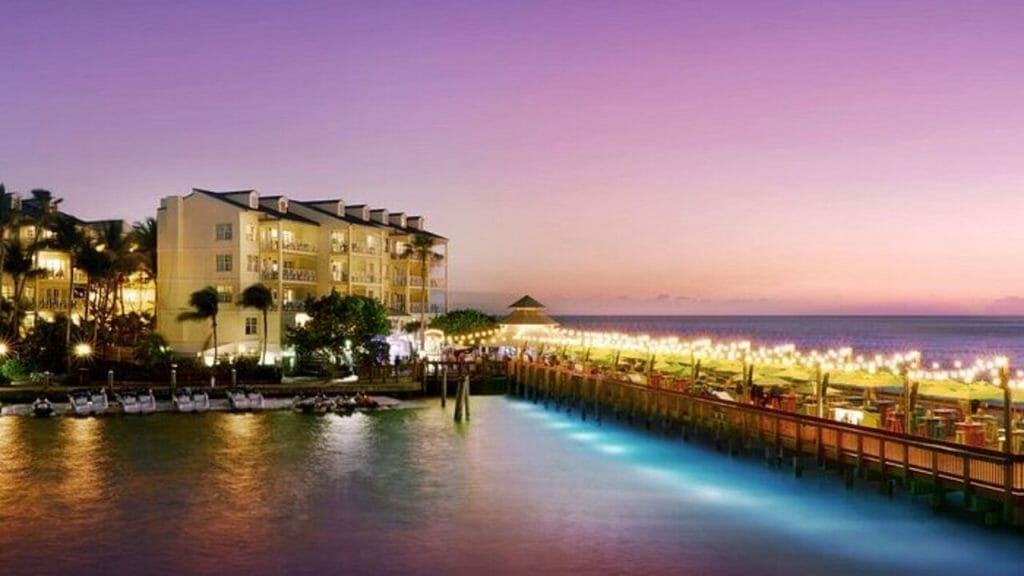 Picture this: you are walking down on the isle of a stunning beach, and you exchange vows with your partner while the sun sets. Well, Ocean Key Resort & Spa is where you can bring your imagination into reality. You can enjoy the breathtaking views of the Gulf of Mexico.
The venue offers different wedding packages for both outdoor and indoor ceremonies. For delicious wedding food, you can customize menus to suit your style. In addition, they offer a variety of vegan entrée options to impress your guests.
8. The Treasury on the Plaza
Call: +17574281821 – Visit Website – View on Map
Florida's traditional treasure is The Treasury on the Plaza, which was established in the 1920s. This historic place is an event space which was initially a bank and, presently it has been updated into a luxurious wedding venue.
They host weddings in elegant style with their marble and granite bar. The Grand Foyer has hand-painted wood-beam ceilings and an aged brass letterbox that manages to take you and your guests back to a peaceful and crafted past.
9. Rosen Shingle Creek
Want to host a wedding where you feel like a prince or princess? Your perfect choice will be Rosen Shingle Creek. You have the choice of both indoor and outdoor space to have your wedding reception.
With its diverse catering options and lavish décor, they offer an exclusive fairy – tale wedding experience. Another exclusive feature is that they offer special spa facilities. You and your guests can enjoy special treatments including hydrotherapy, aromatherapy and Swedish massage.
10. Paradise Cove
Call: +13104572503 – Visit Website – View on Map
Just as its name suggests, Paradise Cove provides you with nirvana for your wedding. This hidden oasis is located in Orlando, Florida. With lakefront views of Lake Bryan, the atmosphere of the venue will make you and your guests feel calm and relaxed.
Your reception will be surrounded by cypress trees, twinkling lights and tiki torches. The vibrant wonderful setting of the outdoors will make you want to seize this special day forever.
11. Sheraton Vistana Villages
Call: +14072385000 – Visit Website – View on Map
Located at the heart of International Drive, Sheraton Vistana Villages offers an outstanding wedding venue for all kinds of weddings. From this resort, you can see stunning views of Orlando's amazing theme parks.
This resort offers a grand ballroom, lush gardens and a range of event spaces. More than 800 guests can be accommodated, and they offer popular menus. Some of their best dishes are grilled salmon fillet and chicken breast roulade.
12. B Ocean Resort
With exhilarating ocean views in a massive event space, B Ocean Resort is a perfect choice for intimate and big weddings. It is located on the popular Fort Lauderdale beach.
Whether you want to arrange an exotic beach wedding or a luxurious indoor wedding, the wedding venues in Florida offer the best event places along with commendable service. To plan your dream wedding, choose any of the listed wedding venues in Florida. As they say, the best wedding begins with the right venue. So look up and book right now!