Arkansas is one of the most natural states in the United States that is full of green forests and secluded mountain regions. This allows the residents of Arkansas to enjoy many incredible outdoor activities in the wilderness, like zipline tours.
Extreme zipline tours are one of the most challenging outdoor activities in the state, and are highly popular among locals. Additionally, tourists from all across the United States visit certain areas of Arkansas to enjoy thrilling zipline tours in the Ozark or Ouachita Mountains.
So, the most extreme ziplines in Arkansas are listed below.
1. Ozark Mountain Ziplines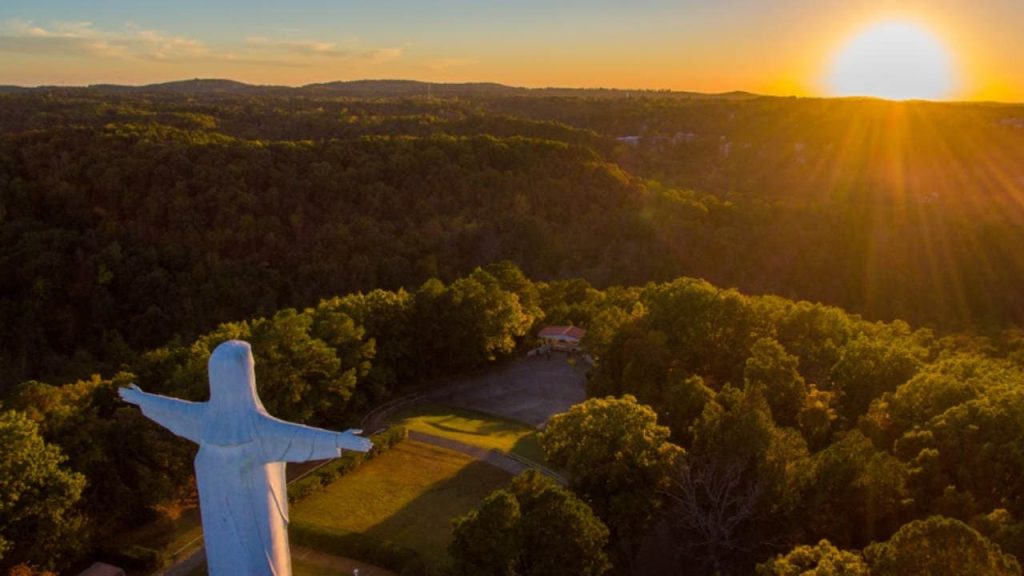 Located in Eureka Springs, Ozark Mountain Ziplines are one of the most popular ziplines in Arkansas. The ziplines are nestled in the beautiful Ozark Mountains at an elevation of 300 feet from the ground, and are more than 2,000 feet long.
Alongside its 10 cables, this place also offers a swinging bridge as well. It is by far one of the most extreme and thrilling ziplines in the state, and you can book your reservation online.
2. Adventureworks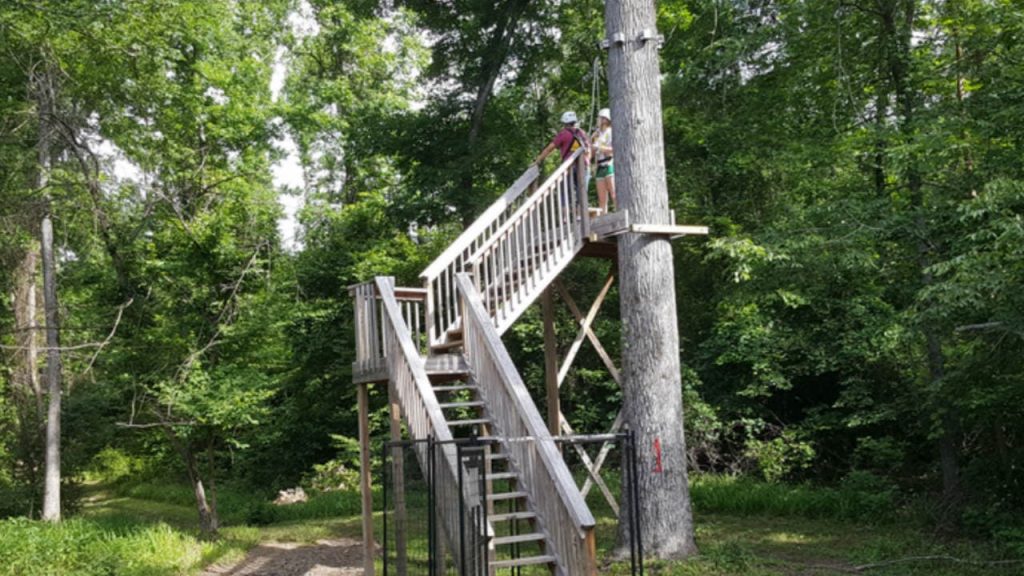 Adventureworks is an adventure sports center in Hot Springs that offers a variety of aerial adventures and canopy zipline facilities. The ziplines in Adventureworks are nestled in the ancient secluded forests of Hot Springs, and provide thrilling adventure as well as awe-inspiring views.
Moreover, the zipline tours in this center allow you to soar through massive trees as you make your way from a tower to the ground.
3. Horseshoe Canyon Ranch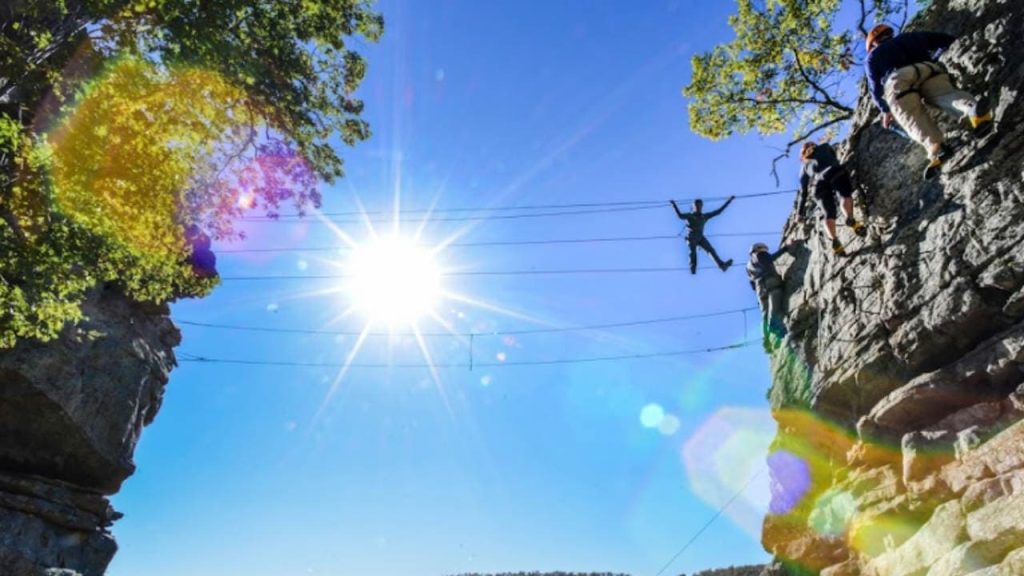 Horseshoe Canyon Ranch is one of the most well-known zipline facilities in Arkansas, located in the city of Jasper. Soar 300 feet above the ground, as you sail through 2300 feet of stunning canyons on to the main lodge.
The top speeds in the ziplines can reach as high as 50mph, providing an extreme zipline experience. Also, horseback riding, rock climbing and swimming are other popular activities in this place.
If you like hiking, you should also know about the wonderful hiking trails in Arkansas.
4. Urban Air Trampoline and Adventure Park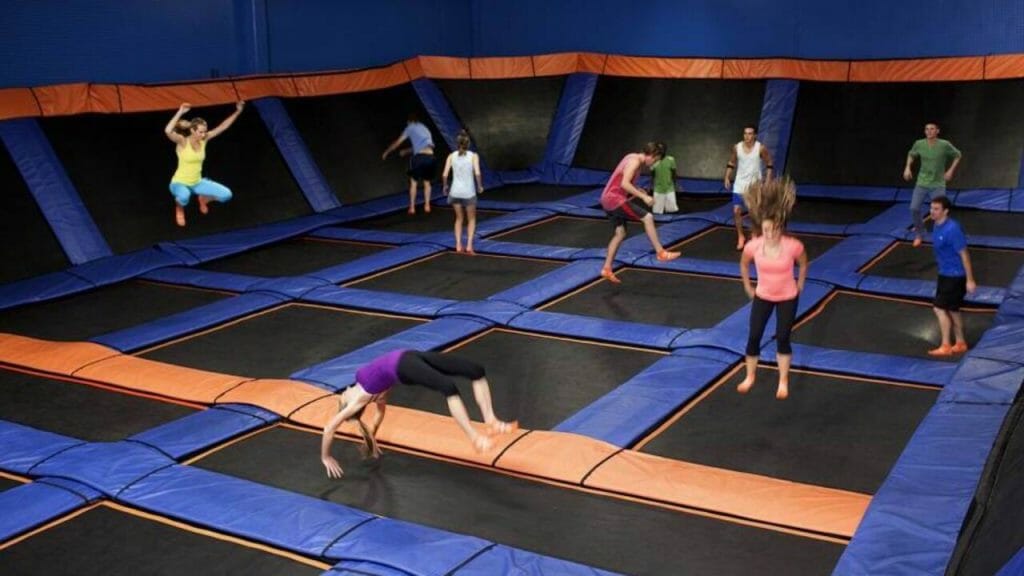 Urban Air Trampoline and Adventure Park is a huge indoor amusement park located in Arkansas' capital, Little Rock. This indoor park offers one of the most popular zipline tours in the state.
They provide a state-of-the-art trampoline tour unlike any other, which gives a safe and thrilling experience. Additionally, other extreme activities include wall climbing, a rope course and a warrior course.
5. Loco Ropes!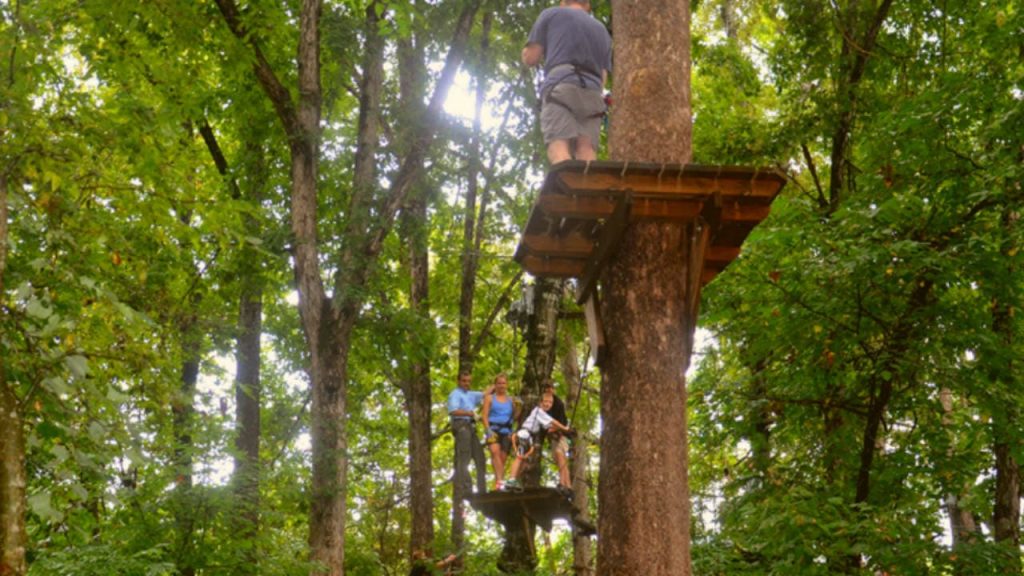 Loco Ropes! is a theme park in Mountain View, Arkansas, that offers recreational treetop activities like zip lining, rope climbs and bridge walks. The place is renowned in Arkansas among treetop activity lovers, and the ziplines offer an extreme off-the-ground experience that comes with proper safety measures.
This highly advanced treetop adventure park offers more than 30 challenges which are quite difficult, and lives up to its name "Loco", by providing one of the most extreme ziplines in Arkansas.
6. The Blue; Zip Line and Farm
The Blue; Zip Line and Farm is a very popular tourist destination in Mena, Arkansas, which attracts people from all across the state due to its incredible ziplines.
Situated in the heart of the Ouachita Mountains, The Blue; Zip Line and Farm offers a unique zipline canopy experience. Move across 300-year-old massive oak trees through these ziplines, while taking in the secluded atmosphere of this place!
Make sure to check out the wonderful bike trails in Arkansas.
7. BOC Zip Line Tours
BOC Zip Line Tours is an outdoor activity organizer that offers an adventurous zipline tour. It is the home to one of Arkansas's few wilderness ziplines, which were constructed around lofty and tree-friendly platforms.
Additionally, Buffalo Outdoor Center Zip Line Tours provides lodging facilities along with its zipline tours. Located in Compton, BOC offers one of the most secluded and extreme zipline experiences in Arkansas.
8. Trex Fun Spot Ropes/ZipLine/Gyroscope
Trex Fun Spot Ropes/ZipLine/Gyroscope is an amusement center that specializes in aerial tours, zipline tours and mini-golf. Moreover, you can also experience its well-known go-karts and laser tag facilities as well.
But, when it comes to zipline tours, this Hot Springs-based amusement center sets itself apart by offering an exhilarating zipline experience that is 500 feet above the ground. Although, there is a minimum height limit for its zipline course, which requires you to be at least 42 inches.
The majority of the zipline facilities and parks in Arkansas are located in mountain and forest areas, which provide an extreme adventure in the wilderness. However, indoor facilities like Urban Air and Trex Fun offer completely different, but more highly advanced ziplines tours that are suited for those who prefer the security and environment of indoor ziplines.