Arizona does not have many amusement parks like the other states of the US. It has harsh weather which has heat and humidity. In fact, Phoenix and its environs are one of the few significant cities in the United States. In Arizona you can get a lot of Vitamin-D without any doubt.
A good amusement park must have outstanding attractions that visitors will want to ride or see again and again. Here is a list of the best amusement parks in Arizona.
1. Golfland Sunsplash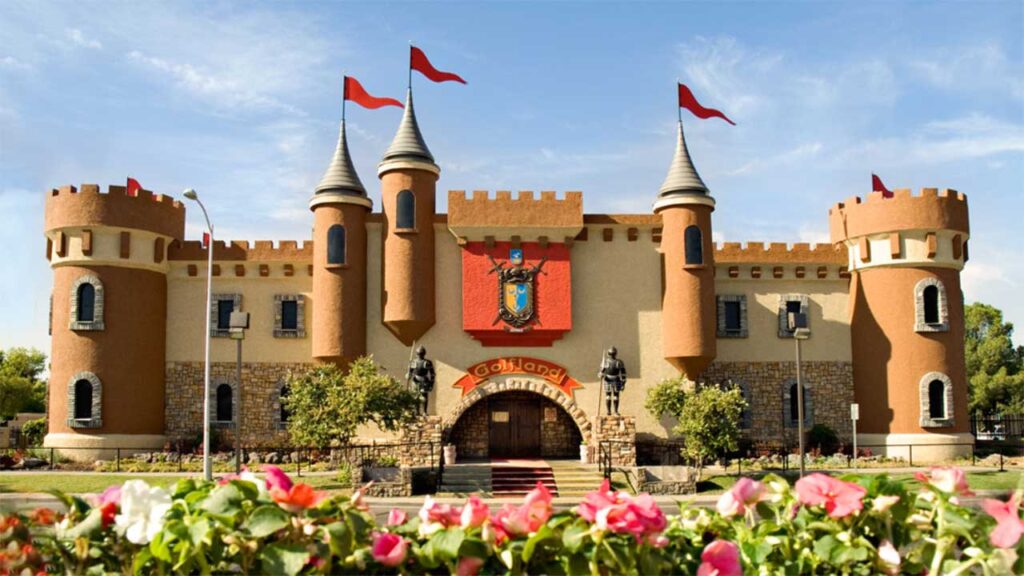 Golfland Sunsplash fantastic amusement park is visited by many tourists every year. The local people who live in or near Arizona really love to visit this amazing water park in most of the summer. Sunsplash is a water park with a variety of water-based activities that keep the kids playing to their hearts' delight, including the massive Thunder Bay, not only that it also has a great wave pool.
Golfland contains bumper boats, with the go-kart track, a pizza restaurant, an arcade, and three miniature golf courses that are open throughout the year. So it is one of the greatest amusement parks in Arizona.
2. Enchanted Island Amusement Park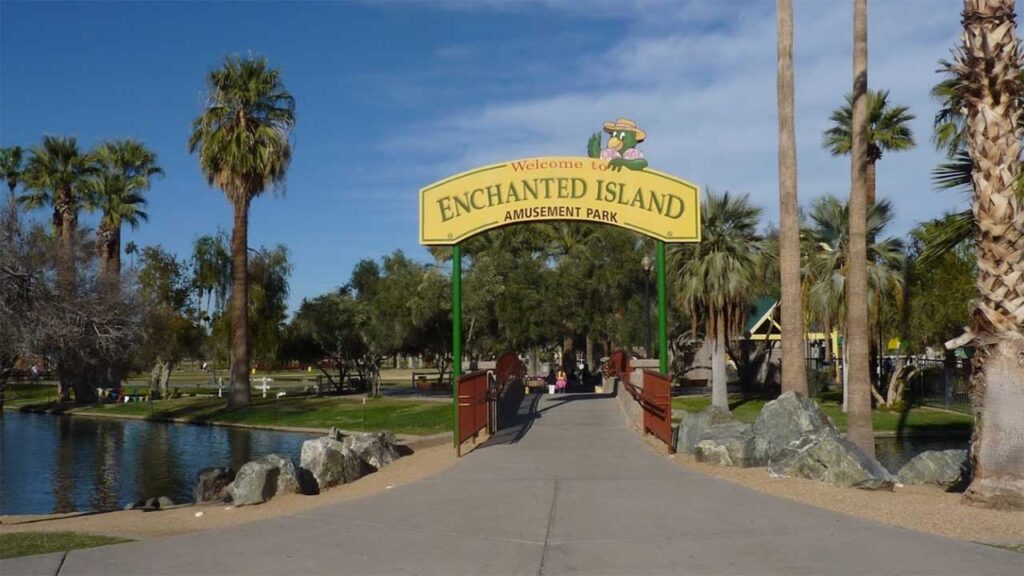 Enchanted Island Amusement Park is located in Phoenix, Arizona. Enchanted Island park is perfect for kids. It will make your children's day charming and enchanted to the greatest. Parents who don't have much time for kids during the whole week, they love to spend their weekend with their kids here. Don't miss the most spectacular amusement of them all, the teacups-style Rock-N-Roll.
The tiny train at Enchanted Park, bumper boats, a kiddie coaster, and a carousel both are excellent rides. There's also a splash zone and a climbing wall for the rest of the kids to cool off. Moreover, there is no denying that it is a great place to spend the vacations and holidays.
3. Castles N' Coaster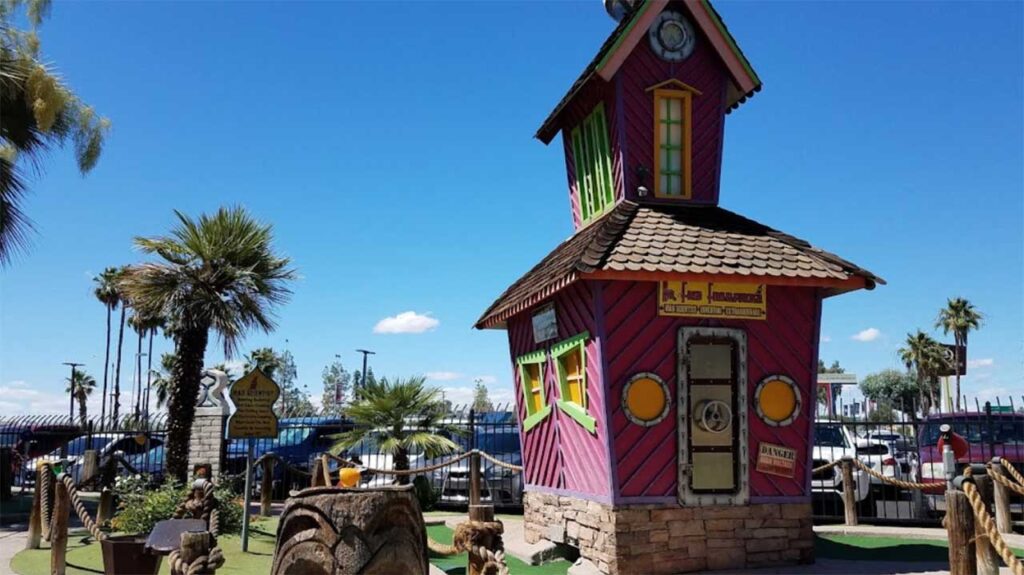 This park is famous and popular for its unique and adventure rides. There are Two steel coasters, one with inversions, the Castles Cafe, the Extreme Dark Ride, mini-golf, go-karts, a 3D motion theater, a zip line, and spinning rides are among the top attractions. People love to visit this amazing place over and over again just for enjoying the thrilling rides of this park. It is mostly open throughout the year.
In case you are looking for luxury tour, check out these amazing zoos in Arizona.
4. Wildlife World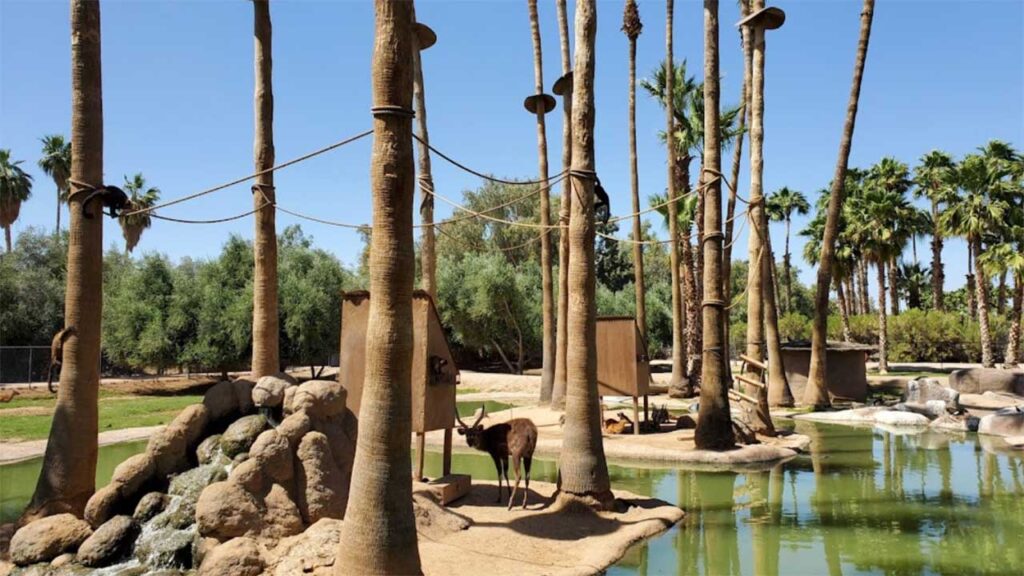 Wildlife World of Arizona is a great place for visiting with family and friends during holiday and vacation. This amazing park offers three tours at once that you, your friends, and your family can enjoy. The park is mostly a zoo, a safari park and it also has a beautiful aquarium.
With 600 exotic species and over 6000 animals, this park is mainly focused on native creatures from South America. You can see tanks with fish, reptiles, & creatures that dwell underneath the sea on the aquarium tour. It will be an amazing experience for everyone if they visit this wonderful place.
5. Legoland Discovery Center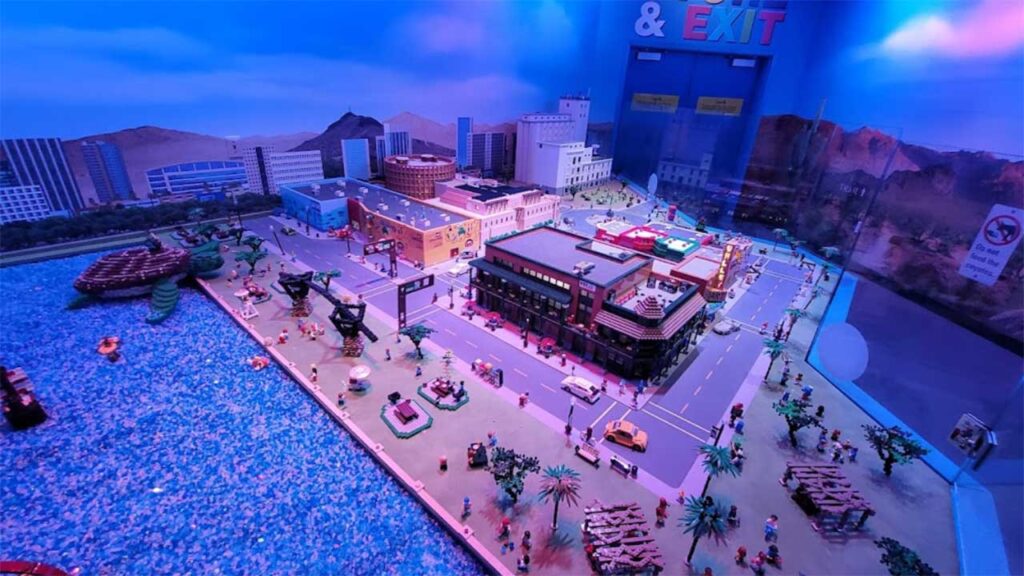 People and their family can enjoy up to 12 attractions at the Legoland Discovery Center in Arizona. It has Miniland, Lego 4D Cinema, Kingdom Quest, Merlin's Apprentice Ride, Dino Explorer, Lego Factory TourMeet Your Favorite Lego Characters Creative Workshop, Lego City Play Zone, Lego Racer: Build & Test, Duplo Farm, Lego Friends Heartlake City, and Lego Cafe.
6. Pangea Land of Dinosaurs
Pangea Land of DinosaursIf is one of the great amusement parks of Arizona and there is no doubt about that. It will give you a wild experience that you have been looking for. If you love the Jurassic Park blockbusters, you will love this tourism destination.
Pangea Land of Dinosaurs is an entertainment park in Arizona that includes dinosaur-themed attractions. There are displays, live concerts, and attractions on the dinosaur tour, all of which are sure to interest your curiosity if you're a dinosaur fan.
Check out our list of the Top RV Parks in Arizona.
7. Makutu's Island
Makutu's Island, which refers to "Magical Island". The adventure place features numerous rides that you can enjoy with family, friends and kids. Such as arcades and entertainment centers, to various rides where you may explore, such as caves, tunnels, and spiraling slides. It's a great place to spend your time with friends and family.
The main attraction is a fantastic indoor tree with mole holes, slides, tunnels, and many other fun elements. There is also a snake slide that climbs out of the tree to the base.
8. Urban Air Trampoline and Adventure Park
Arizona is amused with both the Urban Air Trampoline and Adventure Park. It is Phoenix's all-year amusement center, which is a indoor park that acts as both a playground for the entire family. Aside from its famous bouncing feature, the park can host a unique birthday party for your children or to provide a fun-filled day experience for the entire family. With obstacle courses for freestyle and competitive players, it promises to be more than a trampoline park.
9. Party Jungle
It's an indoor amusement park which has been entertaining Arizona locals for a long time. While there are a lot of amusement parks in the region, Party Jungle stands out with its affordable unlimited attraction passes. This ensures that anyone who needs to check out Party Jungle's features and attractions could do this for free. It is proud to offer not only a wonderful theme park experience, but also a positive impression to all of its tourists.
10. Daisy Mountain Railroad
It is located 25 miles north of Phoenix, Arizona, and has a 24-inch gauge train built at the Anthem Community Park. The park's attraction is the beautiful scenery which surrounds it. In Arizona it is one of the best amusement parks located here. It travels via a trestle near a lake, a tunnel, waterfalls, green hills, and a beautiful playground fully prepared for the entertainment of young children.
11. Funtasticks Family Fun Park
The name of the park stands for fun. It is one of the most amazing amusement parks of Arizona where you can spend amazing and adventuring fun with your family and friends here. A few children's games, including a mini roller coaster, are located in the family entertainment center. Go-karts, bumper boats, mini-golf, laser tag, and an arcade are among other attractions.
12. Desert Breeze Railroad Arizona
The Desert Breeze is a great amusement park for fun loving people and tourists. People from all around the world come here to visit this amazing park. You can spend here a full day with family and friends with fun and adventure. You will experience the great desert breeze here.
13. Six Flags Hurricane Harbor Phoenix
This water park called Six Flags Hurricane Harbor Phoenix is situated in Phoenix, Arizona. The park is the biggest theme park in the state and occupies an area of around 35 acres. It may be found near Adobe Dam Regional Park in North Phoenix.
14. World of Illumination – Tempe
Sugar plum fairies. A gigantic gingerbread village. Sweets as far as the eye can see. World of Illumination presents Candy Rush, the world's largest animated drive-through light show, highlighting larger-than-life Christmas characters and confections. This mile-long journey features millions of colorful lights and enchanting holiday music— a must see treat for the entire family.
To conclude, Due to the extreme extreme heat, there aren't any great outdoor amusement parks or theme parks. The weather in Arizona is unfavorable. Most people suffer a lot from the heat and in high temperatures people do not like to go out much. On the other hand, Arizona offers numerous recreational activities. They have planned all their amusement parks according to the heat and the weather. They are all summer based parks. So that people can enjoy in summer.