You will fall in love with these RV parks, whether you are an RV fanatic or have never been in one before when traveling in a recreational vehicle or an RV. The beauty of the empty roadway and the comfort of your own home mix together in perfect harmony while you are driving in an RV.
I've compiled a list of the best RV parks in Arizona, so let's get to work exploring the options!
1. Grand Canyon Railway RV Park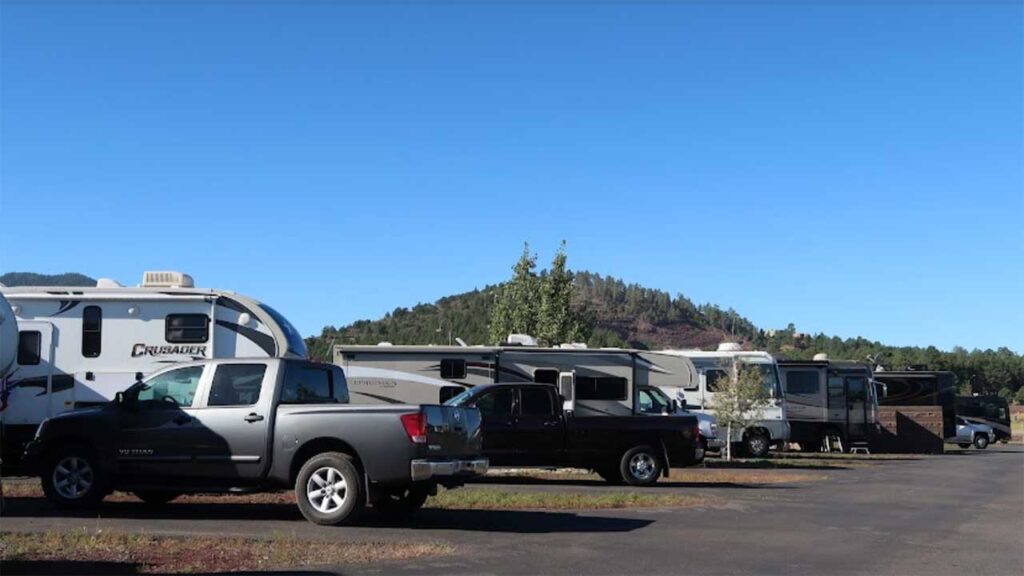 The most thrilling parts that make the Grand Canyon Railway RV Park unique from the crowd are the mountain community of Williams and the historic train journey from Williams to the Grand Canyon National Park.
This RV park in Arizona is well-organized and reasonable. It is designed to provide the top-class service, comfortable, and most relaxing experience for their guests. Each RV has Wi-Fi and high definition digital television. Also, you will have access to the hot tub, indoor pool, and you will also get all the shower facilities available in the hotel.
You can also bring your pets with you and keep them in the pet resort. Your pets will have the best pet care while you are enjoying and exploring the RV park.
2. Eagle View RV Resort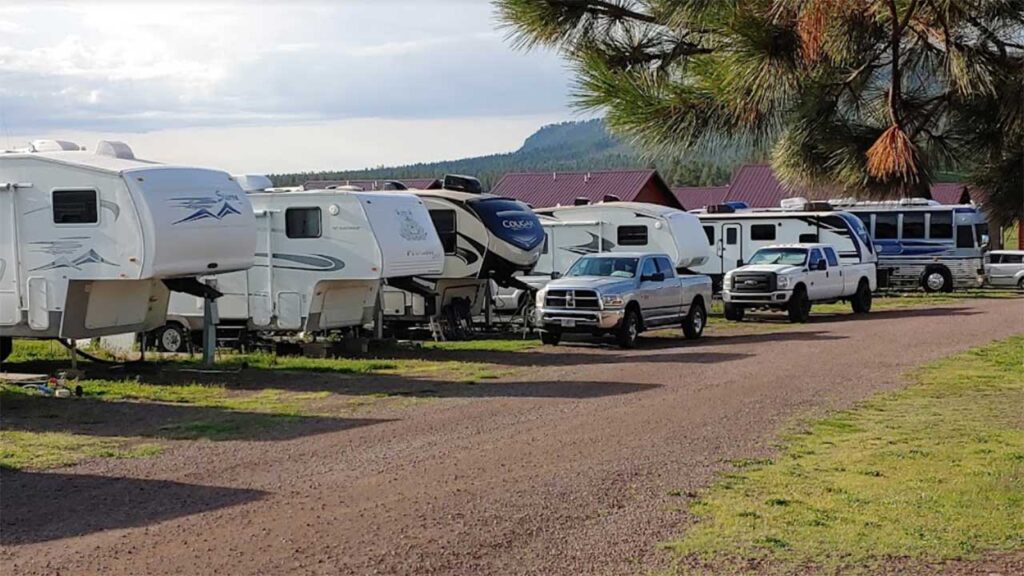 The Eagle View RV Resort in the Fort McDowell area offers plenty of activities for its visitors. It is another top-rated RV park in Arizona. Not only numerous activities, but this RV park has also been blessed with amazing landscapes. Whether you are going to stay here for a single night or a season, it gives an incredible experience to all of their guests.
The best part of staying at this RV resort is exploring the amazing landscape on horseback and chilling out in the pool. You can get a chance to play at the We-Ko-Pa Golf Club.
Every RV includes full water, electric hookups, free Wi-Fi, waste disposal, and undoubtedly, needless to mention, its great view. It also has a pet resort for your fur buddies, a laundry room, clean showers, and a fitness center.
3. Leaf Verde RV Resort
This family-owned RV park in Arizona provides top-class service to its guests for more than 30 years. It is unquestionably one of the top camping grounds in Arizona, having several prestigious awards for guest satisfaction.
The surrounding landscape of the campsites provides each camper the greatest setting to chill and relax. The outstanding sunset view will make your trip memorable.
Inside the RV resort, you will have numerous activities to keep yourself busy and entertained. You can enjoy a shuffleboard court, horseshoe pit, and a heated pool. Besides, it includes a BBQ and picnic area and a club room with a pool table, cardtables, and television to make your stay more interesting.
In case you are looking for luxury tour, check out these amazing zoos in Arizona.
4. Distant Drums RV Resort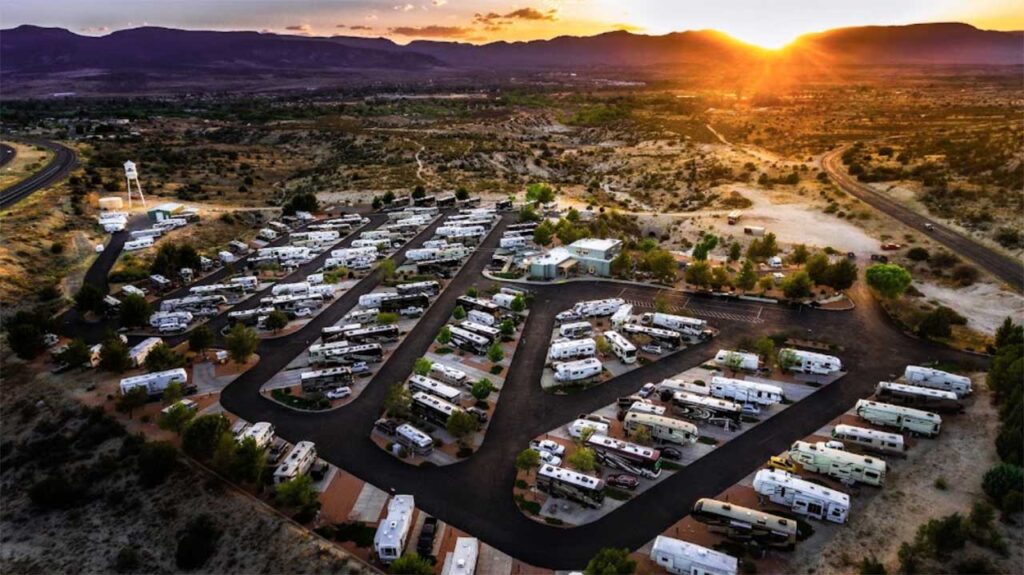 The RV sites at Distant Drums are suitable for any size RV. It provides multiple types of facilities to deliver maximum comfort for guests. It offers a fitness center, paved sites, cable television, Wi-Fi, clean showers, a heated pool, and a spa to provide a carefree and comfortable experience.
The nearby area provides countless tourist attractions to explore, including huge pine forests and the red rocks of Sedona.
5. Superstition Sunrise RV Resort
Dinner performances, a music room, arts and crafts classes, indoor and outdoor pools, a spa, an exercise center, and a library are all available at this massive RV park, which also has a library. With their guided excursions, you may also get a glimpse of what lies under the surface of the iceberg. With its many activities, this RV resort has quickly risen to the top of the list of the best RV parks in Arizona.
6. Rancho Sedona
If you want to spend some quality time away from the hustle and bustle with your favorite ones, then definitely Rancho Sedona RV park could be a perfect choice!
You can cherish your stay at Rancho more by hiking, fishing, mountain biking, and sight-viewing. Most RV sites provide Wi-Fi, full hookups, and cable television. This RV resort is a perfect combination of the comfort of advanced living and natural serenity!
Check out these amazing amusement parks in Arizona.
7. Meteor Crater RV Park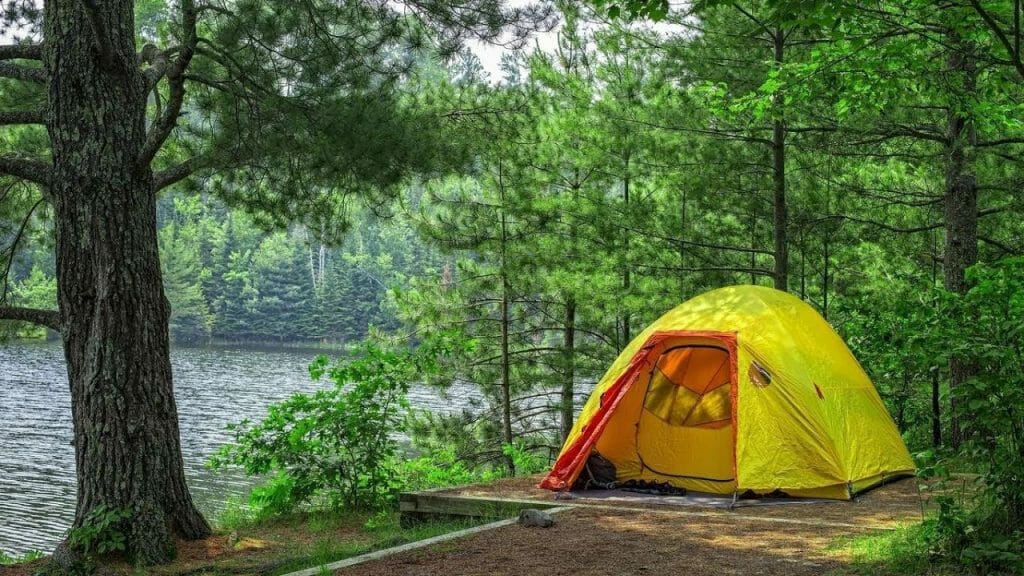 This RV park is the finest camping location for taking in the sights during the day and at night. To take in the magnificent sunset views, you may put up chairs on the lawn area in the backyard. A few falling stars may also be experienced if one is fortunate enough. You will be able to visit the Meteor crater site, and all campers will get a discount on admission fees.
8. Desert Trails RV Park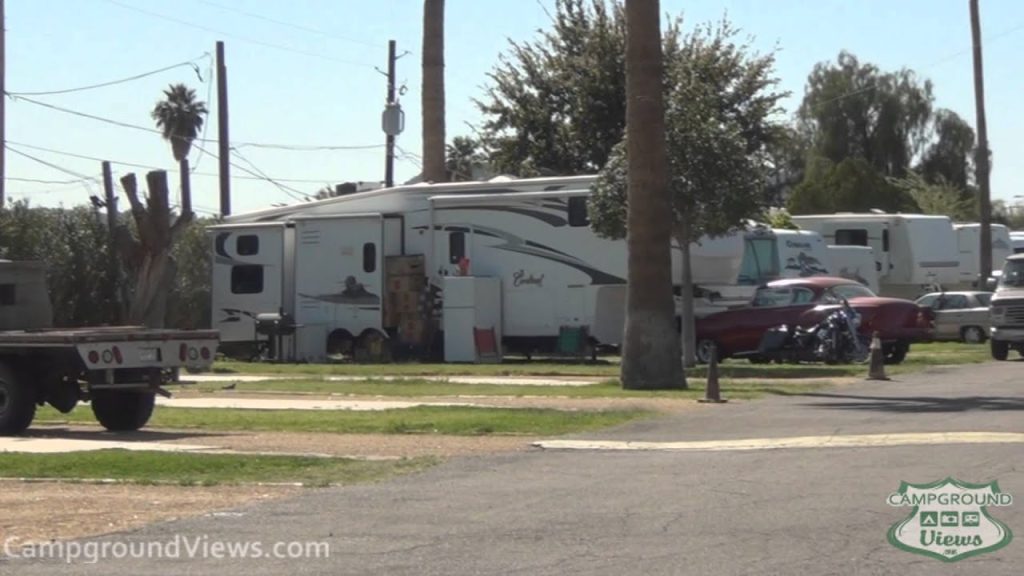 Visitors to the Desert Trails RV park will be able to make use of all the most up-to-date facilities and services, which are on par with those found in five-star hotels, by just staying there. You will be supplied with a free Wi-Fi connection throughout your stay. In addition, you may use the heated pool and a range of entertainment activities at the resort.
9. Zane Grey RV Village
Grey RV Village is one of the most impressive RV parks in the state of Arizona. Your stay will be more captivating and pleasant because of the camping-friendly atmosphere, breathtaking natural scenery, super-friendly personnel, and excellent service. The spectacular foliage and magnificent wildness may be experienced by all visitors while exploring their tourist attractions to their fullest extent.
10. Tombstone RV Park and Campground
Tombstone RV Park in Arizona is becoming more popular because of its Wild West heritage. It may be a wonderful camping location to explore and take in the area's very rich history. Aside from that, this resort has all the contemporary conveniences and cowboy suites, and camping cabins.
11. Happy Jack Lodge & RV Park
Enjoy the cool pines, fishing, hiking, or just relaxing around the campfire at one of Arizona's best RV parks, Happy Jack Lodge & RV Park. As the temperatures start to rise in the valley, Spring is a great time to load up the RV and head to the mountains.
12. Mesa Spirit RV Resort
Mesa Spirit is a stunning desert RV resort in Mesa, Arizona, adjacent to Sky Harbor Airport, Tempe, Gilbert, and the breathtaking Superstition Mountains. People choose to stay at this resort since it provides both modern conveniences and the comfort of classic RV camping. Mesa Spirit RV Resort  are a desert treasure that, throughout the winter, provides a wide range of activities and special event programs.
I understand if you do not want to have the hassle of searching for all these things; that is why I have put all the highest-rated RV parks on this list to help you have an easy ride without any prior nuisance.