Happy hour specials, Lollapalooza, and Millennium Park come to mind when thinking about Illinois summers, but there's more to the state than just Chicago. Along with all the expected city-centered summer activities, there are a bunch of other exciting and interesting things to do; and some of them involve amusement parks.
Below you can find the top amusement parks in Illinois.
1. Navy Pier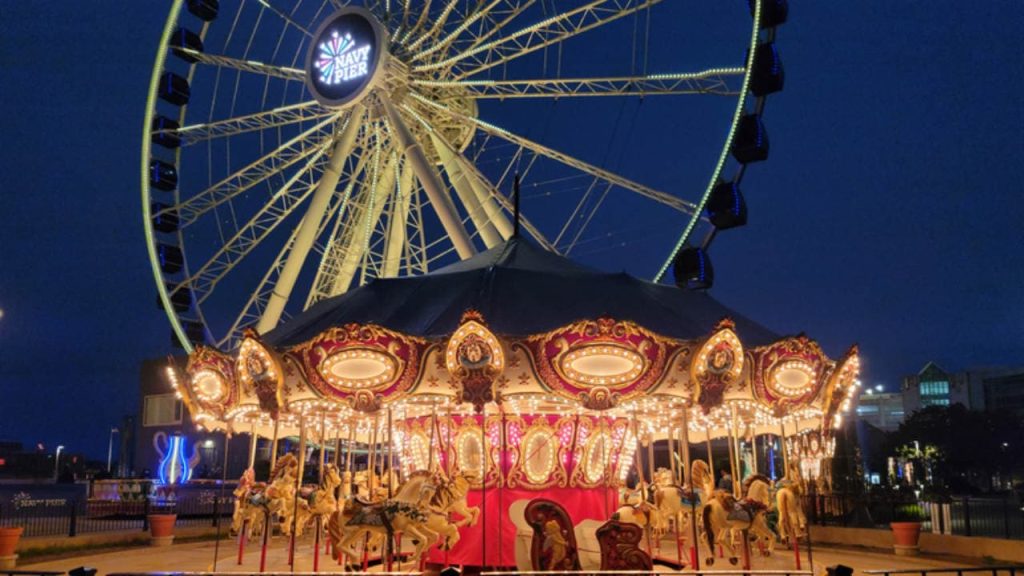 Amusement rides are available in this lakeside entertainment, dining, and retail complex. The Centennial Wheel, a 200-foot-tall replica of the original Ferris wheel that featured at Chicago's Columbian Exposition in the late 1800s, is its most conspicuous feature. Wave Swinger, Light Tower, and a carousel round out the entertainment.
Also, there are interactive experiences, such as the Funhouse Maze, Atomic Rush, and Time Freak games at Amazing Chicago. On the high-speed Seadog boat, the Pier provides extreme thrill rides, as well as architectural and scenic excursions.
Additionally, the Drop Tower, a significant thrill coaster, was built on Navy Pier in 2021. In the last several years, Navy Pier has transformed from a tourist trap to a hip spot where residents can hang out and, if they so want, ride a carousel or a labyrinth.
2. Six Flags Great America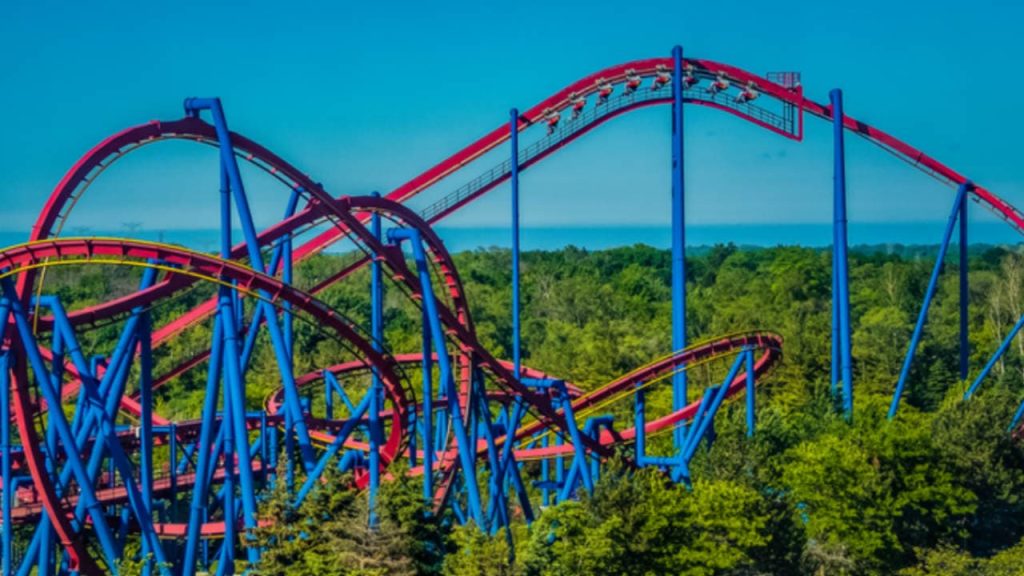 Six Flags Great America is one of the best amusement parks in Illinois. The "wing coaster" X-Flight and the released impulse coaster Vertical Velocity are only a few of the park's numerous highlight attractions, including the 72 mph Goliath (one of the world's ten fastest wooden roller coasters).
Great America is known for its thrilling coasters, but it also has three zones geared for younger visitors. In addition to the main park, there is a second water park that visitors must pay to access.
In 2022, the "Thrill Capital of the Midwest" is getting a major facelift with the addition of single rider lines, a new theme for Steelworks Pub, and the launch of a new area named DC Universe. Here, you'll find three rides themed to DC Comics, named the FLASH: Vertical Velocity launch coaster, AQUAMAN Splashdown flume ride, and the DC Super-Villains Swing rotating attraction.
3. Great Wolf Lodge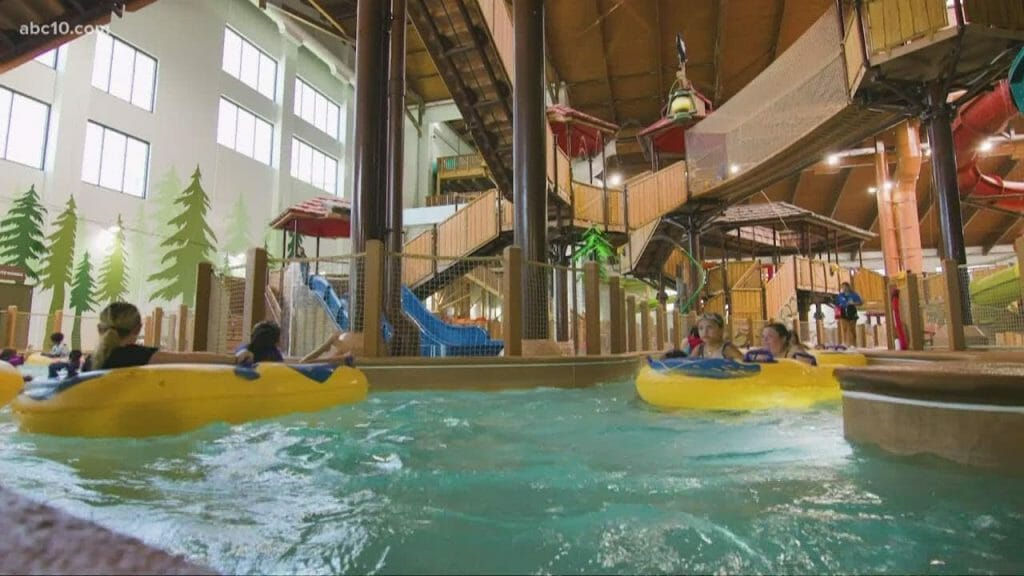 Great Wolf Lodge is an entertainment park where you may enjoy unexpectedly enjoyable rides and unusual activities. You may spend valuable time with your loved ones here, savoring ice cream and watching unique performances.
With a remarkable 80,000 square feet of indoor water park, there's no lack of fun to be enjoyed here. Open all year, the lodge-themed resort has a four-story "water fort treehouse" called Fort Mackenzie, a Coyote Cannon water slide, family-sized raft slides, and the lazy river.
Check out these incredible waterparks in Illinois.
4. Safari Land, Villa Park
Safari Land is an indoor theme park in Illinois. At 62,000 square feet, it is open all year long and has a variety of rides, games, and other activities based on the jungle and savanna. One of the best attractions is the Tiger Terror Roller Coaster that zips through an arcade of games and flashing lights.
Play areas for young children include the Lion's Den soft play area and an arcade with reward games, as well as an old-fashioned carousel and tiny roller coaster. A flight simulator and go-karts are also available, as is bowling and billiards. Atlantis Restaurant and Water Hole Lounge are also available at the facility.
5. Santa's Village Amusement & Water Park, East Dundee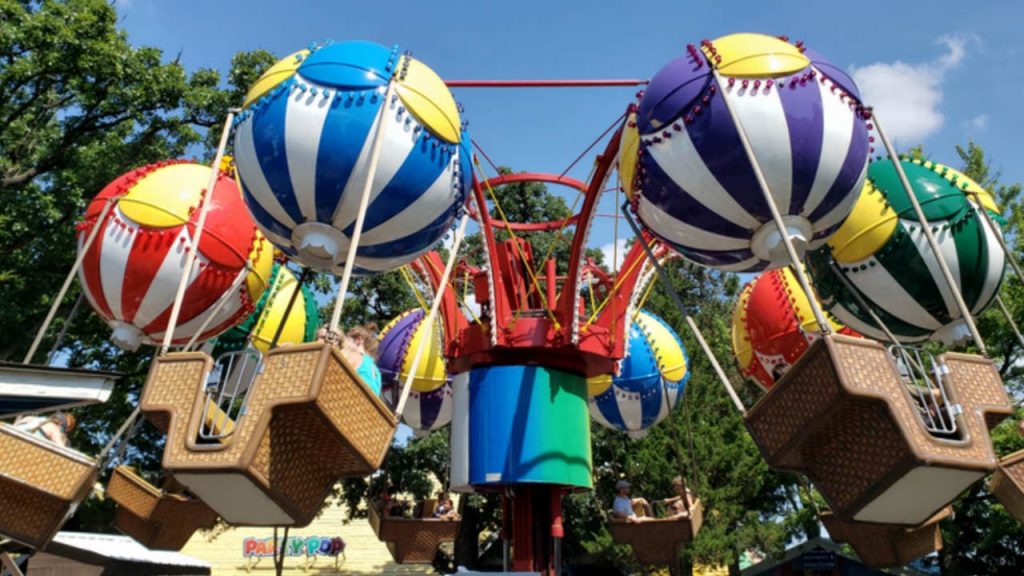 Santa's Village in East Dundee, Illinois, is only a short drive off the I-90 if you're looking for some family fun and entertainment. There's a petting zoo with both domestic and exotic animals, as well as a barn on-site at this theme park. There is a parakeet aviary to be aware of in this area.
Season passes and Groupon deals might potentially save you money if you're lucky. General admission and the "complete adventure," which includes everything from rides to performances, are also available at the gate. A large play area for children, Lighthouse Harbor, can also be found here.
The North Pole Expedition is a brand-new ride at this Santa-themed amusement park, joining the likes of the Snowball Ride and other long-standing favorites. Described as a "Pirates of the Caribbean-style train ride," it's scheduled to come later this summer.
6. Grand Bear Resort at Starved Rock
It is an exciting amusement park in Illinois for a perfect summer vacation. Visitors to the Grand Bear Resort may enjoy a yearly open indoor water park called Grand Bear Falls, which resembles Starved Rock's synthetic waterfalls but is considerably hotter due to the use of artificial water. There is also a hot tub section at Grand Bear Falls that is ideal for calming and soothing, while a wave pool and water slides help to boost the adrenaline.
These are the best skateparks in Illinois.
7. Knights Action Park, Springfield
The Knights Action Park has a number of water attractions, including water slides, adventure water coasters, paddle boats, and more. Also, a Ferris wheel, driving range, batting cages, and miniature golf are just a few of the activities available outside the water park.
Over 65 acres of kid-friendly activities and rides have been added to Springfield's driving range since 1930, when it was just a driving range. Moreover, an enlarged driving range and new batting cages have been added to the family-run park's already impressive list of amenities.
8. Raging Waves Waterpark, Yorkville
With 19 slides, a wave pool, lazy river, 43 cabanas, and three kiddie pools, Raging Waves Waterpark is a highlighted amusement park in Illinois over a 58-acre expanse of tranquil countryside. Here the Aussie Mat Dash is Illinois' first Proslide RallyRACER, which combines U-shaped flumes and low divider walls to provide the illusion of racing down a sledding hill.
Raging Waves Waterpark is the perfect solution for anybody who is sick of dodging volleyballs on North Avenue Beach. At a 45-minute drive southwest of Chicago, the state's biggest waterpark will give you the perfect summer vacation.
9. Scene75, Romeoville
Scene75, a network of family entertainment centers, established a facility in the Chicago area. To name a few of the attractions in this facility: an indoor roller coaster with a spinning wheel; an aerial tram ride; an interactive motion simulator; a two-story laser tag arena; over 150 arcade games; and, of course, a restaurant with a bar.
10. Grady's Family Fun Park, Bloomington
There are go-karts, bumper boats, batting cages, and mini golf at Grady's Family Fun Park. Tilt-A-Whirl, Round-Up, Sizzler, and a tiny coaster are among the available entertainment options.
To entice visitors, there are a number of kid-friendly rides (such as the Dragon Wagon, Jr. Ferris Wheel and Red Baron Air Plane), as well as more adult-oriented attractions (including Swinger and Tornado).
11. Volcano Falls Adventure Park, Loves Park
This amusement park is a terrific choice for a fun day out with friends and family in Illinois. Both the personnel and the price of entry are reasonable. In terms of attractions, there's a miniature golf course and an arcade. A skee ball, a light labyrinth, and a laser tag arena are all available at the arcade. Prizes are also up for grabs, so don't miss out.
There are three different degrees of difficulty on the go-karts, so you can either select one or attempt them all. To ensure your protection, the batting cages are outfitted with a variety of protective gear, including helmets and gloves. Overall, this is a great spot for socializing, eating pizza, and spending quality time with friends and family.
12. Onesti's Wild West town
As the name implies, Onesti's Wild West Town is an entertainment park based on the Wild West, complete with a vast museum, exciting rides, and authentic cowboy activities.
You may spend valuable time with your loved ones here, savoring ice cream and watching unique performances. Even youngsters may enjoy pony and train rides, and gold panning is a popular pastime for the whole family. You'll be able to find your inner cowboy if you visit this location.
13. Enchanted Castle, Lombard
In addition to bumper cars and a rotating Catapult, this modest facility offers laser tag, go-karts, and bowling. Quest II, a recreational tower for kids with rope bridges and active elements, and black-light mini-golf are available as well. The Dragon's Den restaurant is also part of Enchanted Castle.
If you're searching for a fun day out with the family that includes rides, activities, and a delicious meal, consider one of these amusement parks to take you to a sky-high level!