The phrase "ghost town" sounds spooky, but it doesn't always mean these small and abandoned towns are haunted. A ghost town gets that such name by being a once booming town that suddenly dwindles down to almost nothing.
Usually, this happens when a town was developed quickly due to a discovery of gold or other minerals, and then the town's residents would leave when the minerals ran out and the mines closed. Arizona is dotted with these small ghost towns (over 270 of them!), and many of them have been turned into tourist attractions with museums, restaurants, and gift shops.
If you are interested in learning more about Arizona's history and enjoy touring old buildings and towns, then visiting any of the ghost towns in Arizona on this list should be your next adventure!
1. Cochise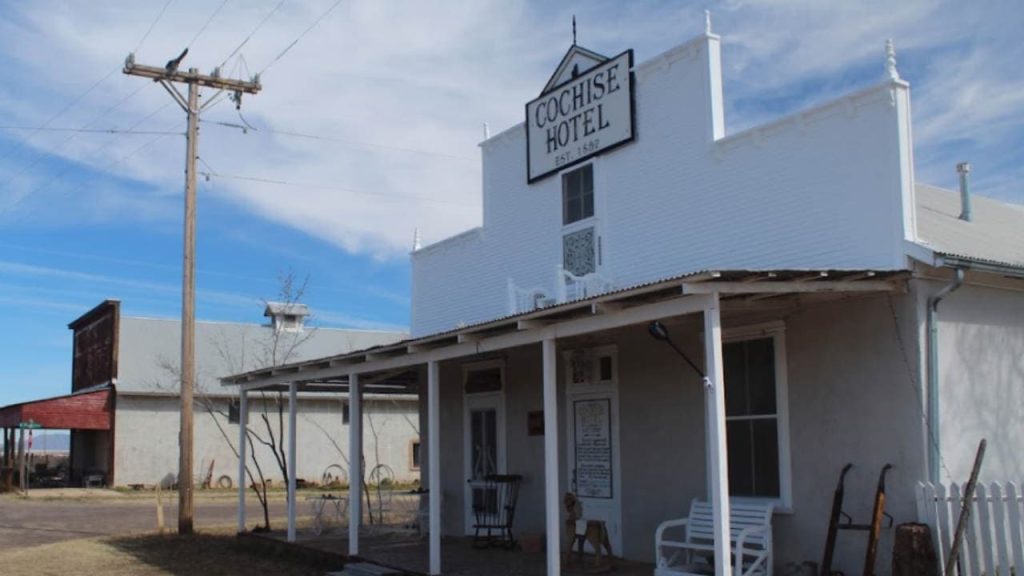 This town was founded in the 1880s as a railroad stop and at one point had a thriving population of 3,000. It is best known for the Cochise Hotel, where Doc Holliday's lady friend, Big Nose Kate, worked after his death. Although labeled by most sources as a ghost town, the town had a population of about 1,500 in 2000 and some accounts claim that has dwindled to just 50 today.
Expect to spend about 20 to 30 minutes here driving through the town and looking at some of the old buildings that are in need of renovation. The Cochise Hotel, located at the southern corner of Cochise Stronghold Road and Rath Avenue, is one place that is actually getting some love.
Phillip Gessert, the new owner of the deteriorating hotel, stated on a website dedicated to the historic building that it is currently being restored. You'll also want to check out the Cochise Country Store just across the street and the little Cochise Church on Bowie Avenue.
2. Pearce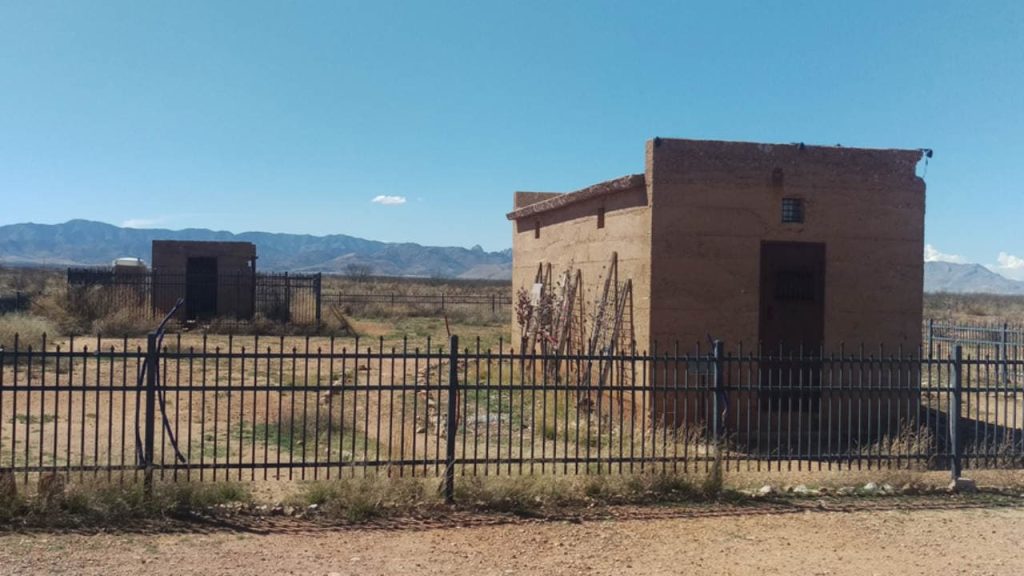 Found 16 miles southeast of Cochise is Pearce, another old mining ghost town that has become absorbed by the larger Sunsites. The town was founded shortly after gold was spotted in 1894 and the development of the nearby Commonwealth Mine.
Once a thriving community, the town slowly began to decline in the 1930s and nearly died when the mine closed for good a decade later. These days the town's population is pretty low, but you'll still find some folks living here. When counted with the nearby Sunsites and a couple of other nearby communities, the area overall has a population of 2,100.
Pearce is a small place, but it does have some interesting areas to photograph and explore. One spot you definitely want to stop for a visit is the Pearce General Store, which dates to 1896 and now serves as a museum and tourist shop. Other nearby sights include the Pearce jails, abandoned buildings, and the Prickly Pear Emporium.
3. Courtland
Courtland is a true ghost town that sits 9 miles directly south of Pearce and is a mere 15-minute drive away. In terms of age, this town is relatively young; it was founded in 1909 during copper's mining heyday and evidently was a lively town with a more friendly atmosphere than plenty of other boomtowns in Arizona. In fact, only one murder was documented in Courtland, which happened in 1913 when a waitress shot her boyfriend during an argument about another woman.
One decade after its founding, the mines yielded far less copper than was profitable to mine and the town's population slowly dwindled until the post office officially closed in 1942. Being completely abandoned, there's not much to see in Courtland these days. Only vague remains sit within the town's old boundaries, but the town jail is one spot that has managed to survive the ravages of time.
Check out these Extremely Haunted Places in Arizona.
4. Gleeson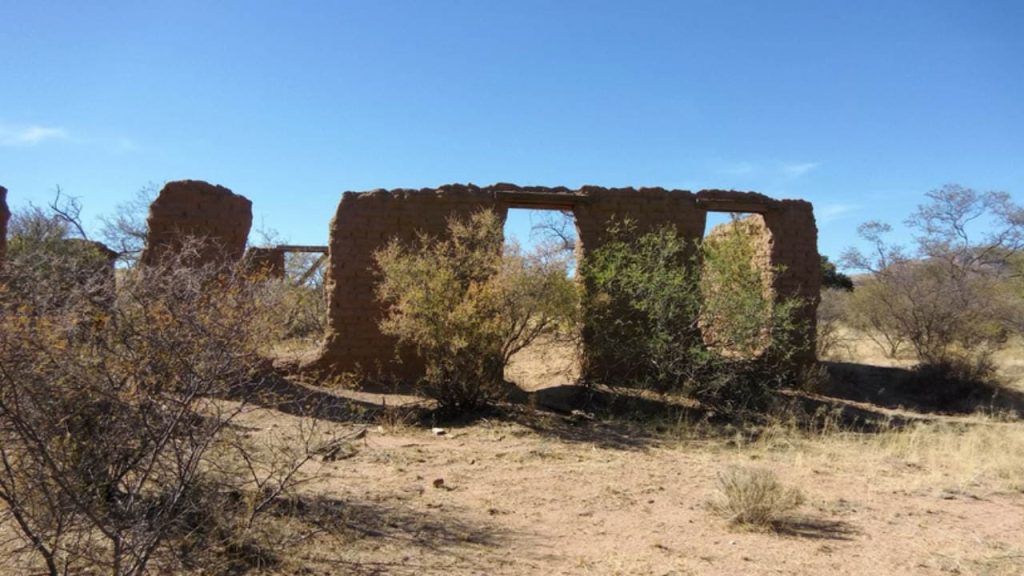 The next stop on our road trip takes us down the Ghost Town Trail to Gleeson, a former mining camp settled at the base of the Dragoon Mountains, about 5 miles from Courtland. The town was briefly known as "Turquoise" in the 1870s for the semi-precious stone found in the area.
The town was then abandoned in the 1890s for gold mining nearby. In 1900, the town came to life again when miner John Gleeson opened the Copper Belle Mine. This lasted for about 30 years when the mines were closed and people slowly moved out of town.
These days Gleeson is a ghost town despite the fact that a few people still live in the area among the ruins. Some sights to see here include the Gleeson jail (which was recently renovated), a hospital, a saloon, and plenty of other remaining structures.
5. Tombstone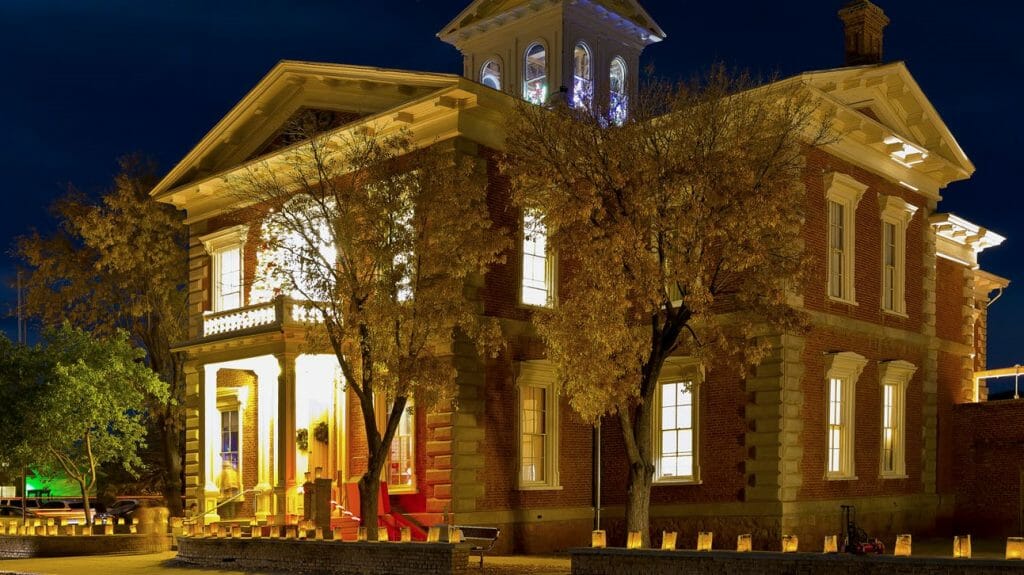 Founded in 1879 for nearby silver mining, it was the largest boom town in the area with a population total hitting 14,000 at its height. However, the good times only lasted until the turn of the century, when the water table (which previously was being pumped out) began to flood the mines. This led to mines being shut down, a hefty population decline, and a ghost town destiny.
Although some people consider Tombstone to be a ghost town, it's small, but steady population prevented that designation, making it the "town too tough to die." However, its historic status and popularity led to good preservation so that today we can experience what many of the other ghost towns on the list looked like in their heyday.
6. Charleston
Charleston is located almost 9 miles southwest of Tombstone along the two-lane Charleston Road. It was founded the same year as Tombstone (1879) as a settlement for silver ore processors in the nearby Millville along the San Pedro River.
Charleston grew to a small population of about 400 with a good number of businesses and was a surprisingly quiet place despite East Coast newspaper attempts to paint it as a violent, debauchery town. The settlements didn't last long. After Tombstone's mines began flooding in 1886, the mills closed and residents began moving elsewhere until it was completely abandoned.
These days you'll still find some remnants of Charleston, but it requires some amount of hiking to get to the ruins. In Charleston, you'll find some adobe and stone foundation ruins, as well as evidence of the old mills in the nearby Millville. You could easily spend a couple of hours here walking along the banks of the San Pedro River and exploring the area.
You also might be interested in knowing about the major cemeteries in Arizona.
7. Fairbank
After exploring Charleston, Millville, and the San Pedro River, you'll head back 18 miles to Tombstone and then west to Fairbank, another ghost town. The town was settled in 1881 as the nearest railroad stop to Tombstone. Because of this, Fairbank became an important commerce depot and stage coach station for travelers.
This economic boom only lasted a few years until Tombstone's mines flooded, but it was given a second chance when the railroad connected to Bisbee. Over time, however, the town's population declined, and it was finally abandoned in the 1970s, a life much longer than many of the surrounding towns.
Today, you'll find quite a few buildings still standing in Fairbank and some have even been restored, thanks to the Bureau of Land Management. This includes the old schoolhouse, which underwent restoration in 2007. Other buildings to check out include the remnants of the Montezuma Hotel, a commercial building, and an abandoned railroad bridge.
This ghost town actually has the highest population out of the true ghost towns on this list, with just over 440 people calling this small town their permanent home. In its heyday in the late 19th-century, Jerome had a booming copper mine and supported over 10,000 people. By the 1950s, after the mine closed, there were fewer than 100 people still holding out in this small mining town built on Cleopatra Hill overlooking the Verde Valley.
Less than two hours north of Phoenix and near Prescott, Sedona, and Flagstaff, getting to Jerome is fairly easy, and it is less remote than other ghost towns on our list. Long after the copper mines closed, and the town quickly fell into "ghost" status, the residents here began turning the old buildings into museums, coffee shops, and art galleries.
9. Crown King
This ghost town is near Phoenix, less than two hours from the city. What started out as a gold mining town in the 1970s is now a small but charming ghost town high up in the Bradshaw Mountains, only accessible by a rough dirt road. During the height of its boom, the Crown King mine produced over $2 million worth of gold!
Once the gold ran out around the 1950s, the population in the town dwindled to almost zero. Today, the main draw to the town is tourism, with people coming to visit the historic Crown King Saloon, the General Store, and the red-brick school house. Only about 80-100 people live here full-time, but there are cabins for rent and several small inns and motels as well.
10. Vulture City
Established in 1863 as a gold mining town, Vulture City had a successful and productive mine for over 80 years and supported up to 5,000 people at its height. Vulture City quickly dwindled once the mine was shut down during World War II.
In recent years, local historians have pushed to restore a dozen of the old buildings in town, to draw in tourism and to preserve the history of Vulture City. Touring these buildings and other locations in the town can give you a glimpse into the mining culture and history of the 19th century.
The Wild West was definitely thriving in this town – outside Henry Wickenburg's cabin (built in 1864 and restored to its former glory in 2018) is the 300-year-old ironwood tree known as the Hanging Tree. Criminals met their fateful end on this tree, most of them for stealing gold from the mine.
The ghost towns should be recognized as historical locations, and it is our duty to preserve these sites. Drop by these places when you are in Arizona, to see the ghost towns that are frozen in time.