Do you want to experience the thrill of water rides? Want to see your dream movie themed parks where you can enjoy some jaw-dropping coaster rides and swim with your favorite characters?
The indoor parks are waiting for you, but why not visit the largest and the best parks with your family? In America, there are many stupendous destinations where you can plan your whole day staying at hotels.
I have listed the largest indoor water parks in the US which are completely unique and magnificently designed to dazzle your eyes and give you a "wow" feeling in case you are planning to go.
1. Kalahari Water Park (Texas)
Authentically awe-inspiring African themed waterpark, Kalahari Water Park boasts as the largest but third largest water park resort in the US. Kalahari water park chain is based at Pocono Mountains, Pennsylvania, Sandusky, Ohio, Wisconsin Dells, Wisconsin and Round Rock and Texas.
The park began its journey on November 12, 2020 and covers 223,000-square-foot. Besides themed water park, there are also family entertainment centers, luxury spas, adventurous restaurants, and convention centers to provide you amazing experience beyond your imaginations.
2. DreamWorks Water Park (New Jersey)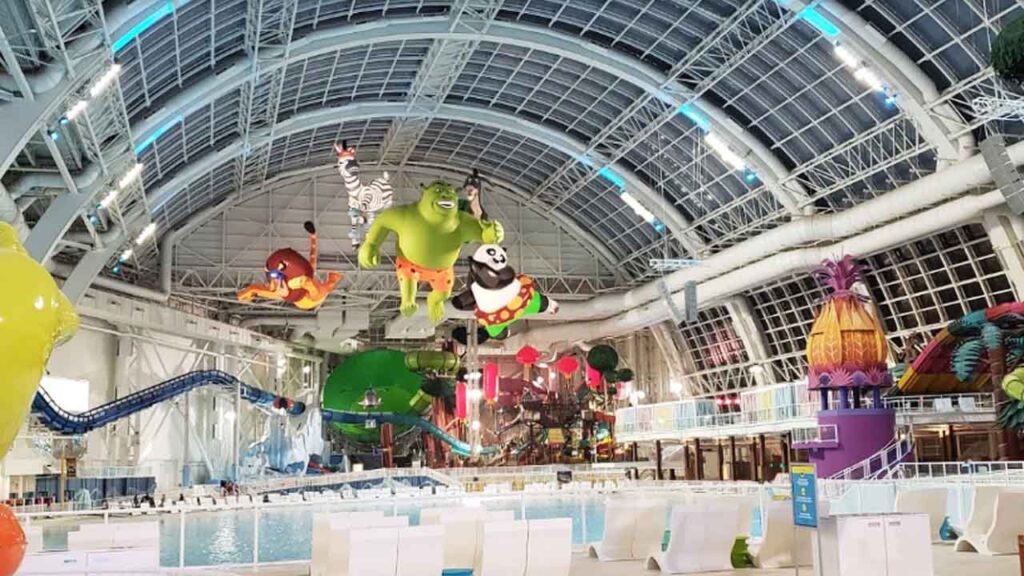 DreamWorks Water Park is the largest indoor water parks in the US with an area of 8.5 acres. It's also the first animation water park which officially opened on October 2, 2020.
You will have a blasting good time at your visit where you will see Shrek's Soggy Swamp, a Kung Fu Panda-themed Zone which is children's play area, How to Train Your Dragon's Dragon Racers and Toothless Trickling Torpedo (1600 feet long hydro-magnetic roller coaster) rides and Madagascar Rainforest with 15 water slides.
Overall, there are 40 water slides and 15 specifically themed DreamWorks franchises. There are also so many amazing movie characters which make daily appearances to make the children's day.
3. Wilderness Resort (Wisconsin)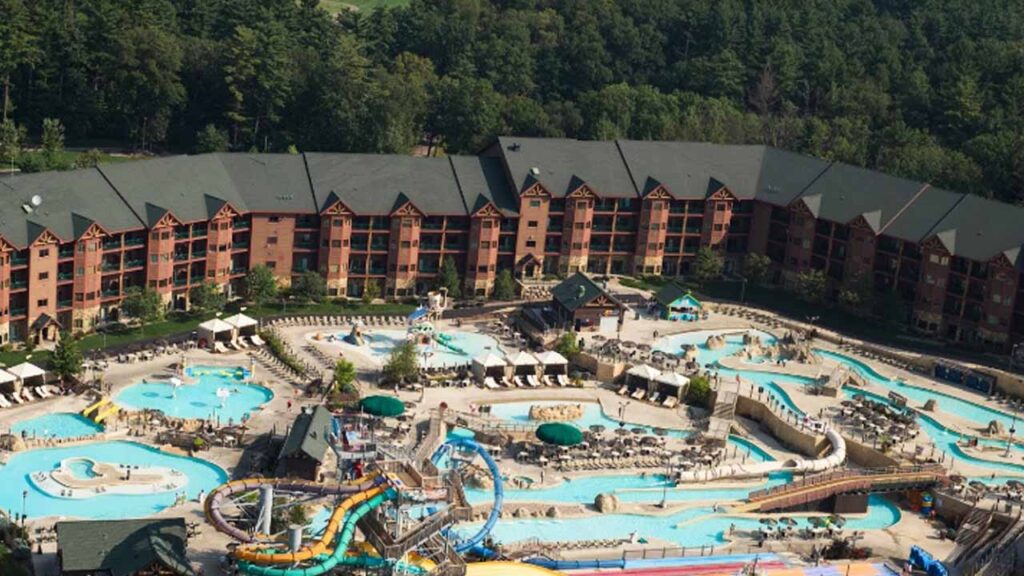 If you are planning to have wild water park fun, perhaps Wilderness Resort at Wisconsin Dells is the right option for you. A total of 240,000 square feet places indoor park (Wild WaterDome, Klondike Kavern, Wild West, Cubby's Cove Wilderness) including water slides, hot tubs, spray grounds and other splashing fun are waiting for your arrival at this ample destination.
The waterparks, actually four waterparks are the main attractions. There is also Wild Rock, an 18-hole Golf course, Lost World Jurassic and Wild Abyss. You can plan your whole day here having and wet and dry fun with amazing foods.
If you are interested in football, check out these largest football stadiums in the US.
4. Kalahari Water Park (Pennsylvania)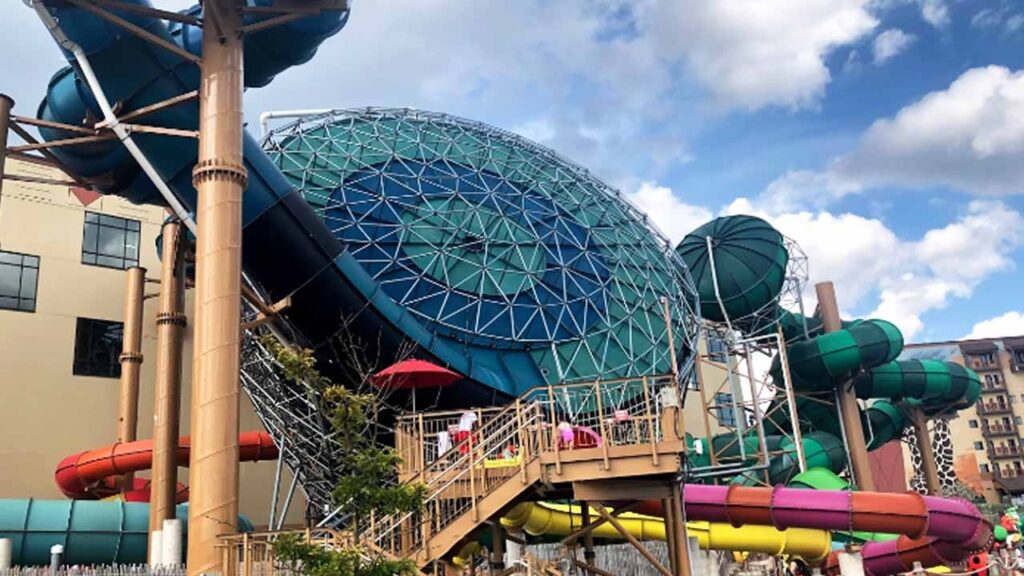 From honeymoon place to tourism area, Kalahari water park took Pocono Mountains to another level. Opened on July 1, 2015, The Poconos Kalahari features the same theme as the other 3 parks and consists of 220,000-square-foot (20,000 m2) indoor waterpark. They offer a huge arrangement of waterpark programs as well as other easements. Luckily, half of the fun is in the water park.
Even if the weather is terrific outside, with your bathing suit-clad yon can enjoy lenitive weather inside. There are Cheetah Race, The Wild Wildebeest (an airtime-filled slide) and The Screaming Hyena rides which will clear up your mystery of your thrilling journey. The most exciting thing is, the park is open for everyone!
5. Kalahari Water Park (Ohio)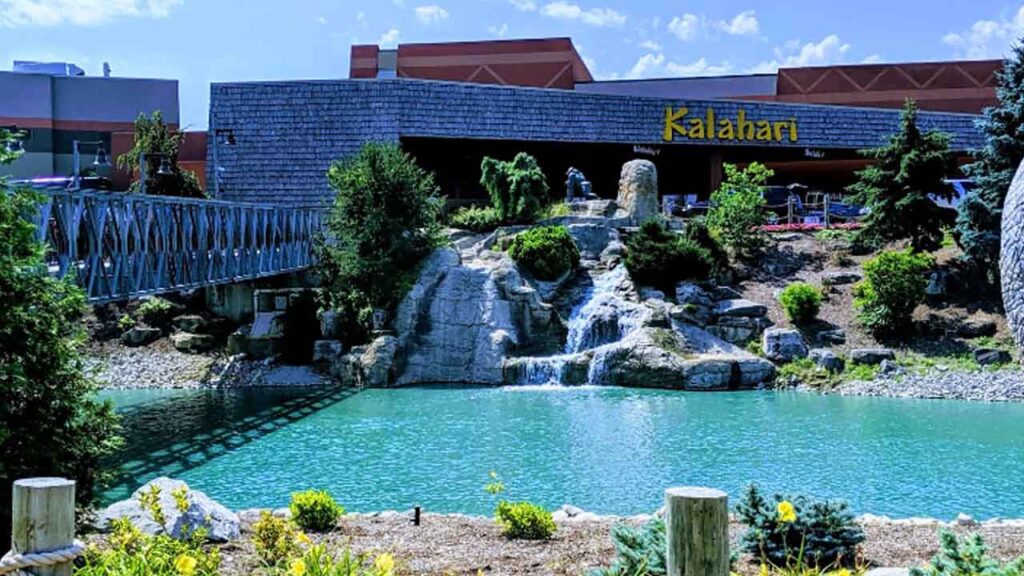 Kalahari indoor water parks are one the ascendancy of taking the largest indoor parks places in the US because it is more than the attraction to the indoor water parks. It is an enormous resort for families and includes lots of things to have wild fun.
The indoor waterpark is 174,000 square feet and among the many slides and thrilling are the two Kalahari Surfaris and the world's first uphill Zip Coaster, and the coolest Wild Kingdom interactive water play area. The park also features one of the best indoor water park facility "lazy rivers".
Love views from high floor? Check out these biggest ferris wheel in the US.
6. Kalahari Water Park (Wisconsin)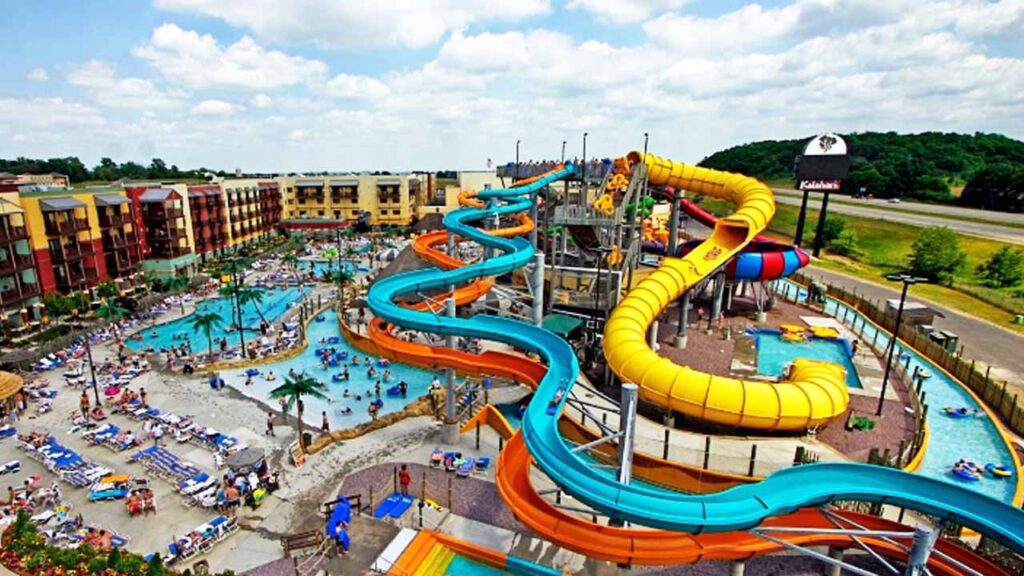 Wet and wild fun in another place Wisconsin Dells of Kalahari indoor water parks is at your service! Spanning 125,000 square feet, it was the largest waterpark until the finish of Kalahari Sandusky resort. It has introduced America's first SuperLOOP slides in 2011.
7. Aquatopia Water Park (Pennsylvania)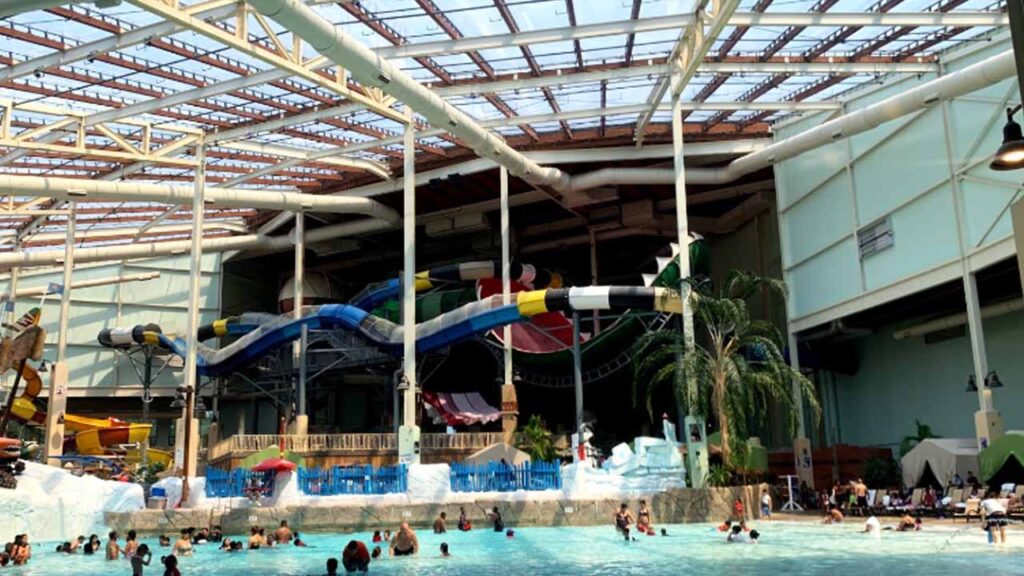 The Aquatopia indoor water park offers you an 84-degree Caribbean-like environment for everyone in your family. From splashing slides for the youngest chill-seekers to heated pools and swim-up bars for adults, the water park has got you covered.
The main features are of course the wonderful water slides, tube sliding, mat sliding, and bowl sliding. The park has also got plenty of indoor fun such as a climbing adventure, an arcade, rock climbing, exciting mini golf, thrilling laser tag, bowling, a pottery studio.
8. Avalanche Bay (Michigan)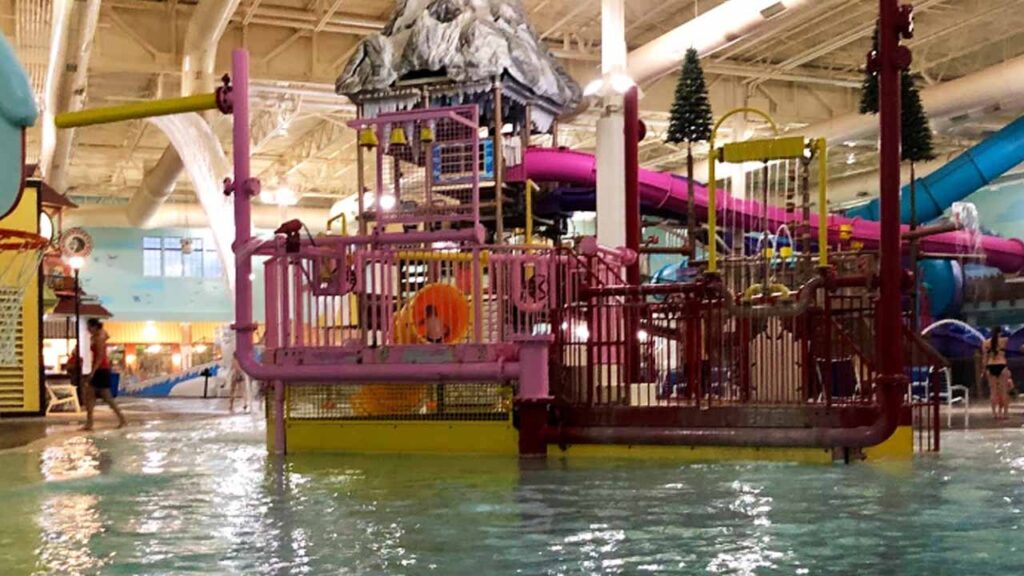 For a perfect day trip or a vacation stay, Avalanche Bay knocks for an adventurous solution. Crazy family fun or killer rides, you are welcomed to have anything at here. The largest indoor water park hotel of Michigan, provides a wild and extensive adventure all year around.
The water park has different rides and slides, water tower, a cannonball slide, surf simulator, a lazy river, and a water-based obstacle course. Other amusements include a kiddies' corner, arcade, and a hot springs-style pool perfect for a warm, relaxing getaway.
9. Great Wolf Lodge (Wisconsin)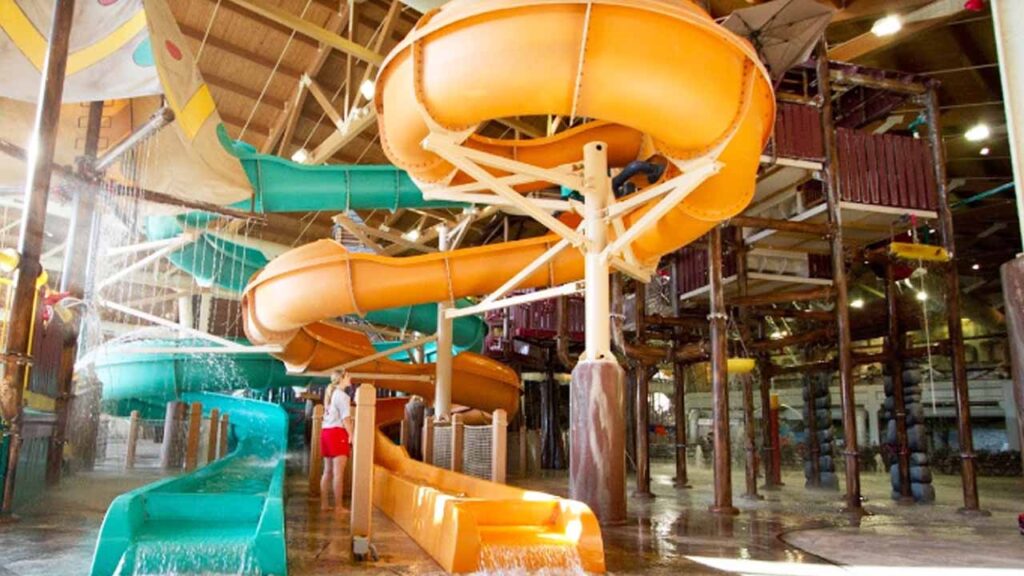 Great Wolf Lodge is the park where you get the most out of it. The wilderness-themed water-park resorts has been gradually expanding from 1997 when it first opened.
The park has a wave pool; an activity pool with basketball hoops, a wading pool with slides for very young kids, a lazy river and two hot tubs for families and adults. For funs and games, there are also mini bowling, mini golf, an outdoor ropes course with zip lines, a pink-saturated kids' spa, and MagiQuest.
If you are a true adventure lover, you must try out these highest ziplines in the US.
10. Chula Vista (Wisconsin)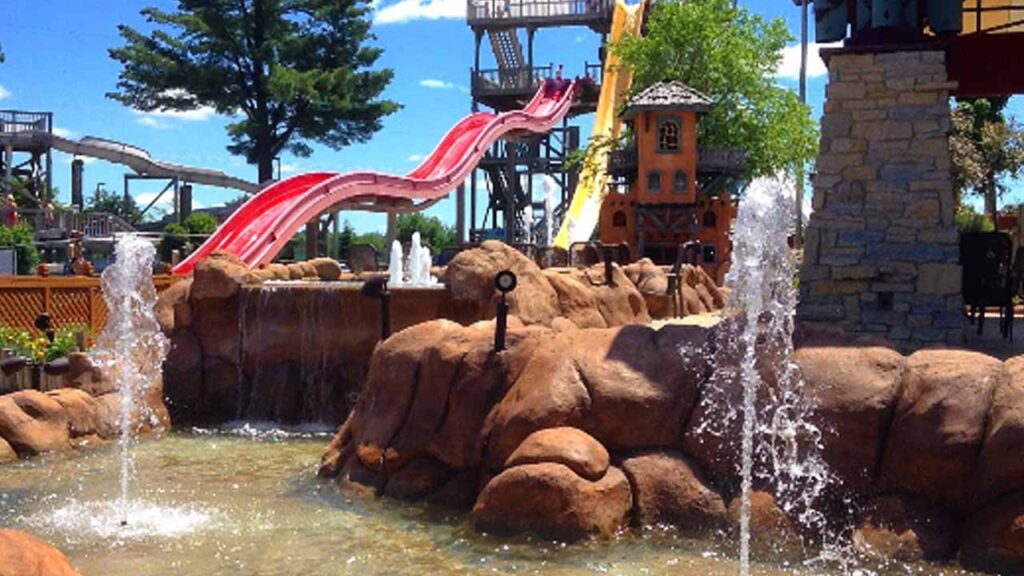 Chula Vista, an exciting and thrilling indoor water park has named it as Lost Rios which is 80,000-square-foot, multi-level indoor water park in Wisconsin Dells, is the perfect escape to the best slides for your trip.
You can play around the Mayan ruins in the lazy river, play as a family in the huge interactive kiddie play areas, or go wild in the Lava Lagoon activity pool. At Lost Rios water park, you are sure to get crazy in all the amusements. With over 80,000 square feet of nonstop indoor water park fun, your family will find that Chula Vista Resort is home to all your madness.
11. The Great Wolf (Wisconsin)
Explore all the levels splash-crazy fun in the best water fort treehouse you've ever seen. Delight in the interactive water toys and kid-activated splash features. Escape via the Totem Tower body slides to start all over again. And you get all of these amenities at The Great Wolf (Wisconsin).
12. WILDERNESS AT THE SMOKIES
Wilderness at the Smokies Waterpark Resort and Family Adventure Center is a luxurious vacation and meeting destination. The largest indoor waterpark in Tennessee, the Wild WaterDome, is located in Wilderness. It has a see-through canopy that will protect your trip from the elements and let you to get a tan year-round.
Most of the time, the aim to visit any waterpark is to ride the slides, but it becomes perfect when you enjoy the madness with your family by trying out different things and these water parks are completely designed with best resorts and friendly dining. Find yourself some time to have the best fun with your family and let the tots say to you "this is best place ever" to make your wonderful effort worthy.