Are you an adventure lover? I mean, come on, who doesn't love an adventure? Everyone loves a bit of thrill in their life, nobody wants a boring or dull life, right? The US is home to some of the best skateparks in the world.
And when it comes to skate parks, Indiana should be high on your list, because the state has been building them all over and each one has its own unique features.
In addition, when it comes to skateparks, the ones in Indiana are very adventurous, and you can enjoy them with your friends and yourself. So if you love skating, then make sure you visit these amazing skateparks in Indiana that I have listed below.
1. Upper Cascades Skate Park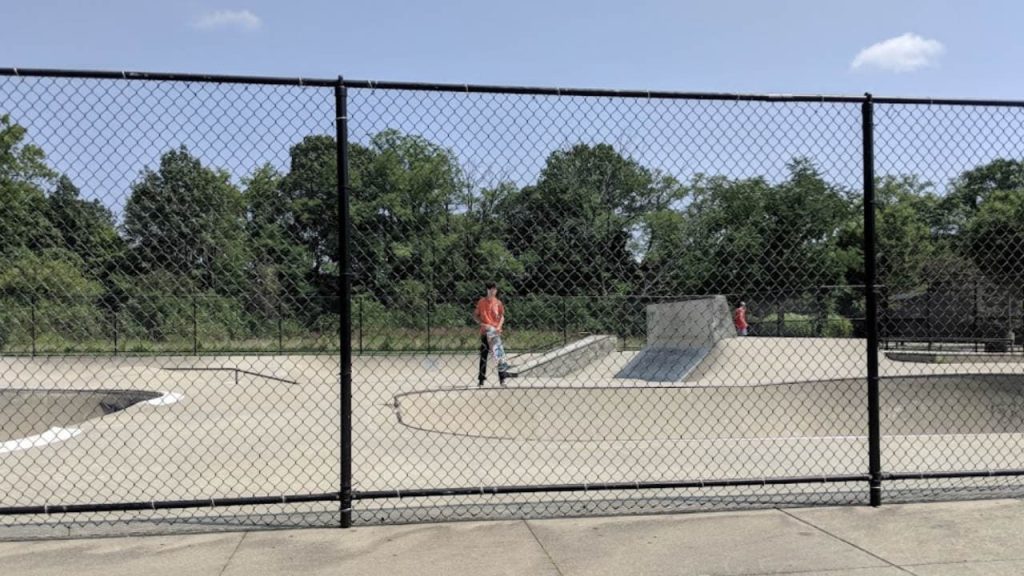 Upper Cascades Skate park is one of the best skate-parks in Indiana. This skate park offers everything you could want. Skaters will find a wide variety of exciting routes to skate, as well as good transitions and entertaining street obstacles.
Skateboarding in bowls is a popular form of the sport, and this park features two bowls. One bowl that is shallow and the other that is deeper, with coping and transitions that span from 6 feet to 8 and a half feet in depth. Skating the pyramid is an absolute need. There is no need for concern if the park itself begins to bore you.
On the opposite side of the parking lot is where a do-it-yourself hangout with flat bars and seats has been constructed. You should not be concerned about somebody breaking into your automobile either. This park offers approximately the highest possible level of safety.
2. Lawton Skate Park
Skaters that enjoy a wide range of skating terrain will find this skate park to be the ideal spot to hone their skills, because it features some excellent transition and street components. The euro gaps and ledges are maybe the nicest elements that the park has to offer.
The bowl is also quite good and offers some fascinating options for transfers as well as various methods of "grabbing air". Although it is quite remote from the majority of the skate parks in the state, you should still make the effort to get there.
3. Jolie Crider Memorial Skatepark
Jolie Crider Memorial Skatepark was conceived by and crafted by a Finnish landscape architect who had previously competed at the professional level in skateboarding. 2019 saw the completion of construction on the 1400 ft2 park that was being built by Hunger Skate Park.
It has a wide range of street obstacles and transitions, such as a long style bowl with an extension, quarter pipes, a spine full of varied rainbow rails, flat bars, manual pads and more. This skate park is designed to accommodate skateboarders of many skill levels and sorts.
Check out the best ziplines in Indiana.
4. Monon Center Skate Park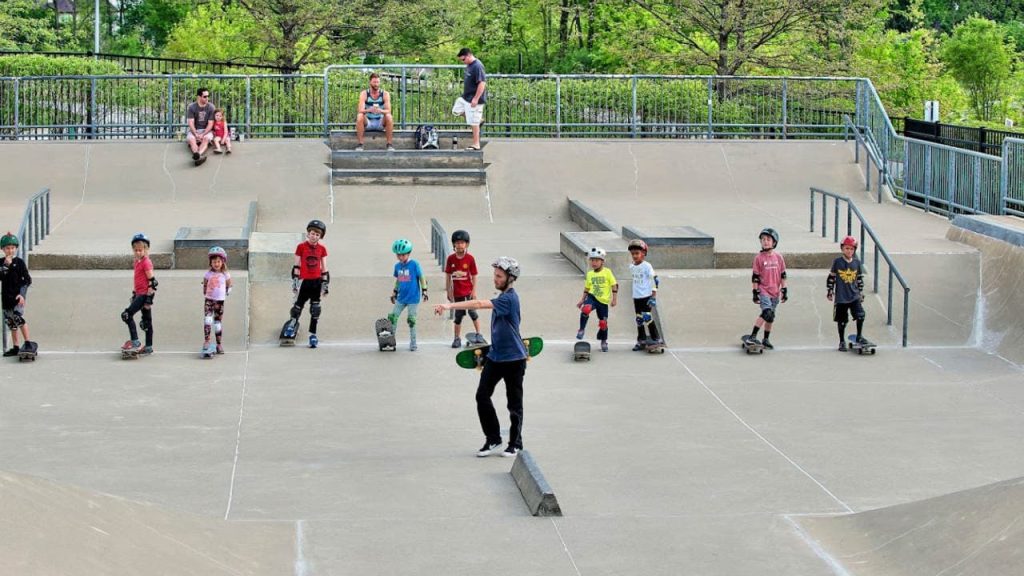 The layout of the skate park in Carmel, Indiana, is one of the most creative and unique that you'll find at any park in the state. Skating here is a lot of fun, even if it took me a while to get used to it, because it has a bit of a learning curve. It has an excellent combination of euro gaps, rails, ledges, and gaps in its design. It does have a bowl, but skating in it is similar to skating in a drainage ditch, so you shouldn't anticipate much in the way of transitions.
This park does not have any lights to maintain its accessibility at night, which is a shame. However, there is a great fitness complex just next door, so if you feel like taking a break and getting something to eat, you can easily do so.
5. Switchyard Skate Park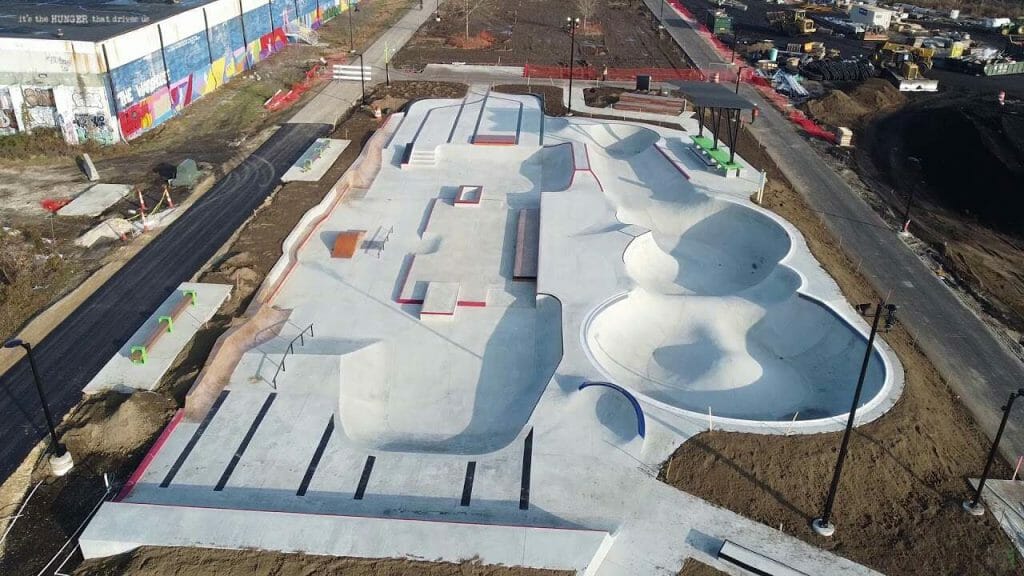 The Switchyard Skate Park was planned in conjunction with REA Associates and Hunger Skate Parks, both of which were responsible for the park's construction in 2019. The sketch park has a number of elements that make allusions to the railway switch yard that had stood in this location.
It's quite neat how the platforms, manual pads and planters are designed to seem like industrial box cars. Terrain features such as a bowl and snake run, half pipes, bank, and rails are among the many options available.
6. Anderson Skate Park
If you prefer street skateboarding, this park is a must-see. If you are feeling brave, there are lots of gaps and handrails for you to skate, in addition to some amazing ledges that are a lot of fun to skate. In addition to that, the park is exceptionally well maintained.
Because the ground in this park is polished concrete, you really do not need to be concerned about scratches or losing flesh when you are walking around. The park is stateable late into the evenings, making it possible to have night sessions thanks to the large stadium lights that illuminate it.
However, there are a few things that should be improved about this skate park. This park does not include any transition features whatsoever, so if you are interested in half pipes, quarter pipes or bowls, you should go elsewhere for a place to ride.
Check out these bike trails in Indiana.
7. Willard Park Skate Park
Willard Park Skate park, which can be found only one mile east of downtown Indianapolis on Washington Street, has recently opened its doors to the public. According to Indy Skate park Advocates, the Willard Park Skate park is the "first decent" skate park in the city's 465-loop. This park is located in Willard Park.
This challenge consists of two ramps that have been pushed together to create the appearance of an open book. The obstacle casts a shadow in the shape of a heart, as the sun begins to set. The remainder of the park is a light gray tone which stands in stark contrast to the copper color of this structure. It is the kind of ride that accommodates riders of all skill levels, allowing them to do both complex and basic stunts.
8. Crown Point Skate Park
Crown Point is a town in Lake County that features a number of gorgeous parks and other public facilities. Nevertheless, the community's skate park was in desperate need of being updated. After holding two community meetings and going through a number of variations on the design, we think that we have included practically everything that the riders desired into this design.
9. Lawton Skate Park
Downtown Fort Wayne is home to the Lawton Skate park, which can be found close to the intersection of Clinton Street and 4th Street. The park is enclosed by a fence that is 8 feet high and has a single entrance that is configured like a turn. Bowls, ramps and "fun boxes" that simulate city spaces are included and there are zones designated for beginners, intermediates, and experienced skaters.
The most sophisticated bowl features a drop off that is 9 feet in length! During the season, the facility is open from 6:00 am to 11:00 pm, which is the same schedule as all the parks in the area. The facility will close at the end of the day, regardless of the weather, as is customary throughout the colder months of the year.
10. The Skate Wave skate Park
(View on Map)
The Skate Wave skate park at Rising Sun is, without a doubt, one of the best skate parks that I've had the pleasure of skating in over the past several years. This location is packed with street obstacles, including a spine mini ramp, a couple large bank ramps and quarter pipes, and a few quarter pipes thrown in for good measure.
It is large, smooth, and well-laid out. Be wary of the brushed concrete finish: if you were to fall on it at speed, it would cause terrible road rash and might cause a number of flat spots in your tires. It seems to me that this park has only been around for a short period of time, but in its current state it is still quite impressive.
11. Kokomo Pipeline Skate Park
The public skate park that is maintained by the City of Kokomo and is generally known as the Kokomo Pipeline, comprises a series of bowls that vary in height from around 4 feet to approximately 12 feet, with the majority of the bowls hovering in the range of 5 feet to 6 feet. There is not a single bowl at this park that does not end in vert.
Although it gives the impression of being rather small and claustrophobic due to the fact that even the tiniest bowls go vertical, the park is in reality quite wide and spreading. Every single one of the bowls is essentially shaped like an amoeba; there are corners, crevasses, hips, and spines all over the place.
None of the bowls have any kind of regular form. BMX riders frequently come to this place to ride their bikes. It is important to keep an eye out for other people who are flying around in the bowls, since you may collide with one of them.
12. Foster Skate Park
The location of the property is in the central business district, next to Wild Cat Creek, on a significant pedestrian path network that connects communities in the region, and it is a component of a larger river rehabilitation project. Circular designs were prevalent throughout the plan, which ultimately served as the inspiration for our ornamental motif.
This made it possible to have a number of inviting entrances, as well as social places for spectators, those who used the hiking trails and park riders. The park's focal point is distinguished by a singular arrangement of components that serves as a unifying element in the overall layout. A bump-to-rail gap that is accessible from many sides, an out rail and a snowblower hip are all included in this feature.
13. Thrills N Spills Skate Park
Both skateboarders and bikers can have a good time at this skate park, which is nestled away in Fox Memorial Park. It features a variety of ramps and rails that can be used for different tricks. It is an exciting and adventurous skate park, and you are free to skate there whenever you choose.
If you love skating, then make sure you visit these amazing skate parks in Indiana, because life is too short for being boring. So go ahead and have a fun and adventurous time in any one of these stunning skateparks listed above.