The Eiffel Tower, the Burj Khalifa, the One World Trade Center, these are some of the most iconic landmarks in the world. In fact, most of the well-known landmarks in the world are high-rise buildings. There is definitely something about tall monuments and buildings that fascinates humanity.
Nowadays, most modern cities nowadays have high-rise landmarks of historic or commercial significance, Arizona is no different from that.
The state of Arizona is home to some of the most recognizable high-rise buildings in the US. The tallest buildings in Arizona are listed below.
1. Chase Tower
Chase Tower is the tallest building in the state of Arizona, and has been since 1972. Located in downtown Phoenix, it is used by banking heavyweight Chase Bank. Currently, Chase Tower is owned by Wentworth Property Company and has 40 floors. This tower is so massive, it takes over a complete city block.
Height: 483 feet(147 m)
2. US Bank Center
Completed in 1976, US Bank Center is located in downtown Phoenix. This huge building serves as office for US Bank and in the past, it used to be the headquarters for Arizona Bank's parent company. Furthermore, US Bank Center is 31 stories tall and has a unique seven-level garage. The main architect responsible for its design is Thomas F. Marshall.
Height: 407 feet(124 m)
3. Phoenix Plaza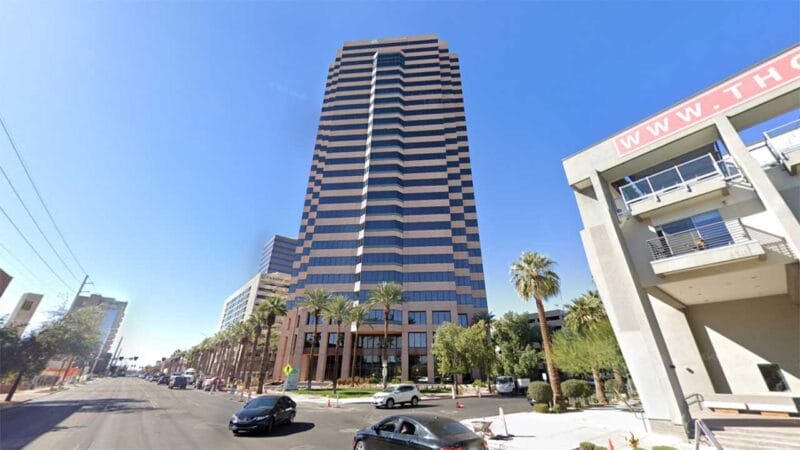 Situated between the two Phoenix Plaza Towers, Century Link Tower is located in Midtown Phoenix. Moreover, Century Link Tower is the tallest building outside downtown Phoenix.
The construction of Century Link Tower was completed back in 1989, and initially it was called the Qwest Tower. It is a mixed-use office building that has 25 floors.
Height: 397 feet(121 m)
You might also like to check out the list of the most expensive houses in Arizona.
4. Alliance Bank Tower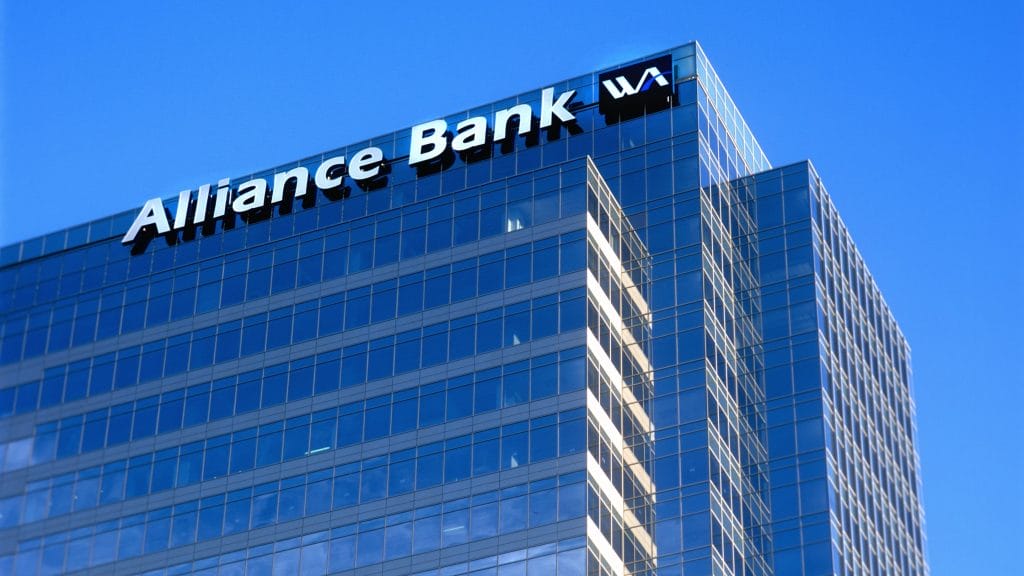 Also known as the Cityscape Tower, Alliance Bank Tower has been the tallest building built in Arizona, since the 2010s. Completed in 2010 in a two phase process, it cost an estimated $900 million. Currently, Alliance Bank Tower is owned and operated by RED Development.
Moreover, the main construction work on the building was done by Hunt Construction Group. This incredible building is 27 stories tall and has 16 elevators.
Height: 385 feet(117 m)
5. 44 Monroe
44 Monroe is the tallest residential building in the state of Arizona. Constructed in 2008, it was designed by Tucker Sandler Architects. The developer group, Grace Communities, used The Weitz Company to construct this building for a cost of $70 million. 44 Monroe has 34 floors and was named after this building's address.
Height: 380 feet(116 m)
6. BMO Tower
Located in Midtown Phoenix, BMO Tower is the second-tallest building outside downtown Phoenix. BMO Tower was designed and constructed in 1991 by HKS Inc. BMO Tower has 24 floors and its office space is mainly occupied by Bank of Montreal(BMO). The main highlight of BMO Tower is its large-scale public park that has statues and fountains near the entrance.
Height: 374 feet(114 m)
These are the best home builders in Arizona.
7. Two Renaissance Square
The second building of the two-building Plaza, Two Renaissance Square, is one of the tallest buildings in downtown Arizona. Constructed in 1990 by Trammell Crow Company, Two Renaissance is owned by Oaktree Capital Management & Cypress office properties.
These two buildings are connected with a sky-bridge and are estimated to cost around $200 million. The primary architect that designed the Renaissance Square was Pierce Goodwin Alexander & Linville.
Height: 372 feet(113 m)
8. Phoenix City Hall
Located at 200 West Washington Street, Phoenix, the iconic Phoenix City Hall is one of the most recognizable buildings in Arizona. Constructed in 1994, Phoenix City Hall is one of the most important government buildings in Arizona. This incredible building was designed by the architect Langdon Wilson, and it is 20 stories tall. The cost of construction for this building was $83million.
Height: 368 feet(112 m)
9. Bank of America Tower
Bank of America tower isn't just a high-rise multi-use office, it is also a center of entertainment in downtown Phoenix. Bank of America Tower was constructed in 2000, and it is also called the Collier Center I. It's currently owned by Collier Center PT, LLC and is managed by RED Property Management.
Back in 2018, this building had a poster of the Vince Lombardi Trophy attached to its north side that spanned 18 floors, one of its most iconic moments. Bank of America Tower has 24 floors and 16 elevators.
Height: 360 feet(110 m)
10. Sheraton Grand Phoenix
Sheraton Grand Phoenix is the tallest hotel in the state of Arizona. Being of Arizona's most luxurious hotels, Sheraton Grand is one of the centers of entertainment in Phoenix.
The Sheraton Grand has 31 floors, 1,000 rooms and 16 meeting rooms. It was constructed in 2008 by Perini Building Company, costing $350million. The Sheraton Grand is owned by The Blackstone Group and was designed by Architectonica.
Height: 360 feet(110 m)
11. Wells Fargo Plaza
Wells Fargo is one of the most well-known international banks in the world. Its primary building in Phoenix is one of the tallest in Arizona. The first floor of this building comprises the Wells Fargo History Museum that shows Well Fargo's contributing in the mining industry.
Additionally, Wells Fargo Plaza is designed in the Brutalist architecture style, which is a more of a raw concrete style. Wells Fargo Plaza was constructed in 1971 and has 27 floors.
Height: 356 feet(109 m)
12. 3300 North Central Avenue
Located in Midtown Phoenix, 3300 North Central Avenue is a 27-storied high-rise building. Also known as 3300 Tower, this building was named after its location, Central Avenue, Phoenix. Similarly to 3300 North Central Avenue's neighboring building, The Great American Tower, it is rotated 45 degrees.
Furthermore, it was constructed in international style by Skidmore, Owings and Merrill, and has 8 elevators.
Height: 356 feet(109 m)
13. The Link PHX
Among the tallest residential buildings in Arizona, the Link PHX ranks 2nd. Located in downtown Arizona, this building was constructed in 2019. The Link PHX is a luxury apartment building that has 30 floors and a rooftop lounge. Full of all sorts of luxurious amenities, The Link PHX has one of the most modern designs on our list.
Height: 350 feet(107 m)
14. One Renaissance Square
The shorter of the two buildings in Renaissance Square, One Renaissance Square was constructed in 1986. One Renaissance is 26-storied and is connected to the Two Renaissance Square with a sky-bridge.
This building was bought by Oaktree Capital Management & Cypress Office Properties for a staggering $150million in 2016. Since then, it went through a further $50million worth of renovations and is managed by CBRE, Inc.
Height: 347 feet(106 m)
15. West Sixth II
West Sixth II is the taller of the two West Sixth buildings located in Tempe, Arizona. Designed by Gould Evans, West Sixth II is the tallest building outside of Phoenix, it is also the third-largest residential building in Arizona. Constructed in 2011, West Sixth II is a 30-storied luxury apartment building.
Height: 345 feet(105 m)
Arizona is full of massive high-rise buildings that provide all sorts of incredible utilities and require high maintenance. Except for West Sixth II, all the other buildings on this list are in Phoenix, which is also the most important corporate city in Arizona. Most of these buildings are used by big-time international companies and banks as offices or headquarters.