What is better than some fresh produce and a community of local vendors? To find the best of both worlds, fresh farmer's markets are the go-to place.
As Florida is known as the Sunshine State, you can imagine that the best place to interact and soak up some sunshine is in the farmers markets. You will find all you need for cooking, eating and buying household products.
To help you navigate the best place to purchase fresh produce, here is the list of the best fresh farmers markets in Florida.
1. Jacksonville Farmers Market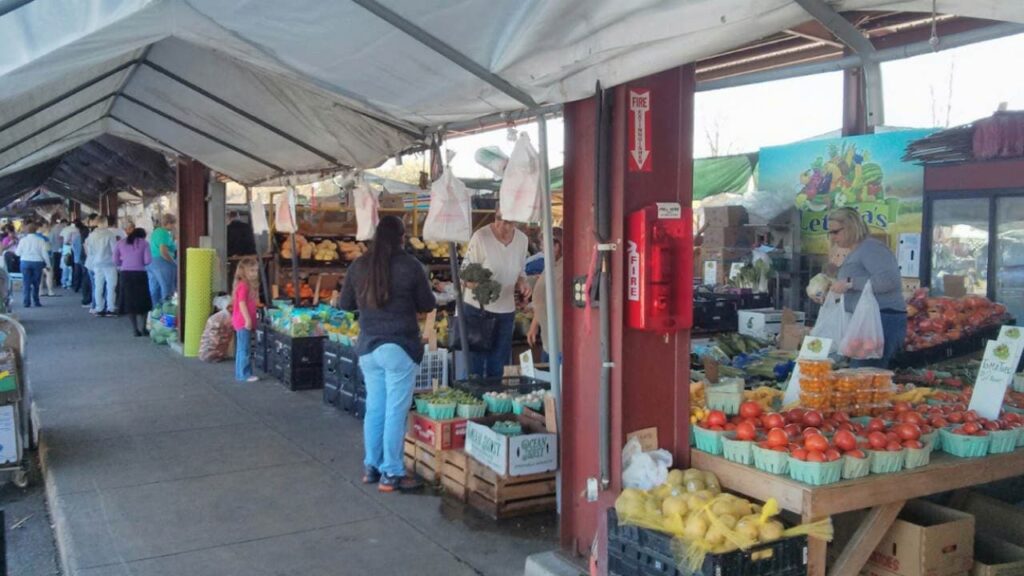 One of the traditional farmer's market in Florida is the Jacksonville Farmers Markets. It was established in 1938 and to this day is one of the best places to purchase locally grown fruits and vegetables. This open – air market remains bustling with over a million visitors every year.
Not only for the fresh produce of local farmers, this marketplace is also popular for imported and ethnic items. Except for Christmas Day and Thanksgiving, it is open year round from dawn to dusk.
2. Kissimmee Farmers Market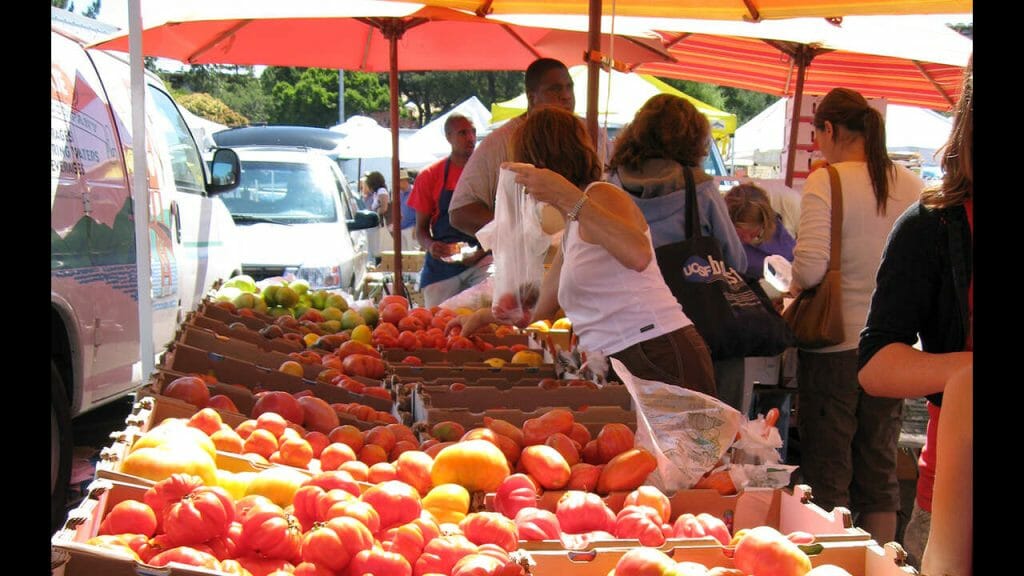 Do you know where the residents of Kissimmee rush to on Tuesdays? Kissimmee Farmers Market, which is only open from 3 to 7 pm on Tuesdays. It is located in downtown Kissimmee. Plenty of vendors sell their fresh produce, handmade crafts and organic foods in the market.
You can also find locally harvested raw honey. In addition to purchasing the goods, you can also visit the restaurants nearby which use fresh ingredients like fruits and vegetables from the local market and create a variety of delicious dishes.
3. St. Petersburg Saturday Morning Market
In St. Petersburg, Saturday Morning Market is the perfect place for both visitors and locals. Want to know why? Because of the organic produce and the incredible crafts available on the market. It runs from June to September, and within this time, people visit the market weekly to purchase fresh produce along with ready-to-eat foods.
You can find German, Italian, Belgian, Greek and even French foods in the market. The artisan food vendors offer baked goods, cheese, fresh seafood and other foods that will tempt your taste buds.
You might also like to read about these dairy farms in Florida.
4. Siesta Key Farmers Market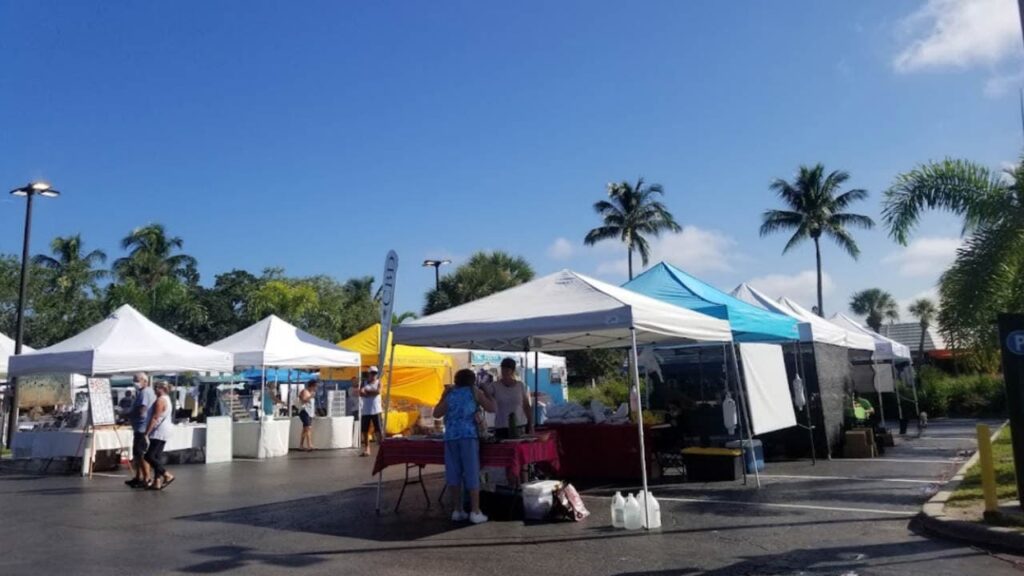 Whether you are looking for the best Tunisian cotton bath towels or delicious local rum, Siesta Key Farmers Market is the right one to stop in. This Sunday venue, located in Siesta Key, Florida, is a one-stop market for all. Along with organic produce from local farmers, you can enjoy shopping a variety of things.
Besides the diverse marketplace, you can buy homemade crafts, towels, and household utensils. One of the attractive features of this farmers market is Lloyd Dobson Artist and his "Helping To Make Art Happy and Fun For Everyone", where you can get an oil painting for your lovely home.
5. Winter Park Farmers Market
To make your dishes full of nutrition, you might want to pay a visit to Winter Park Farmers Market. It is one of the most popular markets in Central Florida. It is held in an old train depot and has been restored into a historic landmark.
The local vendors sell their fresh produce and baked goods. You can purchase local raw honey to add that extra delicious flavor to your dessert items. At this Saturday market, you will find different types of herbs, plants and garden goods as well.
6. Florida's Farmers Market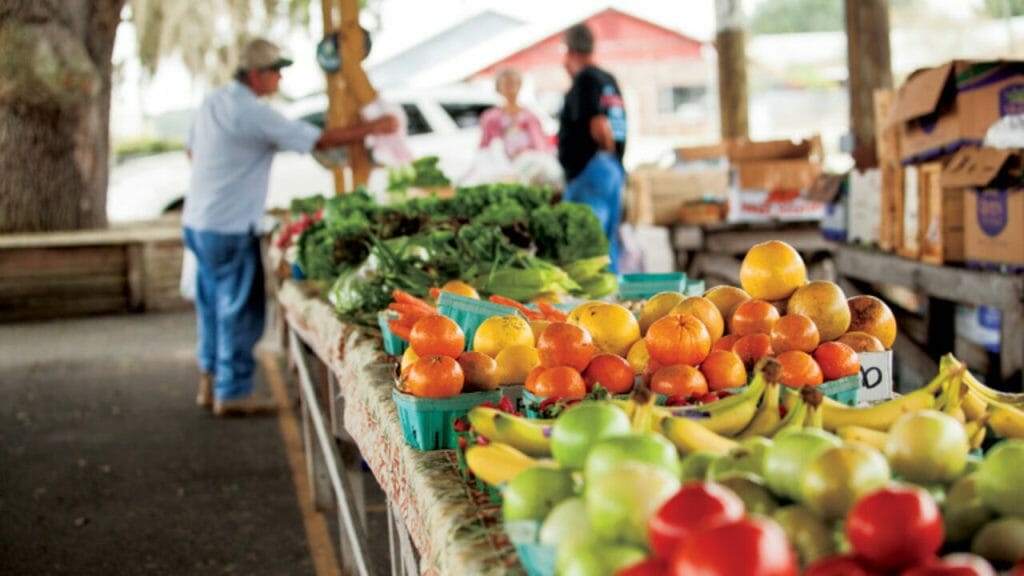 Wouldn't it be perfect if there was a farmers market that would be open every single day? Well, Florida's Farmers Market fulfills that wish. This open – air market is open every day and is located in Laurel Hill, Florida. In addition to farmers fresh produce, you will also find artisans and crafters selling their best works.
The market is open from 7 am to 7 pm. Even if the market sits every day, you will find a variety of products and produce every week. There is also a café and gift shop nearby, so you can enjoy purchasing some extra things before you head home.
Check out these popular outlet malls in Florida.
7. West Palm Beach GreenMarket
With a charming waterfront, West Palm Beach GreenMarket is a popular farmer's market in the downtown area of West Palm Beach. When you visit, you can notice that this public market was inspired by the European market style. The market operates every Saturday from October to April.
You will discover a variety of products, starting from fresh produce to exotic herbs and plants from the local vendors. While you enjoy soaking up the sunshine while shopping, you can enjoy some local delicacies that have a separate area in the market.
8. Yellow Green Farmers Market
Hollywood, Florida is home to the Yellow Green Farmers Market. It is open every Saturday and Sunday, and the visitors try their best to grab the best produce as early as possible as it is said that the early birds get the best worms.
Along with the local produce, you will find spicy pickles, fresh, baked foods and various flavors of smoothies. Locally made craft items are also available along with clothing and flowers.
9. Sarasota Farmers Market
You know that Sarasota Farmers Market is considered a landmark event in Sarasota, Florida. This marketplace has been operating for over 30 years and the great quality of produce by local farmers remains intact. This marketplace boasts some fresh Florida seafood.
There are also options for choosing from an extensive selection of hand cut meats. The local growers not only sell fresh produce, you can also find natural soaps, clothes and jewelry.
10. The High Springs Farmers Market
The High Springs Farmers Market is a popular farmers market in High Springs, Florida. The sale booths have a variety of fresh produce of crops, fruits and vegetables. You can find a range of products from more than 20 local vendors.
The items range from lotions, natural soaps, fresh baked foods and cheesecakes available. You can even try out the samples to help you choose which one is the best one for you to purchase.
11. Yellow Green Farmers Market
Yellow Green Farmers Market is a weekend warehouse farmer's market offers farm-fresh produce & artisanal goods in an open airy space. Moreover, the Yellow Green Farmers Market Village offers 3 different parking areas, each with different parking rates.
12. Sarasota Farmers Market
The mission of Sarasota Farmers Market is to create a social opportunity for residents and visitors to gather and interact, to bring foot traffic to downtown Sarasota supporting the economic viability of the entire downtown area, and to provide a venue for other non-profit organizations benefiting our community.
To enjoy the warmth of the atmosphere and interact within an ambient environment, you should opt for purchasing from local farmer's markets. So, with this list of the best fresh farmers markets in Florida, choose the one nearby for your next shopping trip.